In English s'il vous plaît !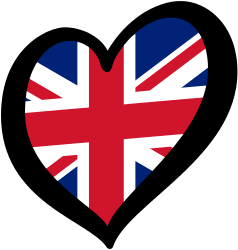 2004, rendez-vous in Istanbul for the Eurovision Song Contest thanks to Sertab Erener's victory and her song « Everyway That I Can ».
« Victim » of its success, 36 participating countries this very same year, there's a semi final for the first time.
New formula, new logo, Eurovision swaps the « V » letter for a heart which is filled with the flag of the host country.
Among the songs, some opt for a disco style like Bosnia and Herzegovina with the song « In The Disco » sung by Deen or Belgium with Xandee and the song « 1 Life ». Other countries propose some sweet-sounding songs like « Can't Wait Until Tonight » by Max for Germany or Serbia and Montenegro (a same banner this very same year) with Željko Joksimovič and the song « Lane Moje ». Actually, this is a strong result for a 1st participation in the Contest because Serbia and Montenegro end at the 1st place in the semi final and 2nd in the final.
Ruslana won the Contest for Ukraine with the song « Wild Dances ».
Everytime you wanna play
Turn me on, all the way
Come to me and take the ride
Skin on skin, it's pure delight
Givin' me the passion, you're burning my heart
Gonna rock you till you drop
Baby, you're the reason I'm feeling so hot
Want you now, I just can't stop
I would trade my life for a night with you
Driven by desire
Make that move on me, it's time for you to see
That my world's on fire
Shake, shake, shake, shake, shake it, mi amor
Crazy for love, give me some more
Shake, shake, shake, shake, shake it, mi amor
Crazy for love, give me some more
Shake, shake, shake, shake, shake it, mi amor
Crazy for love, give me some more forever
Yeah, yeah, yeah, yeah
Shake, shake, shake, shake, shake it, mi amor
Crazy for love, give me some more
Shake, shake, shake, shake, shake it, mi amor
Crazy for love, give me some more
Shake, shake, shake, shake, shake it, mi amor
Crazy for love, give me some more forever
Yeah, yeah, yeah, yeah
Every day I can't resist
Need the taste of your lips
Darlin', it's your body that's driving me nuts
Let me in, I've got to touch
I would trade my life for a night with you
Driven by desire
Make that move on me, it's time for you to see
That my world's on fire
Shake, shake, shake, shake, shake it, mi amor
Crazy for love, give me some more
Shake, shake, shake, shake, shake it, mi amor
Crazy for love, give me some more
Shake, shake, shake, shake, shake it, mi amor
Crazy for love, give me some more forever
Yeah, yeah, yeah, yeah
Shake, shake, shake, shake, shake it, mi amor
Crazy for love, give me some more
Shake, shake, shake, shake, shake it, mi amor
Crazy for love, give me some more
Shake, shake, shake, shake, shake it, mi amor
Crazy for love, give me some more forever
Yeah, yeah, yeah, yeah
Shake, shake, shake, shake, shake it, mi amor
Crazy for love, give me some more
Shake, shake, shake, shake, shake it, mi amor
Crazy for love, give me some more
Shake, shake, shake, shake, shake it, mi amor
Crazy for love, give me some more forever
Yeah, yeah, yeah, yeah
Shake, shake, shake