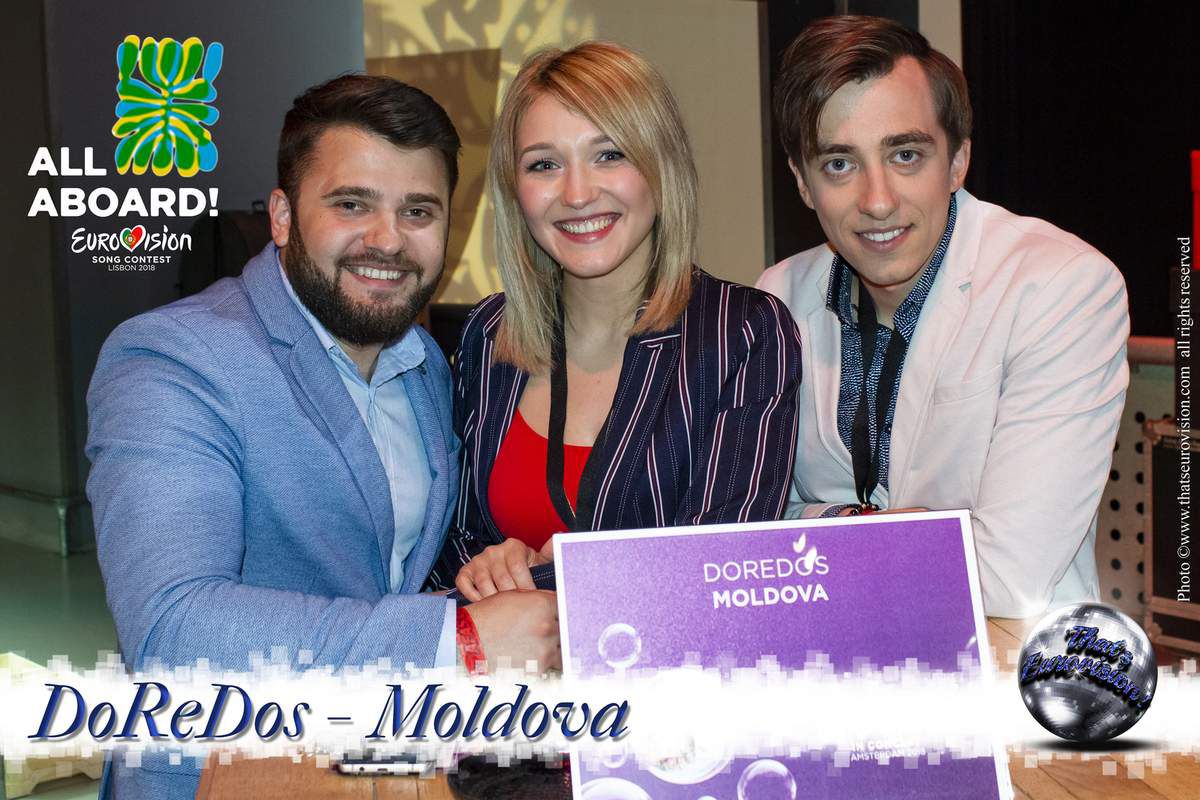 En Français please!
La Moldavie nous offre à nouveau un titre festif cette année avec DoReDos. Nous avons eu le plaisir de les rencontrer à Amsterdam.
That's Eurovision ! : Bonjour DoReDos, soyez les bienvenus pour ce 10ème anniversaire d'Eurovision in Concert ! Vous avez gagné la sélection nationale en Moldavie et vous allez représenter votre pays au prochain Concours Eurovision. Après cette victoire nationale, vers qui sont allées vos pensées ?
Marina : Oh, c'était génial ! Nous le voulions tellement, nous avons essayé de représenter la Moldavie deux fois déjà, en 2015 et en 2016, et enfin, jamais deux sans trois, nous y sommes parvenus. Nos familles sont un grand soutien car ils savent ce que cela représente pour nous.
That's Eurovision ! : Pouvez-vous vous présenter en quelques mots s'il vous plaît ?
Marina : Oui, je m'appelle Marina, j'ai 31 ans, j'ai un fils et je l'aime (rires), j'aime la musique… et j'aime l'Eurovision !
Eugeniu : Je m'appelle Eugeniu et j'aime Amsterdam ! (rires), c'est une très jolie ville.
Sergiu : Je suis Sergiu, j'ai 25 ans et j'aime Amsterdam moi aussi ! (rires)
That's Eurovision ! : Comment vous êtes-vous rencontrés ?
Marina : Nous nous sommes rencontrés dans une petite ville quand nous étions très jeunes, cette ville c'est Rybnitsa. C'est là que nous avons collaboré et commencé à travailler ensemble. Ça fait 7 ans maintenant que nous travaillons ensemble.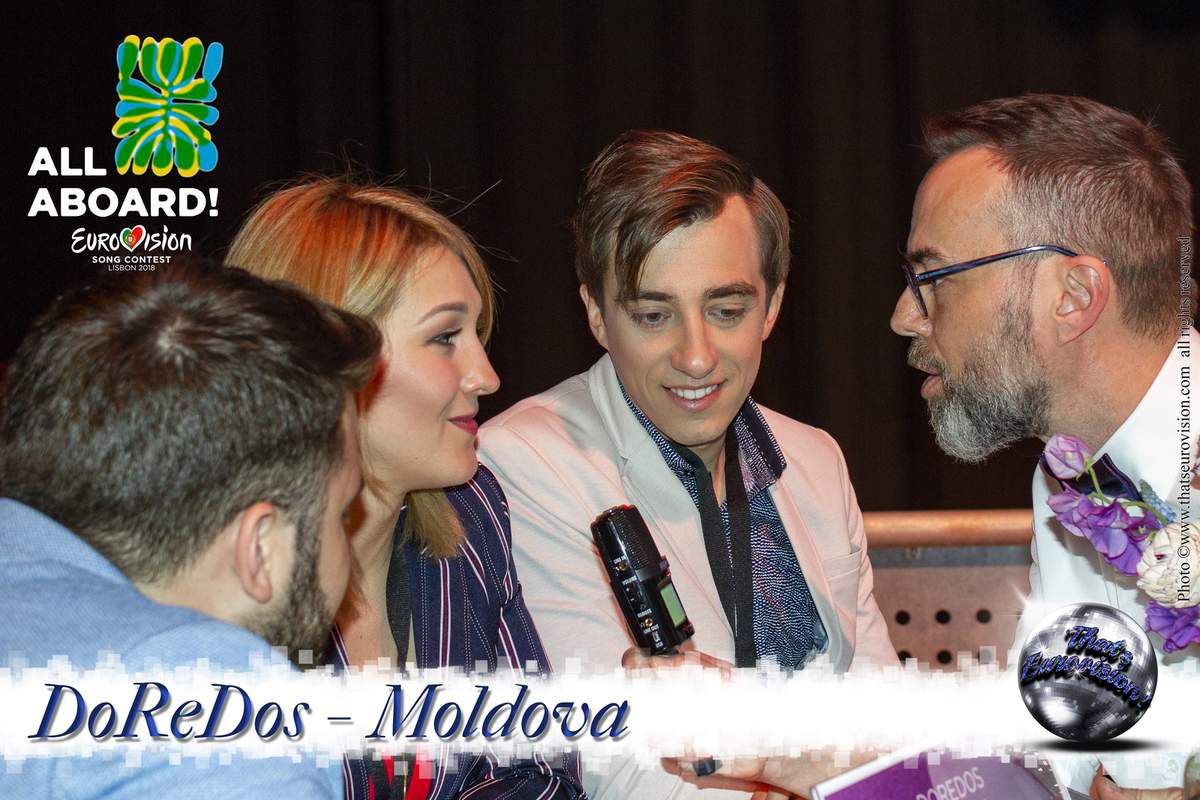 That's Eurovision ! : Sans dévoiler de secret, pouvez-vous me donner une idée de ce que sera votre mise en scène à Lisbonne ?
Marina : Oh oui, nous aurons une grosse structure sur scène, nous travaillons avec notre dream team tu sais. Ce sera un truc très intéressant, très amusant. Selon moi, le show que nous allons donner n'a jamais été montré à l'Eurovision avant.
That's Eurovision ! : La Moldavie a obtenu la 3ème place l'année dernière avec SunStroke Project, comment voyez-vous l'évolution de votre pays dans le Concours ?
Marina : Oui, SunStroke Project l'a fait ! Tu sais, chaque artiste qui a représenté la Moldavie était génial ! par exemple Zdob şi Zdub, ils étaient fabuleux ! Chaque étape est forte chaque année.
That's Eurovision ! : Quel mot vous décrit le mieux ?
Ensemble : L'Amusement ! Le Sourire ! Les Rires !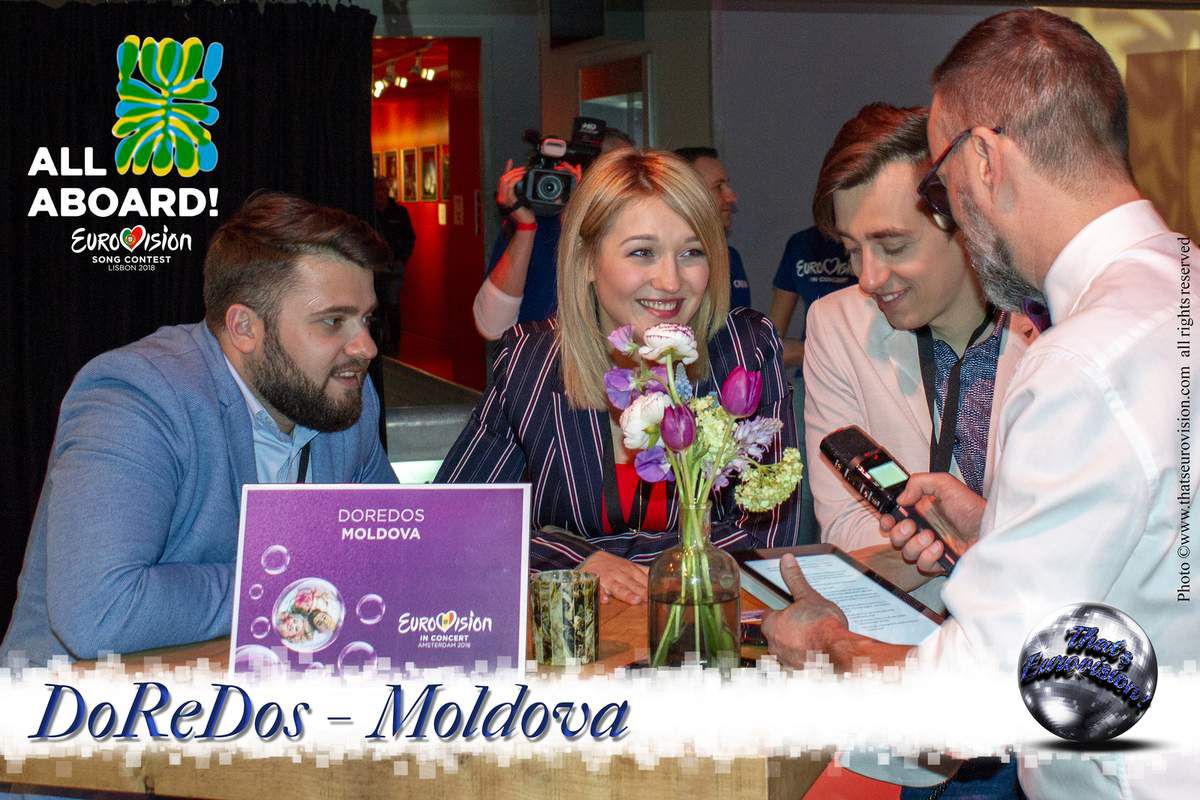 That's Eurovision ! : A qui penserez-vous en entrant sur la scène de l'Altice Arena en mai prochain ?
Marina : A nos familles, à Phlipp Kirkorov, notre équipe, notre dream team et à la Moldavie bien entendu.
That's Eurovision ! : Avez-vous un message pour nos lecteurs en France et ailleurs ?
Marina : Bien sur. Chers amis, nous sommes DoReDos et nous allons représenter la Moldavie au Concours Eurovision. Si vous aimez notre chanson, si elle touche votre cœur alors s'il vous plaît votez avec votre cœur, votez pour la Moldavie.
That's Eurovision ! vous souhaite bonne chance pour Lisbonne.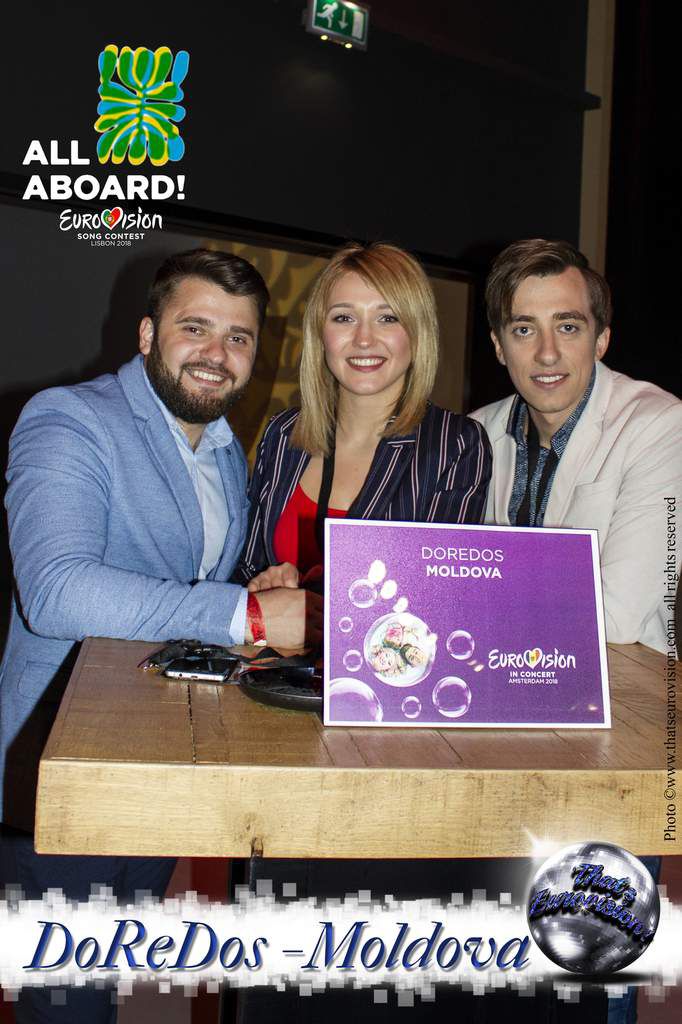 In English s'il vous plaît !
This year, Moldova offers us a festive track once again, with DoReDos. We had the pleasure to meet them in Amsterdam.
That's Eurovision ! : Hello DoReDos, welcome in Amsterdam for this 10th anniversary of Eurovision in Concert! You won the national selection in Moldova and you will represent your country during the next Eurovision Song Contest. After this national victory, who did your first thoughts go to?
Marina : Oh, it was so amazing! We wanted it so much because we tried to represent Moldova twice before, in 2015 and in 2016, and finally, third time was the lucky one for us. Our families are a big support because they know what it means to us.

That's Eurovision ! : Can you introduce yourself in a few words please?
Marina : Yes, my name is Marina, I'm 31 years old, I have a son and I'm loving him (laughs), I like music… and I love Eurovision!
Eugeniu : My name is Eugeniu and I like Amsterdam! (laughs), it's a beautiful city.
Sergiu : My name is Sergiu, I'm 25 and I love Amsterdam too! (laughs)
That's Eurovision ! : How did you both meet?
Marina : We met in a small town when we were very young, the name of this town is Rybnitsa. That is where we had some collaborations and started to work there. We have been working together for about 7 years now.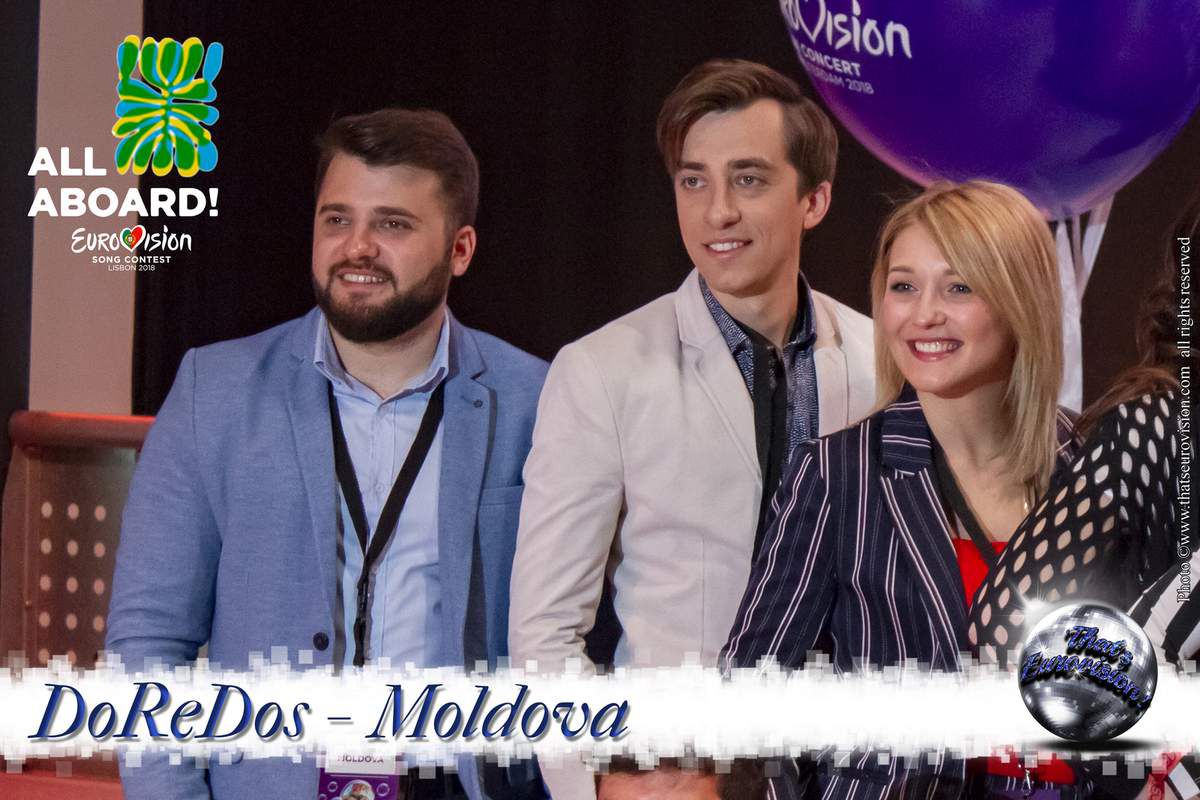 That's Eurovision ! : Without giving away any secret, can you give me an idea of what will be your performance in Lisbon like?
Marina : Oh yes, we will have a big construction, we are working with the dream team you know. It will be a very interesting performance, very funny. In my opinion, the kind of show that we're gonna do has never been shown in Eurovision before.
That's Eurovision ! : Moldova had a top 3 last year with SunStroke Project, How do you see the evolution of your country in the Contest?
Marina : Yes, SunStroke Project did it! You know, every artist who represented Moldova was great, for example Zdob şi Zdub, they were so great! Every step is strong every year.
That's Eurovision ! : Can each one of you give me a word that characterizes the other?
All Together : Fun! Smile! Laughs!
That's Eurovision ! : Who will you think of when you will enter onto the Altice Arena stage next May?
Marina : Our Family, Philipp Kirkorov, our team, our dream team and Moldova of course.
That's Eurovision ! : Have you got a message for our readers in France or anywhere else?
Marina : Sure. Dear friends, we are DoReDos and we will represent Moldova in this Eurovision. If you like our song, if it can touch your heart so please vote with your heart, vote for Moldova.
That's Eurovision ! wish you good luck in Lisbon!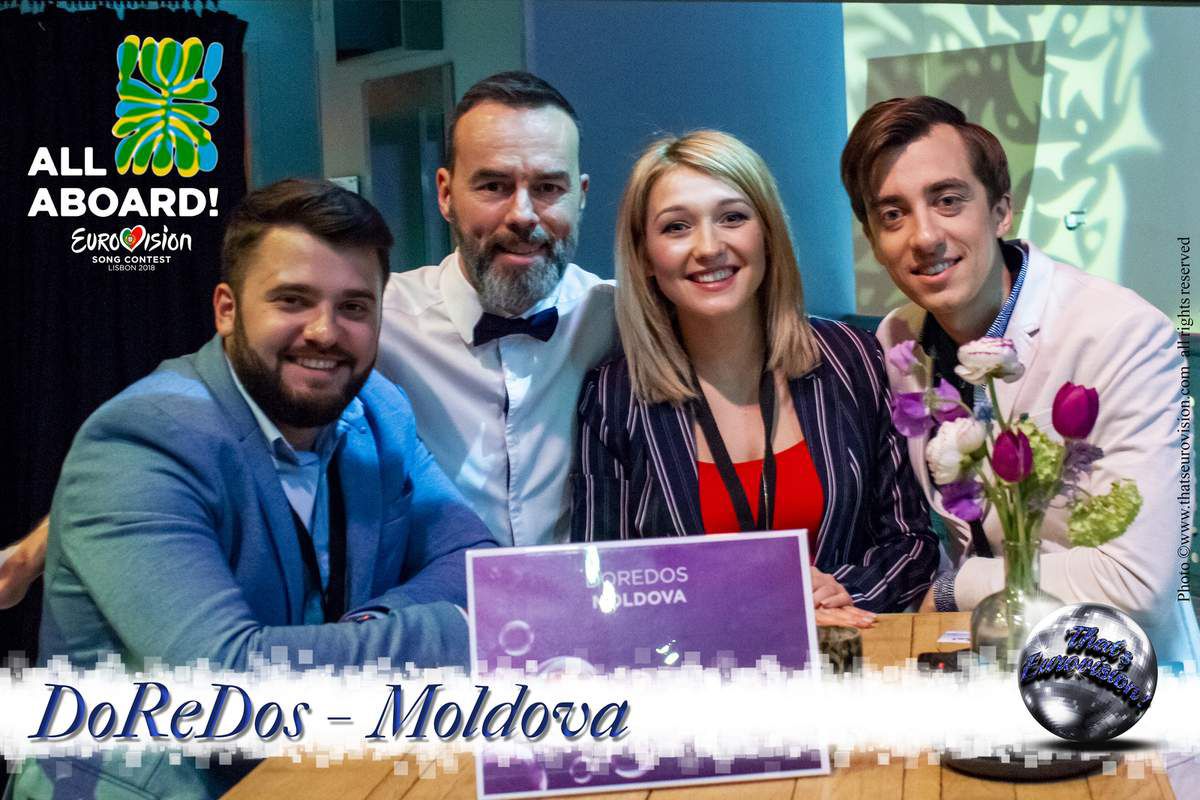 Photos et Présentation graphique : Ludovic PICAVET
DoReDos "My Lucky Day" (Official Video)