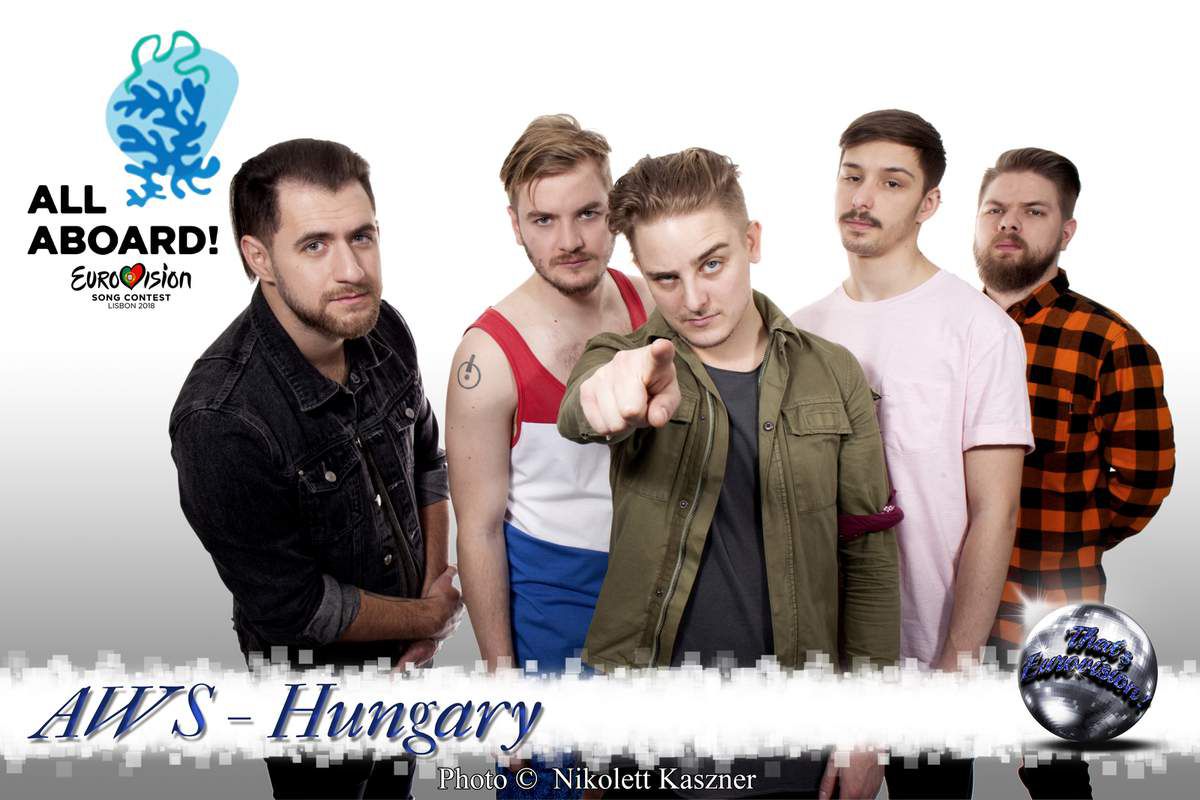 En Français please!
AWS représentera la Hongrie à Lisbonne avec la chanson « Viszlát nyár ». Le groupe a accepté de répondre à nos questions quelques jours avant son envol pour Amsterdam (Eurovision in Concert).
That's Eurovision ! : Bonjour AWS ! Soyez les bienvenus dans la famille Eurovision ! Vous prouvez aux détracteurs du Concours qu'il n'y a pas un « style » Eurovision. Que représente pour vous cette participation à cet événement ?
AWS : Nous sommes heureux d'être là et qu'il y ait une fois de plus une chanson « metal » représentant un pays (comme avec Lordi en 2006). Nous ferons de notre mieux pour montrer au public ce que peut être une vraie représentation de AWS.
That's Eurovision ! : Comment est né AWS ? Qui êtes-vous ?
AWS : Nous avons formé notre groupe à cinq en 2006 alors que nous étions encore au lycée. Nous aimions tous la musique, donc la question de jouer ensemble ne s'est même pas posée. Nous aimons beaucoup Metallica, Korn et Linkin Park ; ces groupes nous apportent l'inspiration. Nous aimons écrire des textes qui font réfléchir notre public, en choisissant des sujets sociaux, économiques ou même parfois philosophiques.
That's Eurovision ! : Vous avez gagné « A DAL 2018 », en finale, c'est le public qui a décidé de vous faire gagner. Comment avez-vous vécu cette victoire ?
AWS : Nous avons vraiment été surpris, voir même choqués. Nous n'espérions pas gagner ce concours, mais une fois que nous avions repris nos esprits, nous avons réalisé l'importance de cette opportunité. Nous étions très heureux de représenter la Hongrie sur une scène d'une telle ampleur. C'est un défi que nous acceptons à bras ouverts.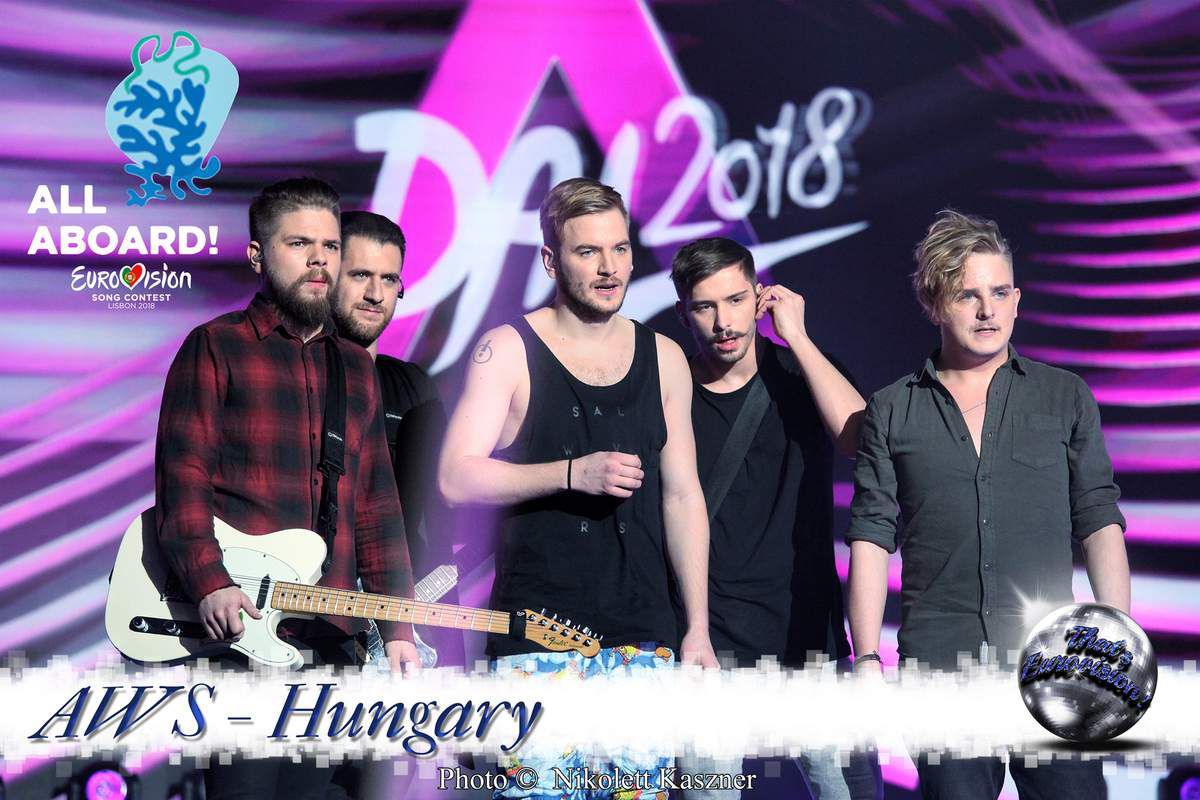 That's Eurovision ! : Revenons-en au Concours, comment imaginez-vous cette aventure ?
AWS : Au début, nous ne savions pas à quoi nous attendre car cette organisation dans son ensemble nous était inconnue. Après avoir pris part à la sélection A DAL en Hongrie, nous sommes plus détendus car nous savons à quel point ce show est professionnel et bienveillant. Nous allons de l'avant avec notre équipe et sommes impatients de rencontrer tout ce monde pendant cette aventure Eurovision. Nous nous préparons intensivement comme nous le ferions pour un show dans une salle de grande envergure ; de plus ceci sera notre toute première fois dans un rendez-vous d'une telle ampleur.
That's Eurovision ! : Que raconte l'histoire de votre chanson pour Lisbonne «Viszlát nyár »?
AWS : Elle parle de la mort, du fait de perdre un être cher. Le père de notre chanteur Örs est décédé l'an dernier, c'est cet évènement qui a inspiré notre chanson. Nous pensons qu'il serait moins difficile de faire face au chagrin si notre culture était plus ouverte sur le fait que nous ne sommes pas immortels. Nous serions ainsi préparés à ces moments, nous passerions beaucoup plus de temps avec ceux que nous aimons avant qu'il ne soit trop tard.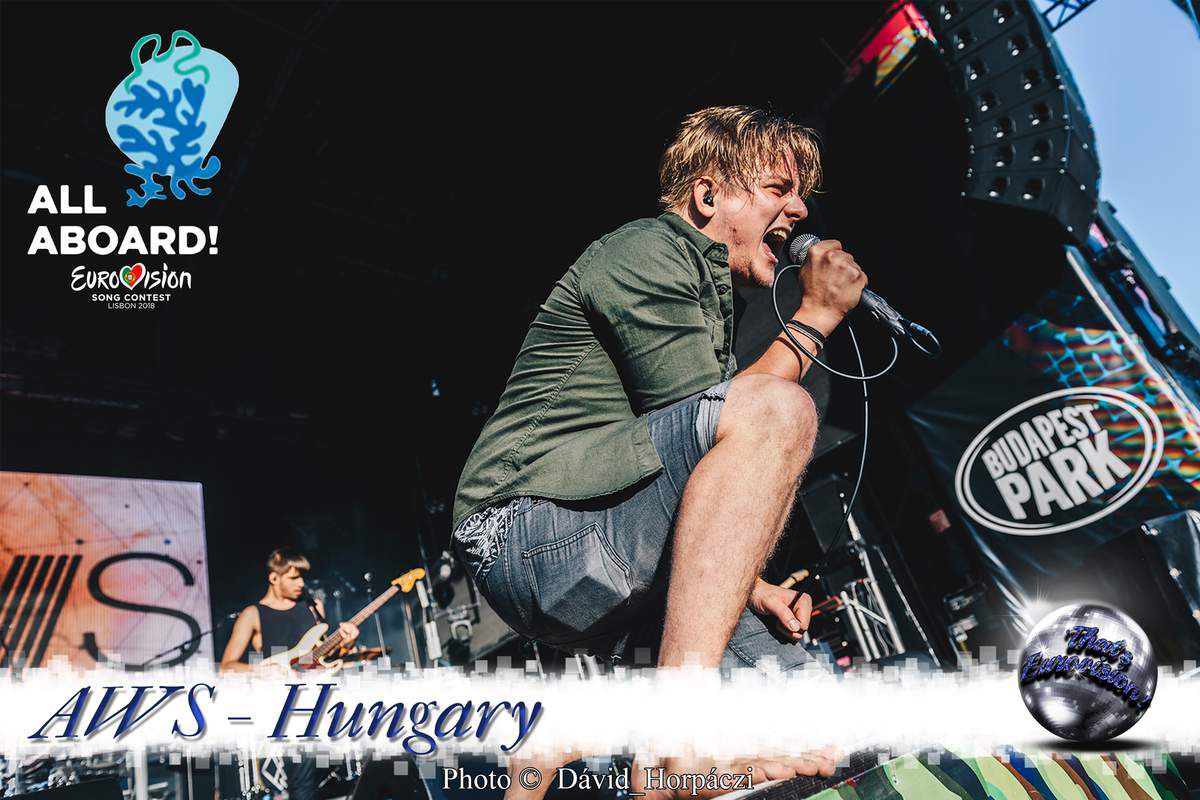 That's Eurovision ! : Quand vous n'êtes pas en tournée ou en studio d'enregistrement, à quoi ressemble une journée ordinaire pour AWS ?
AWS : Heureusement, nos métiers sont tous connectés au monde de la musique, c'est donc ce que nous faisons la plupart du temps. Et dès que nous avons un instant libre, pourquoi pas un spectacle de marionnettes !
That's Eurovision ! : Je vous propose de réaliser l'un de vos rêves ; vous allez accompagner un artiste ou un groupe de légende pour une soirée unique, qui serait cet artiste (vivant ou décédé) et pourquoi ?
AWS : Pantera serait génial avec Dimebag Darrell à la guitare.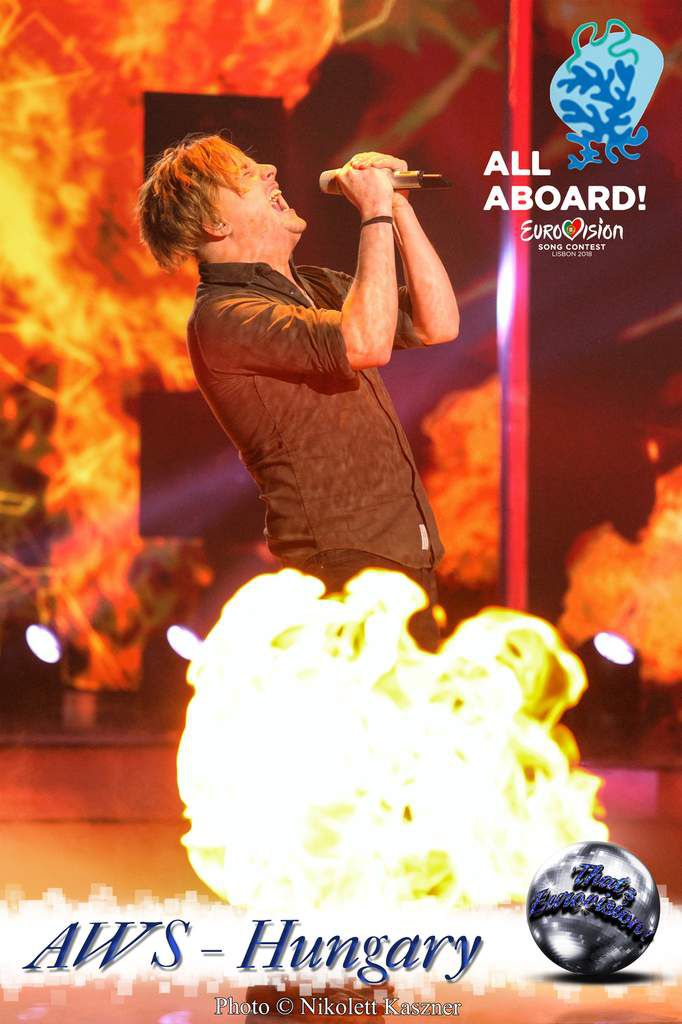 That's Eurovision ! : Vers quels pays va vous entraîner votre promo avant le Concours et y a-t-il un album en préparation ?
AWS : Nous allons nous rendre à Amsterdam puis à Madrid avant le Concours, et pendant ce temps, nous travaillerons aussi sur notre 4ème album. Nous essayons cependant de respecter le timing pour le reste de l'année : partir en concert et enregistrer l'album à paraître en fin d'année.
That's Eurovision ! : Avez-vous un message pour vos fans en France et dans les autres pays ?
AWS : Keep on rockin' !
« That's Eurovision ! » vous remercie pour cette interview, à très vite à Lisbonne !
Merci à Ráhel Herendi ainsi qu'à Simon Mudri-Molnár pour avoir rendu cette interview possible.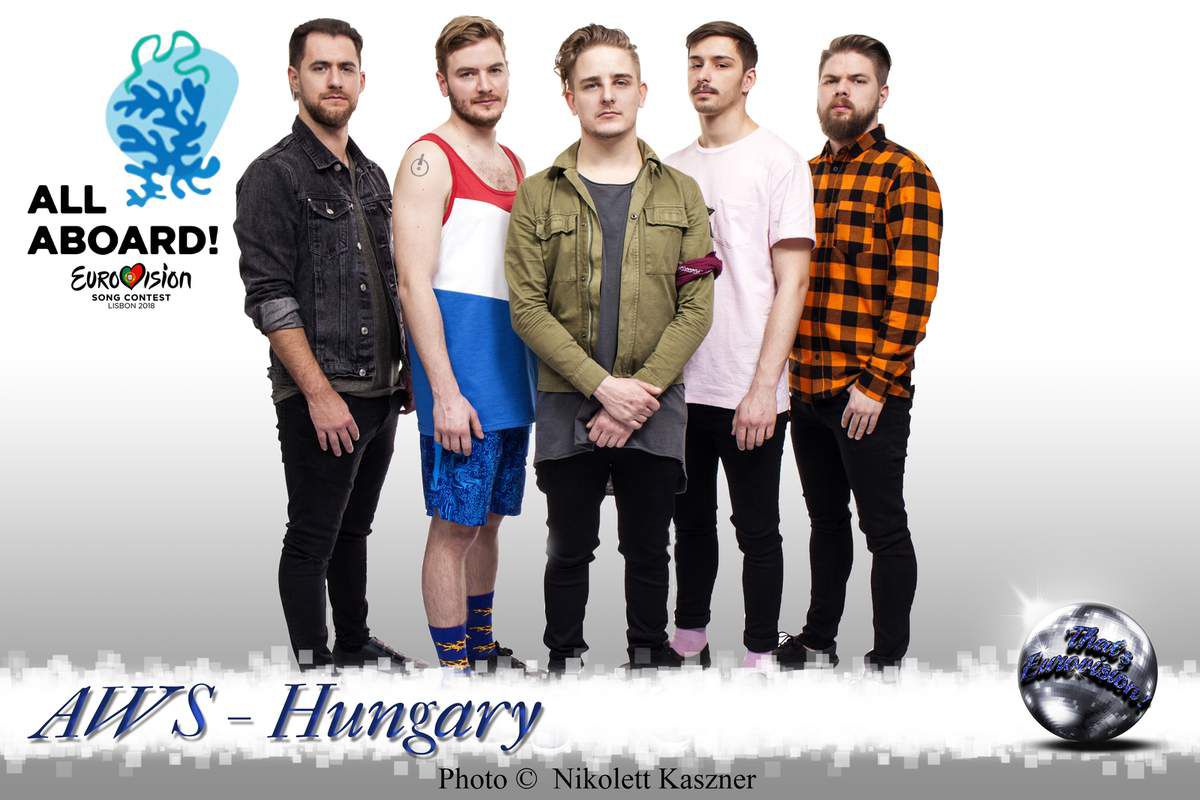 In English s'il vous plaît !
AWS will represent Hungary in Lisbon with the song « Viszlát nyár ». The band agreed to answer our questions a few days before its flight for Amsterdam (Eurovision in Concert).
That's Eurovision ! Hello AWS! Welcome in the Eurovision family! You prove to the Contest critics that it doesn't exist a Eurovision « style ». What does this event represent for you?
AWS : We are happy to be here and happy that there is a metal song in the contest again representing a country (just like Lordi in 2006). We'll do our best to show the audience how a proper AWS gig looks like.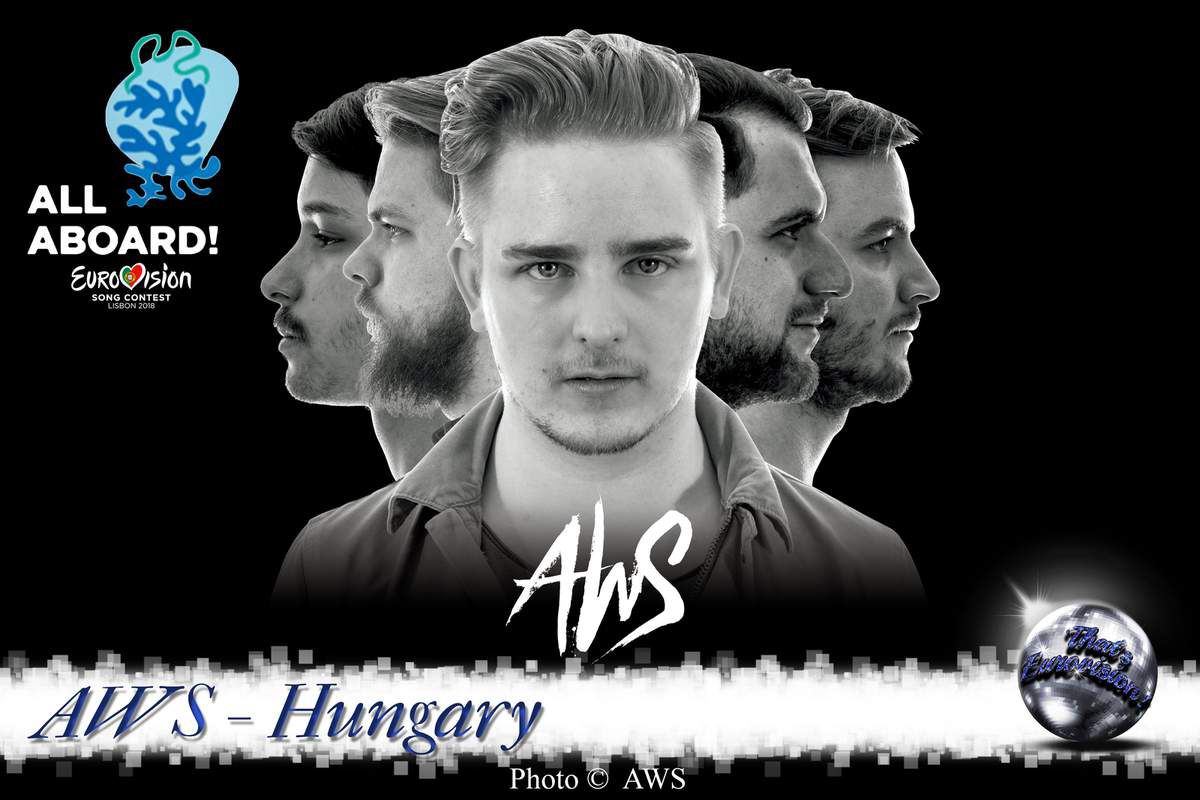 That's Eurovision ! : How was born AWS? Who are you?
AWS : We formed our five piece band back in 2006 when we were still in high school. We all loved music so it wasn't a question that we need to play music together. We like Metallica, Korn and Linkin Park a lot - these bands give us inspiration. We like to write lyrics that make our audience ponder - let the topic be social or economical or sometimes a bit more philosophic.
That's Eurovision ! : You won « A DAL 2018 », during the final, the public decided to make you win. How did you live this victory?
AWS : We were really surprised, you could say even shocked. We didn't expect to win the contest, but as soon as we caught our breath we realized how big this opportunity is and we're very happy to represent Hungary on such a huge stage. This is a welcome challenge in our lives which we accept gladly.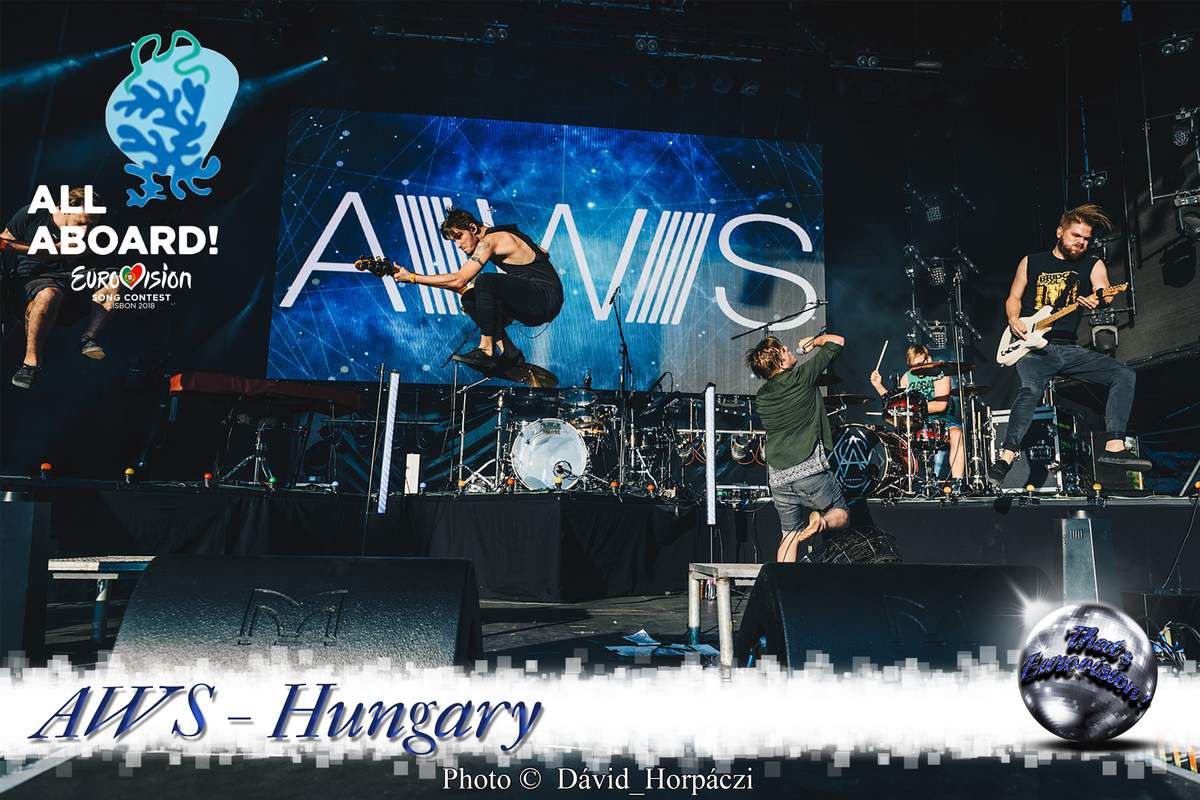 That's Eurovision ! : Let's go back to the Contest, how do you imagine this adventure?
AWS : As this whole scene was quite unknown to us before, we didn't know what to expect in the beginning. Now we are more relaxed as we saw how professional and friendly this scene is after we took part in the Hungarian preselection show A Dal. We get on well with the crew and we can't wait to meet new people during our ESC adventure. We are preparing intensively, just like we would for an arena show - for this will be our first one at such a huge venue.
That's Eurovision ! : What does your song « Viszlát nyár » is talking about?
AWS : It is about dealing with death and the loss we feel when one of our loved ones dies. Our singer Örs' father passed away last year and this event inspired our song. We think it wouldn't be so hard to deal with grief if our culture was more open to the fact that our lives are not infinite. That way we would be more aware of these phases and could spend much more time together with our loved ones before it's too late.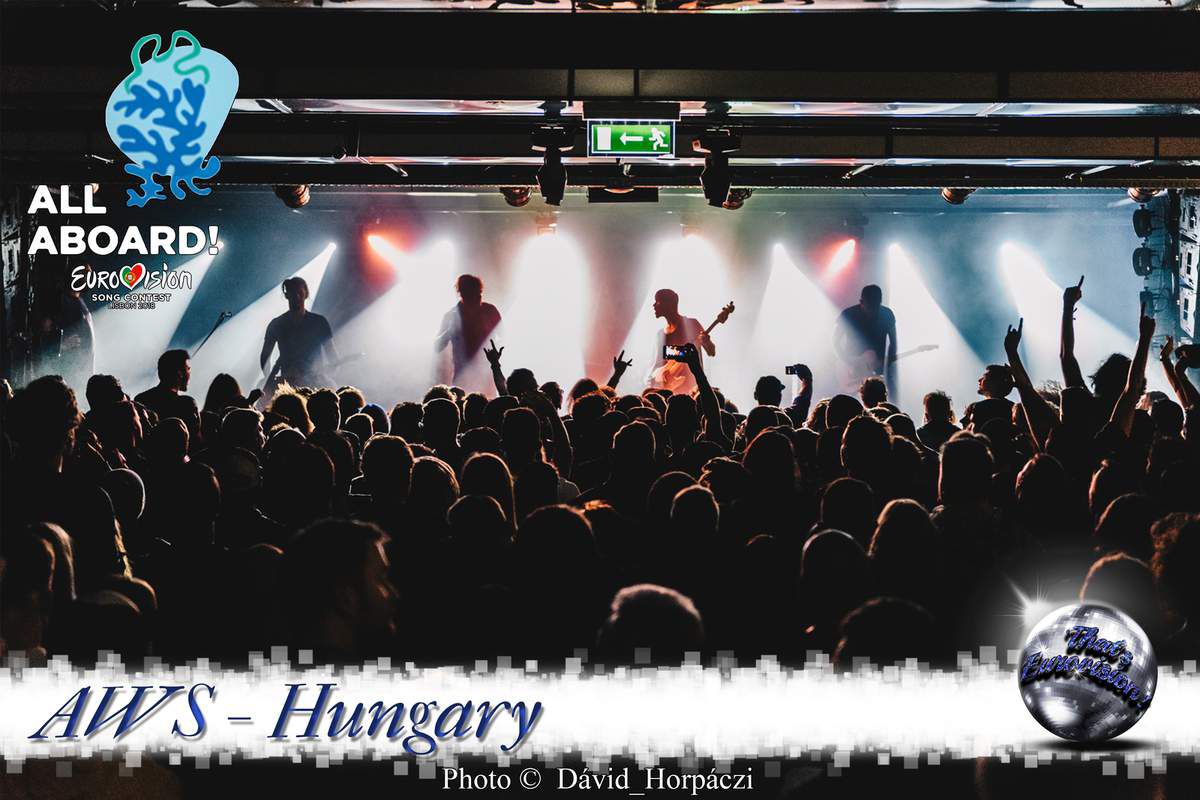 That's Eurovision ! : When you are not touring or recording, what does an ordinary day look like for AWS?
AWS : Luckily our full-time jobs are all connected to music, so we can do music most of the time. If we have some free time then it's time for a puppet show!
That's Eurovision ! : I propose you to realise one of your dreams ; you will perform with a famous artist or band (alive or deceaded) for a single night, who will be this artist and why?
AWS : Pantera would be amazing with Dimebag Darrell on guitars.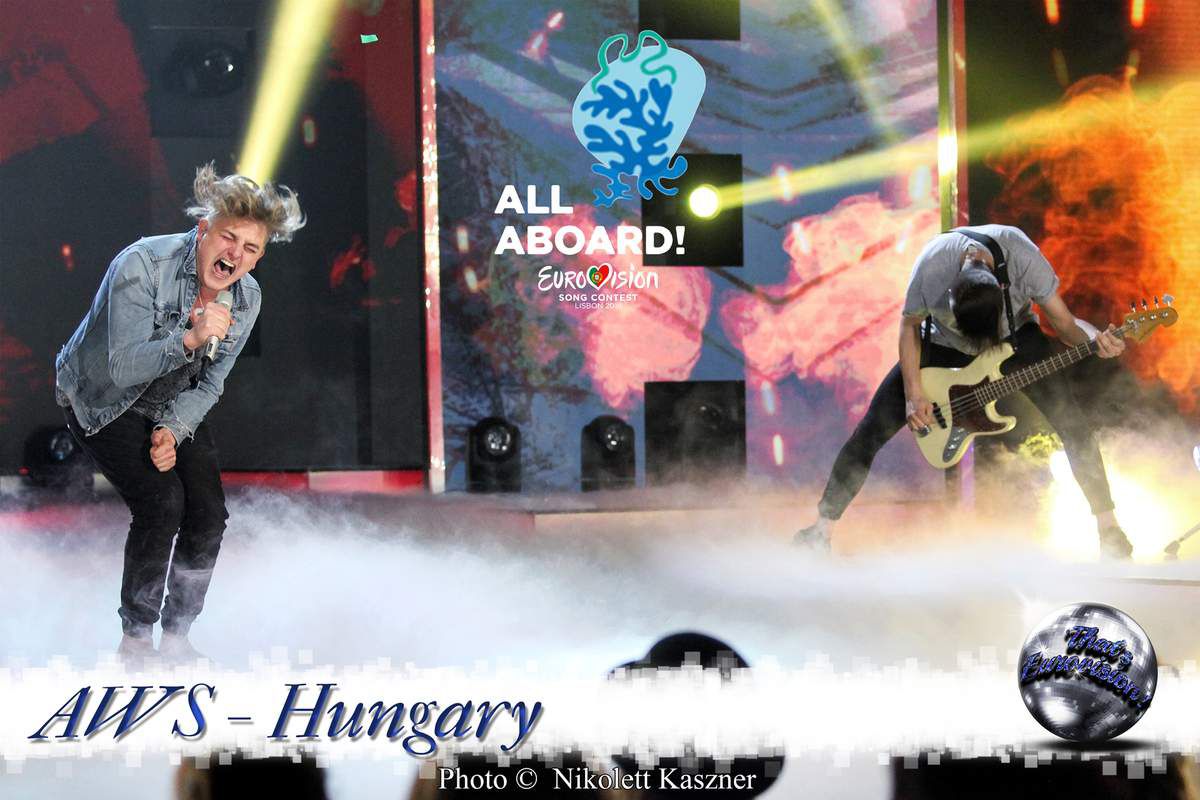 That's Eurovision ! : In which countries will you go for promotion before the Contest and is there an album ready to go out?
AWS : We are going to Amsterdam and Madrid before the contest. And during all these exciting activities we are working on our fourth album. We try to keep ourselves to our original plan for the rest of the year: touring and recording the album which will be released at the end of the year.
That's Eurovision ! : Do you have a message for you fans in France and in the other countries?
AWS : Keep on rockin'!
« That's Eurovision! » thank you for this interview, see you really soon in Lisbon!
Thank you to Ráhel Herendi and to Simon Mudri-Molnár for making this interview possible.
Présentation graphique : Ludovic PICAVET
AWS - Viszlát Nyár (Official Video)
AWS - Viszlát Nyár (National Final Performance)