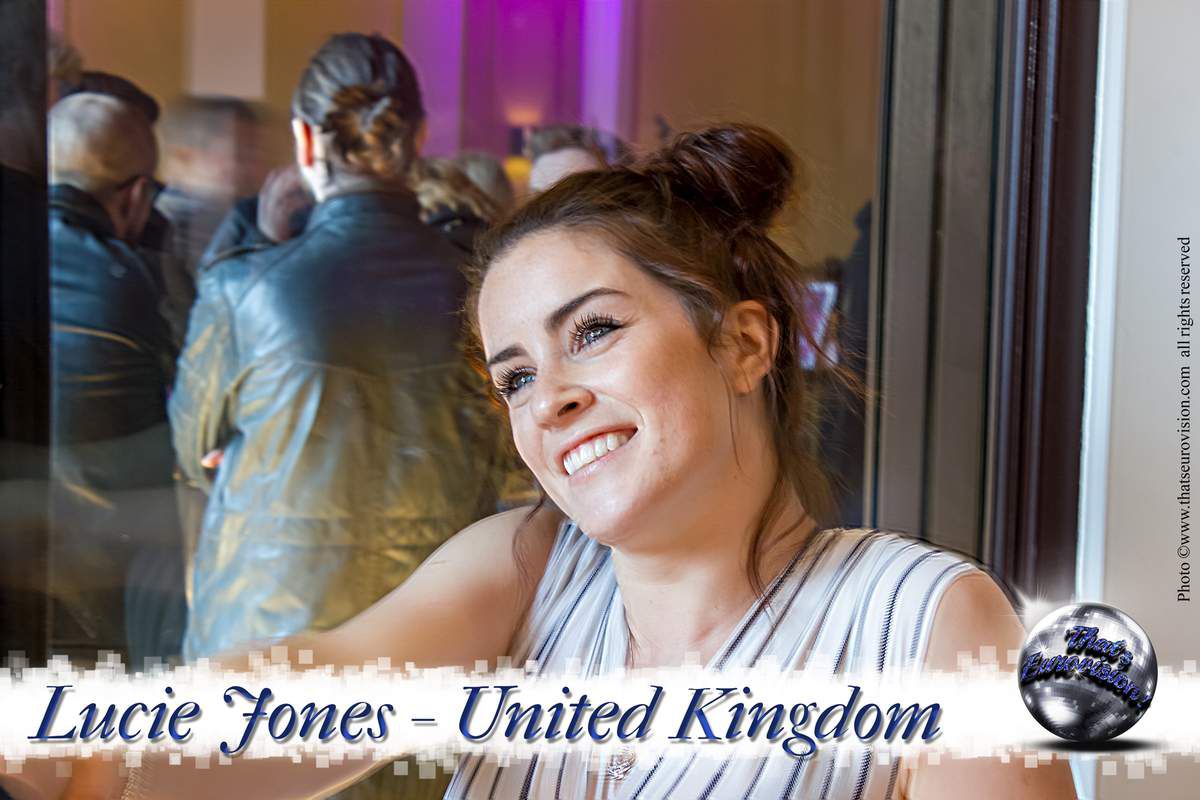 En Français please!
Lucie Jones va représenter le Royaume-Uni à Kiev. Nous avons pu l'interviewer lors de son passage à Amsterdam. Merci Lucie pour ce fou-rire, merci pour ton sourire et ton enthousiasme !
That's Eurovision ! : Bonjour Lucie, sois la bienvenue à Amsterdam ! Comment vis-tu cette aventure « Eurovision » ?
Lucie Jones : Merci ! C'est bon d'être ici. En fait, je ne sais que dire, tu vis ça au jour le jour, et c'est juste… fou. Je n'aurais jamais pu deviner que je serais ici, même si je l'avais souhaité. C'est incroyable.
That's Eurovision ! : Ta chanson pour Kiev s'intitule « Never Give Up On You », c'est une jolie ballade, peux-tu nous en raconter l'histoire ?
Lucie : J'ai mon histoire, elle est très personnelle, et par ailleurs, je suis certaine que beaucoup de personnes ont leur propre vision de ce que veut dire la chanson. Mais, je ne voudrais pas te parler de mon histoire (rires), un jour peut-être… mais pas tout de suite.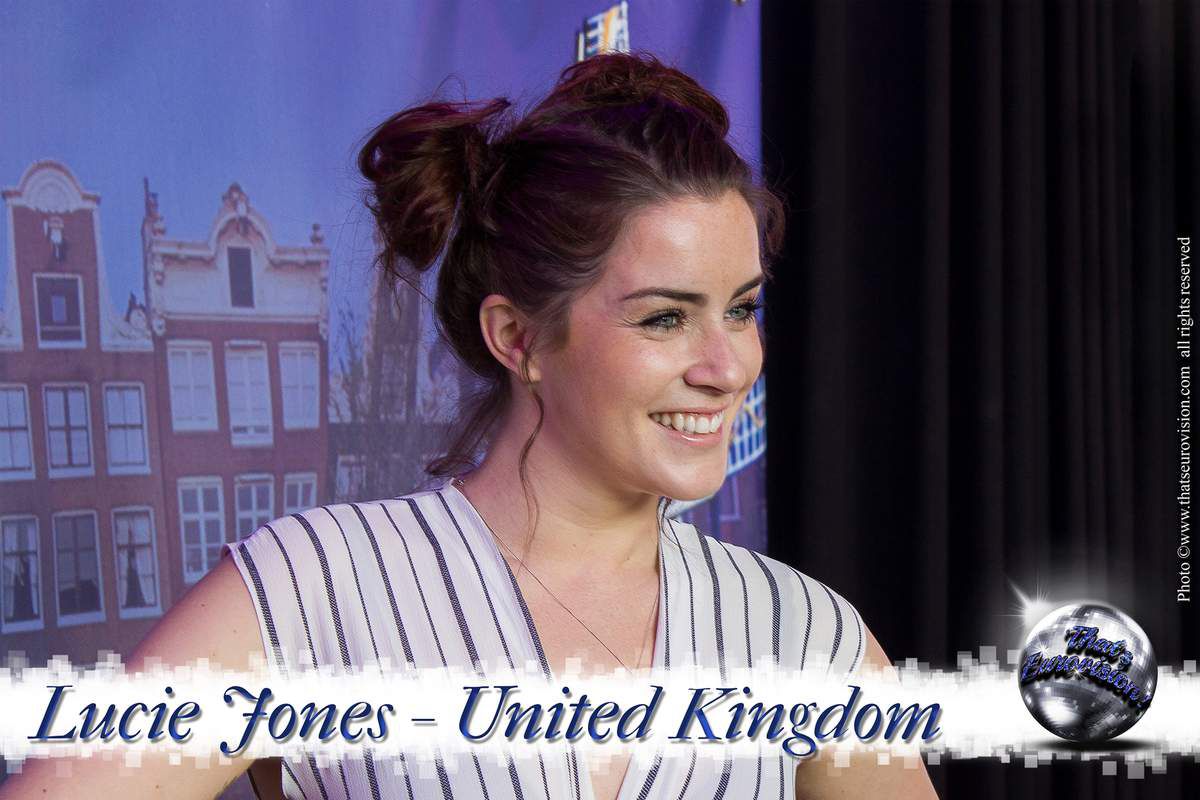 That's Eurovision ! : Quelle fut la réaction de ta famille et de tes amis quand tu as remporté le droit de représenter le Royaume-Uni à l'Eurovision ?
Lucie : Ils étaient tous très excités. C'est un si grand honneur et ils étaient tous là, ils étaient tous présents lors de la finale à Londres pour me soutenir. C'était vraiment super de tous les avoir à mes côtés quand les résultats ont été donnés. Ils étaient là pour fêter cela avec moi. C'était un moment formidable pour nous tous.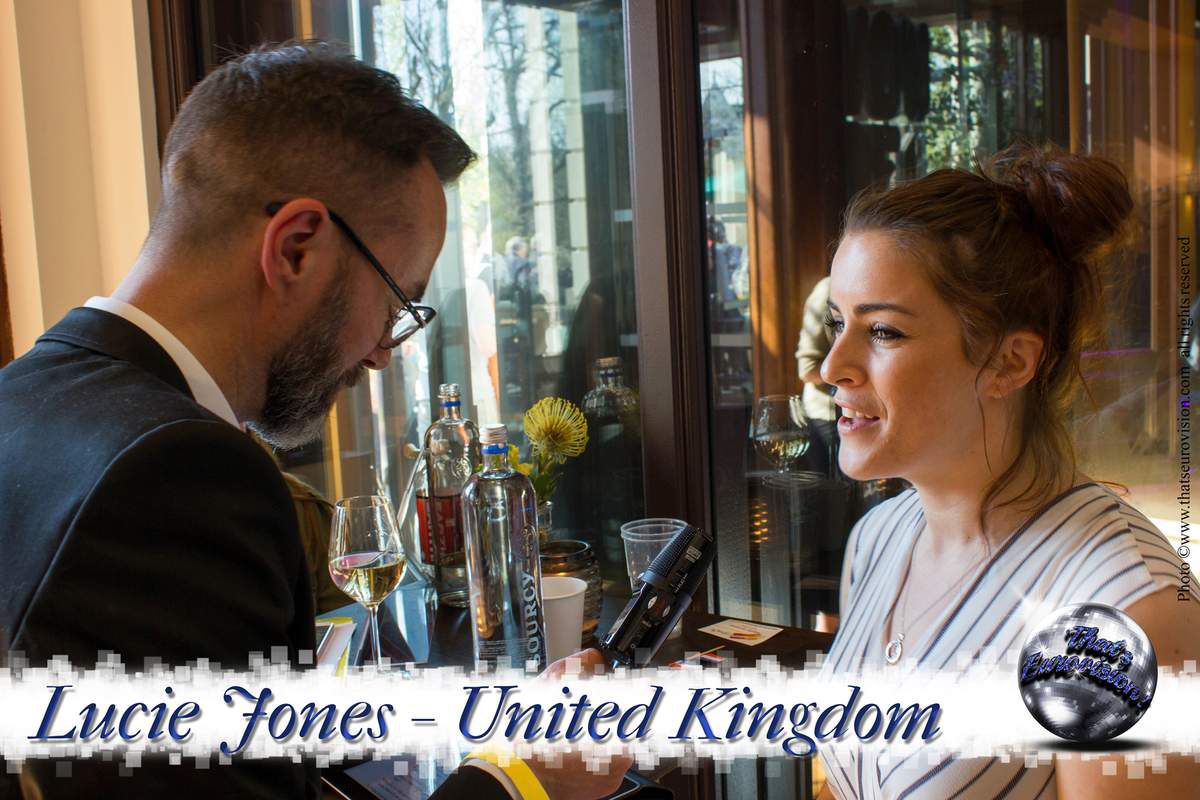 That's Eurovision ! : Que dirais-tu à la petite fille que tu étais si tu venais à la rencontrer ?
Lucie : Je lui dirais… n'arrêtes jamais d'y croire ! Tu peux faire tout ce que tu veux, peu importe ce qu'on peut te dire, peu importe combien de personnes te tirent vers le bas ou te claquent la porte à la figure. Tu peux y arriver alors il faut juste y croire et foncer.
That's Eurovision ! : Tu as des yeux magnifiques !
Lucie : (rires) merci !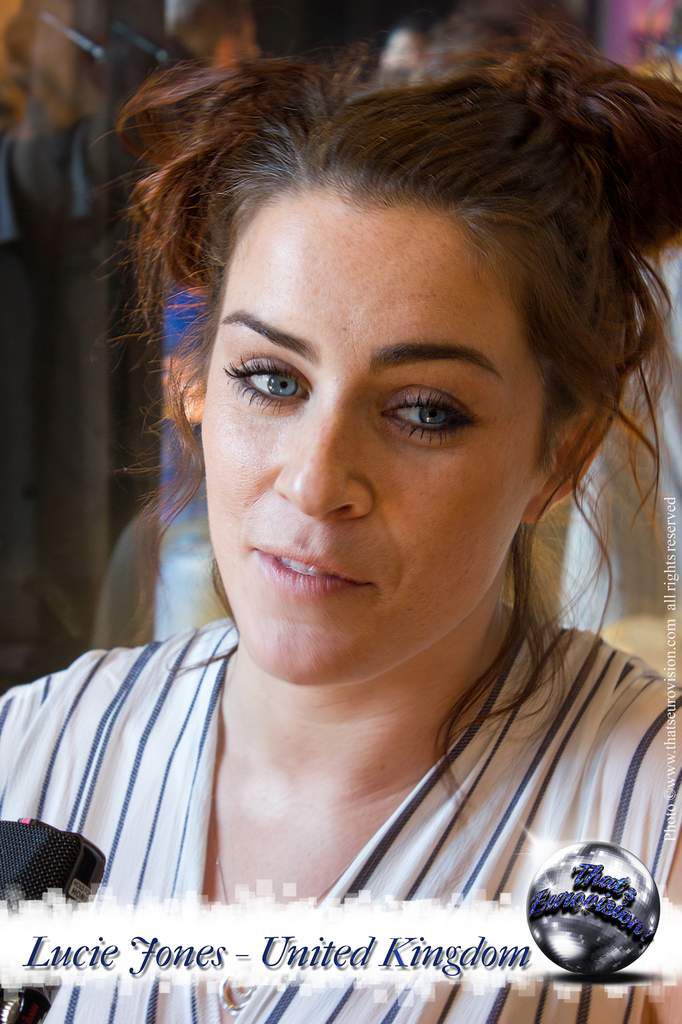 That's Eurovision ! : Suppose que tu te réveilles demain dans le corps d'un homme, cela va durer 24 heures, que vas-tu faire ?
Lucie : (elle éclate de rire) C'est la meilleure question que l'on ne m'ait jamais posée ! (elle continue de rire)… Ok, honnêtement, pour être plus sérieux, je sortirais probablement pour militer activement pour les droits des femmes et l'égalité. Je pense aussi… que j'aimerais me regarder nue car ce serait vraiment bizarre… (rires)… j'irais dans la rue et me comporterais comme un gentleman avec les femmes, par exemple leur tenir la porte… sérieusement, je ne serais pas un gros dur, mais plutôt un gentleman en costume.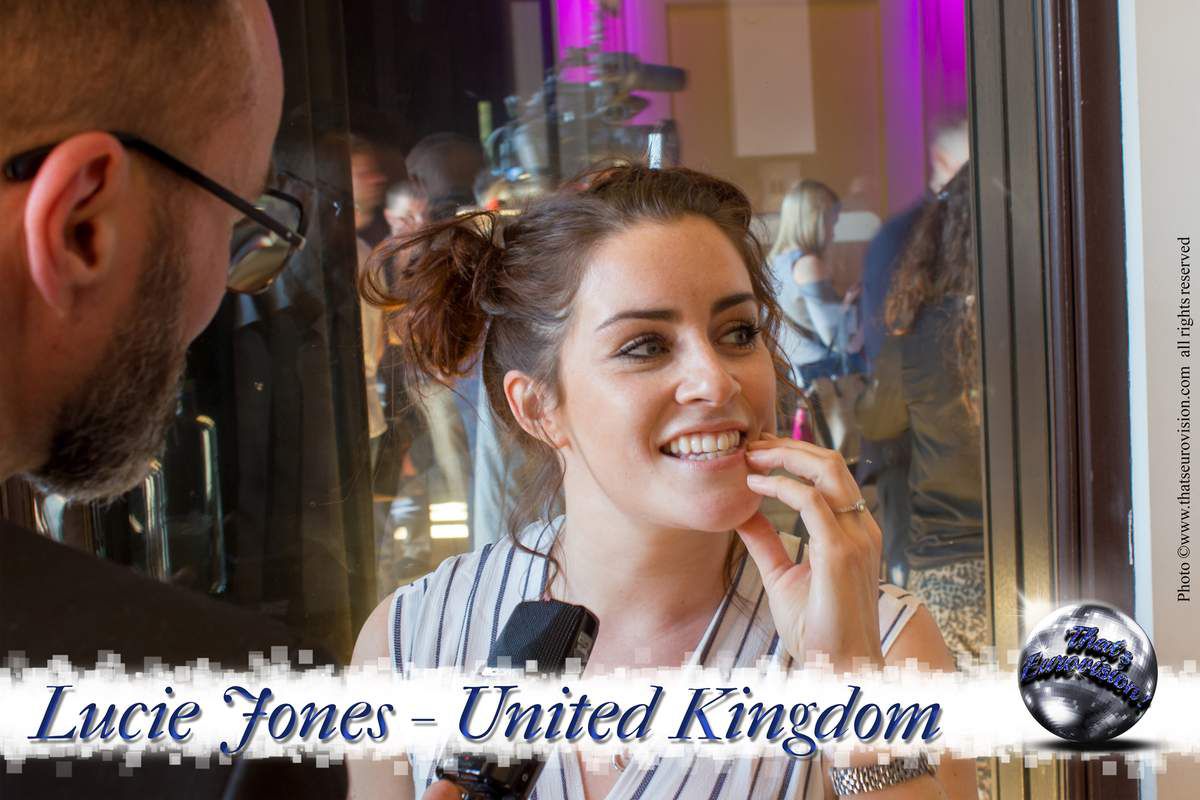 That's Eurovision ! : On te propose d'enregistrer une chanson en duo avec l'artiste de tes rêves, quelle serait cette chanson et qui choisirais-tu pour ce duo ?
Lucie : De tous les artistes… de tous temps… c'est une question tellement difficile, à chaque fois je choisis quelqu'un de différent… mais aujourd'hui je vais choisir… Frank Sinatra, et serait quelque chose qui ressemblerait à une belle grande chanson de jazz.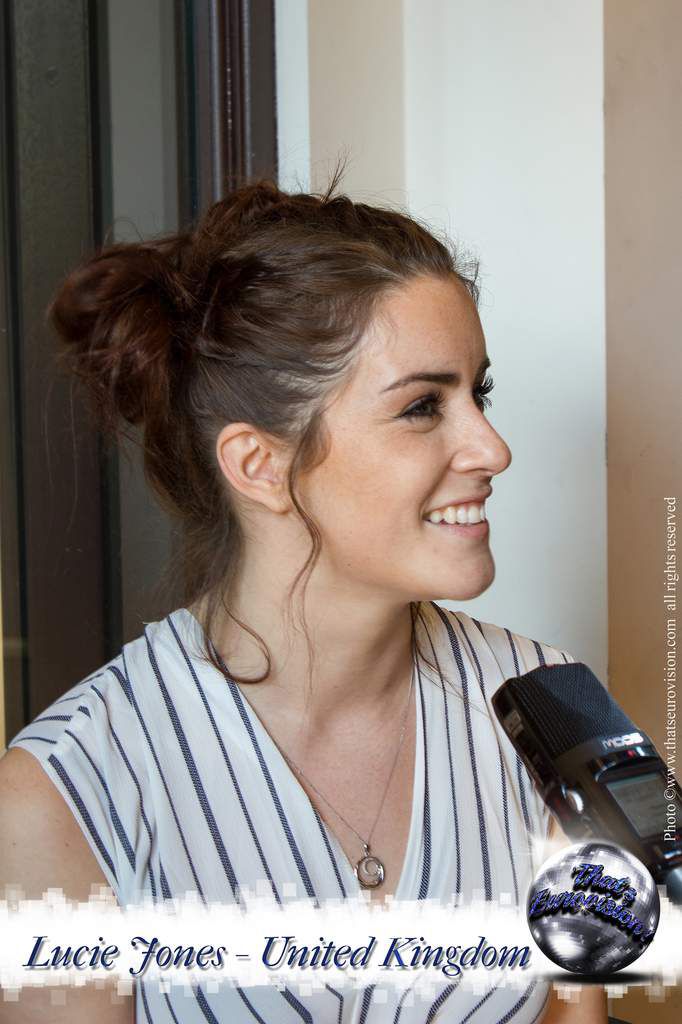 That's Eurovision ! :Vas-tu enregistrer un album après le Concours ? Si oui, à quoi ressemblera t'il ?
Lucie : Oui j'aimerais bien en fait, mais en ce moment je fais tant de choses, entre autres une comédie musicale et une tournée. Donc en ce moment je n'ai le temps pour rien d'autres, mais peut-être plus tard dans l'année nous verrons.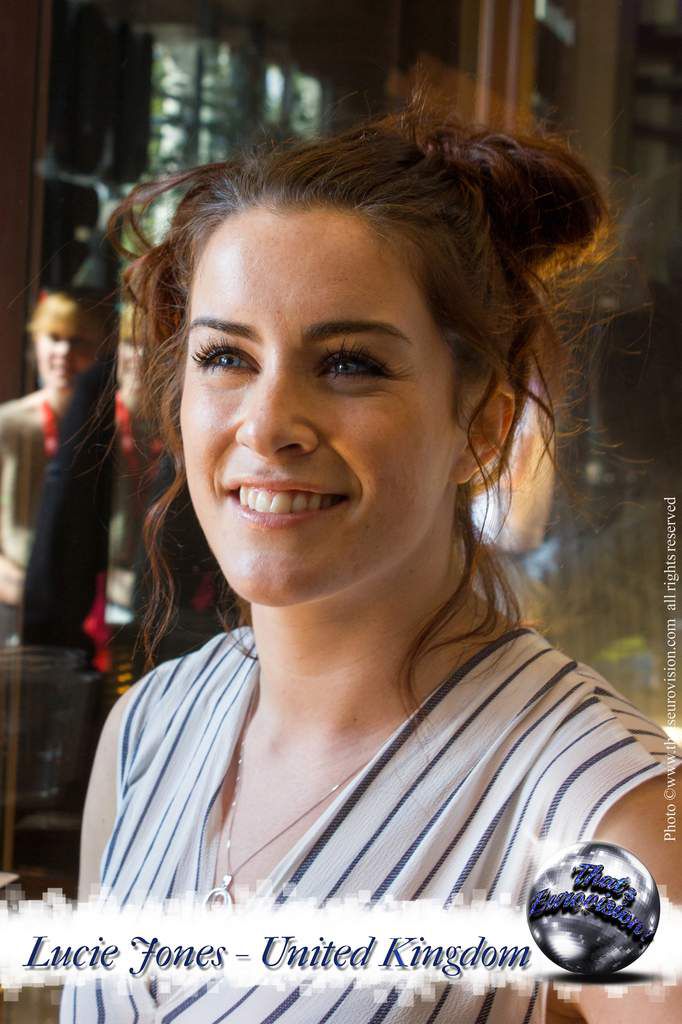 That's Eurovision ! : Si je t'invite à venir en France, que voudrais-tu visiter d'abord ?
Lucie : Eh bien mon fiancé vient de France, sa famille est de Paris…
That's Eurovision ! : Et tu sais que les Français sont les meilleurs !!
Lucie : Oh oui je sais, j'adore les hommes Français (rires). Il est Franco-Américain, il est mon meilleur soutien. J'aime la France et aller en vacances dans le Sud ou en Normandie. J'aime vraiment la France et j'essaye d'apprendre le Français.
That's Eurovision ! : Que veux-tu dire à nos lecteurs, peut-être en Français ?
Lucie : Ooh !! J'adore Eurovision !! (rires), à bientôt à Kiev !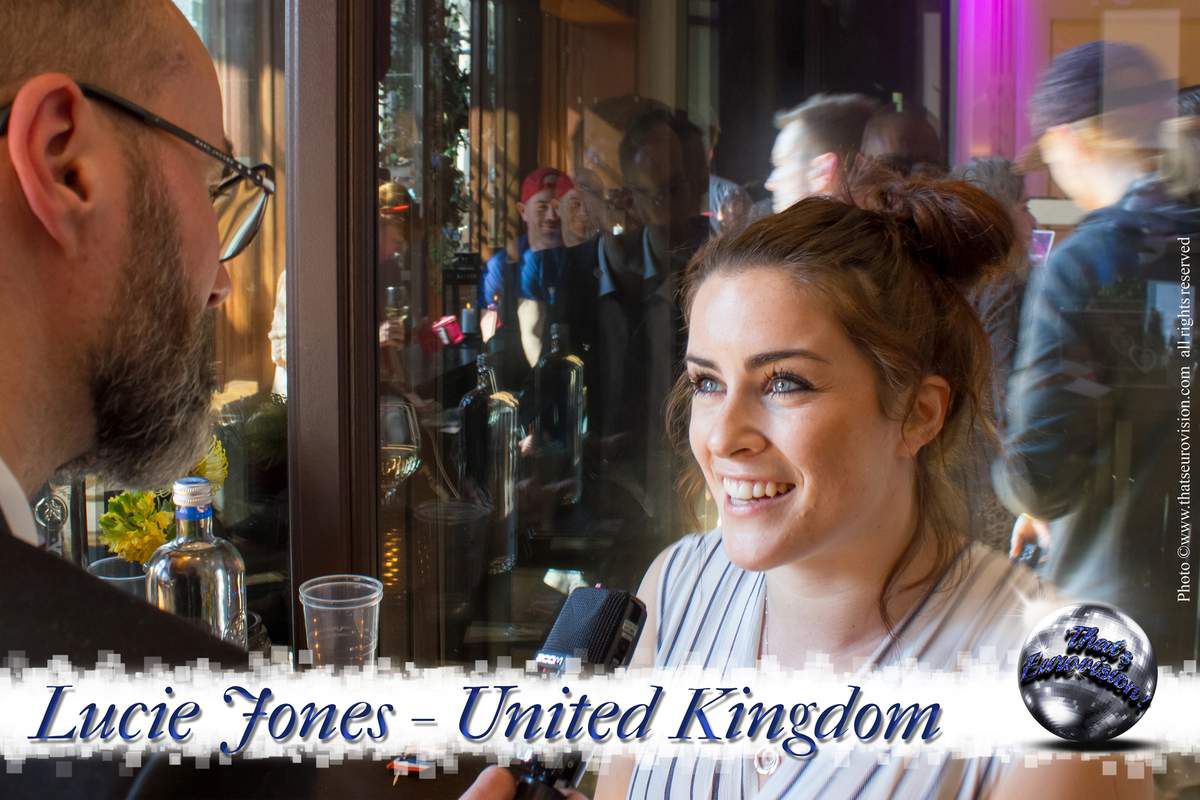 In English s'il vous plaît !
Lucie Jones will represent United Kingdom in Kiev. We had the chance to interview her during her trip to Amsterdam. Thank you Lucie for the giggles, thank you for your smile and your enthusiasm!
That's Eurovision! : Hello Lucie, Welcome in Amsterdam ! How do you live this Eurovision adventure?
Lucie Jones : Thank you ! It's good to be here. I don't know, you live it everyday it comes and it's just… crazy. I never would have guessed I would be here, even if I would wish it. It's amazing.
That's Eurovision! : Your song for Kiev "Never Give Up on You" is a beautiful ballad, can you please tell us the story of this song?
Lucie : I have my story, it's very personal to me and I'm sure a lot of person have their own vision of what the song means. But, I would not tell you my story is (laughs), maybe one day… but not right now.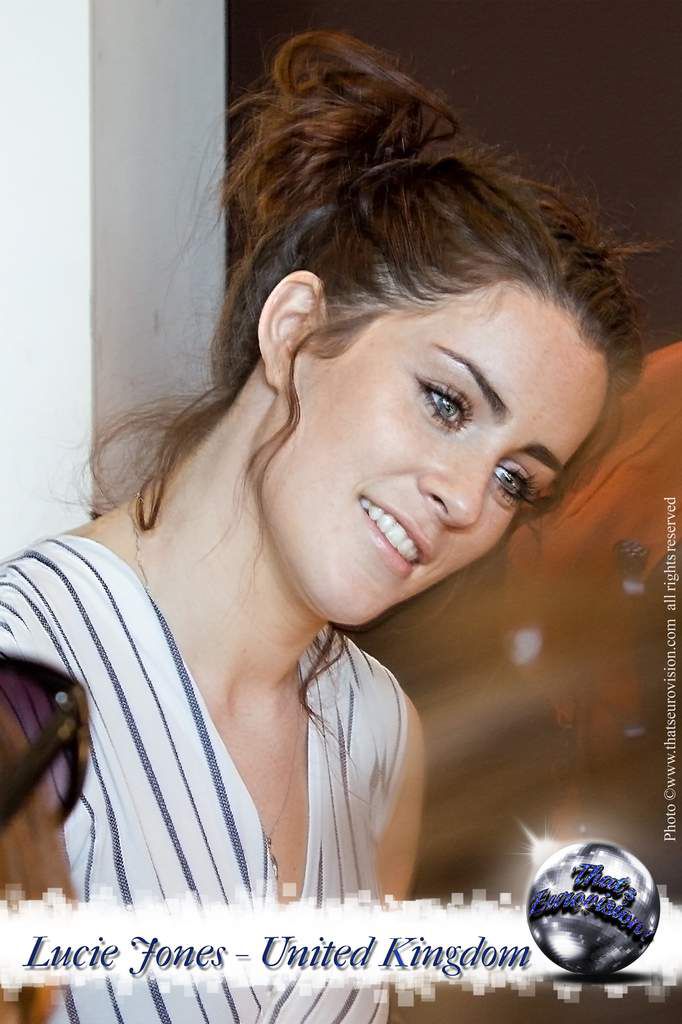 That's Eurovision! : What was the reaction of your family and friends when you won the right to represent United Kingdom in Eurovision ?
Lucie : They were so excited. It's such a wonderful honour and they were all there, they were all at the final in London, they were supporting me. It was really really nice to have them near when we've got the results. They were there to celebrate it with me. It was just a wonderful time for all of us.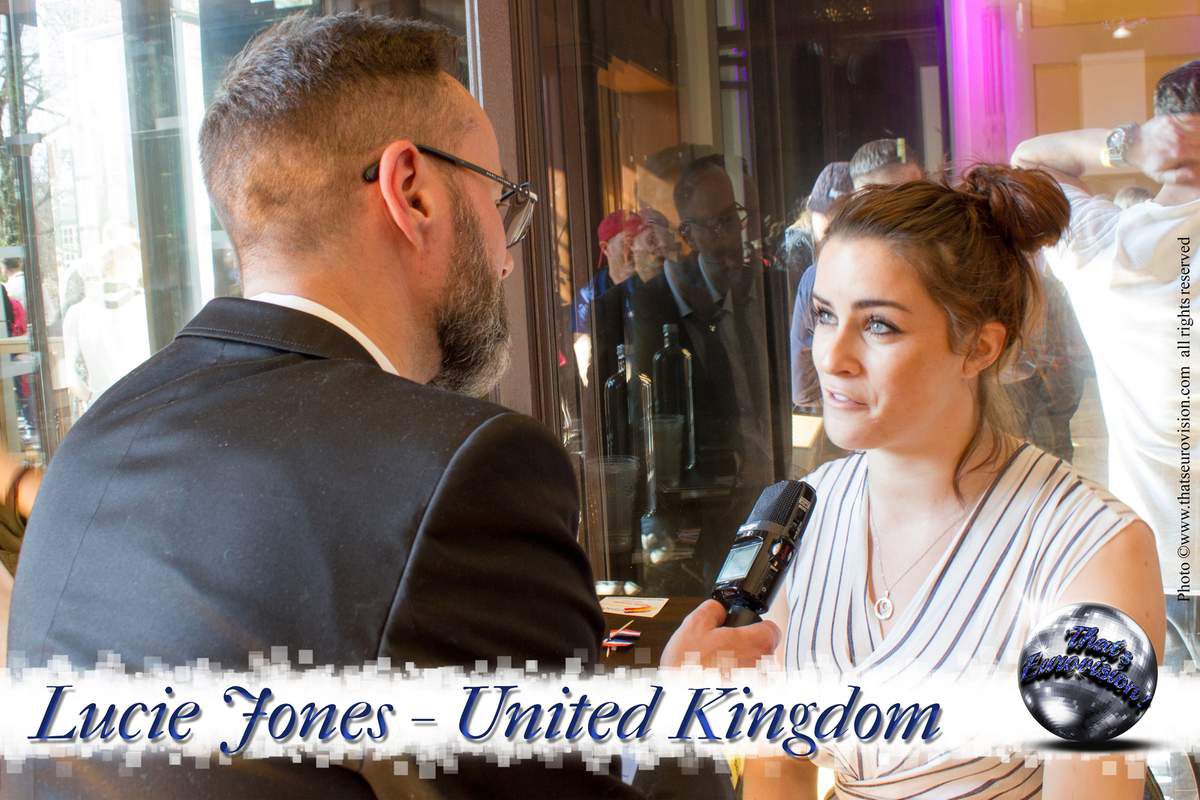 That's Eurovision! : What would you say to the little girl you came to meet her ?
Lucie : I'd say… dont stop believing ! You can do anything you want, no matter what anyone says to you, no matter how many people put you down and slam the door in your face, you can do this, so just believe and keep going
That's Eurovision! : You've got beautiful eyes !
Lucie : (laughs) thank you !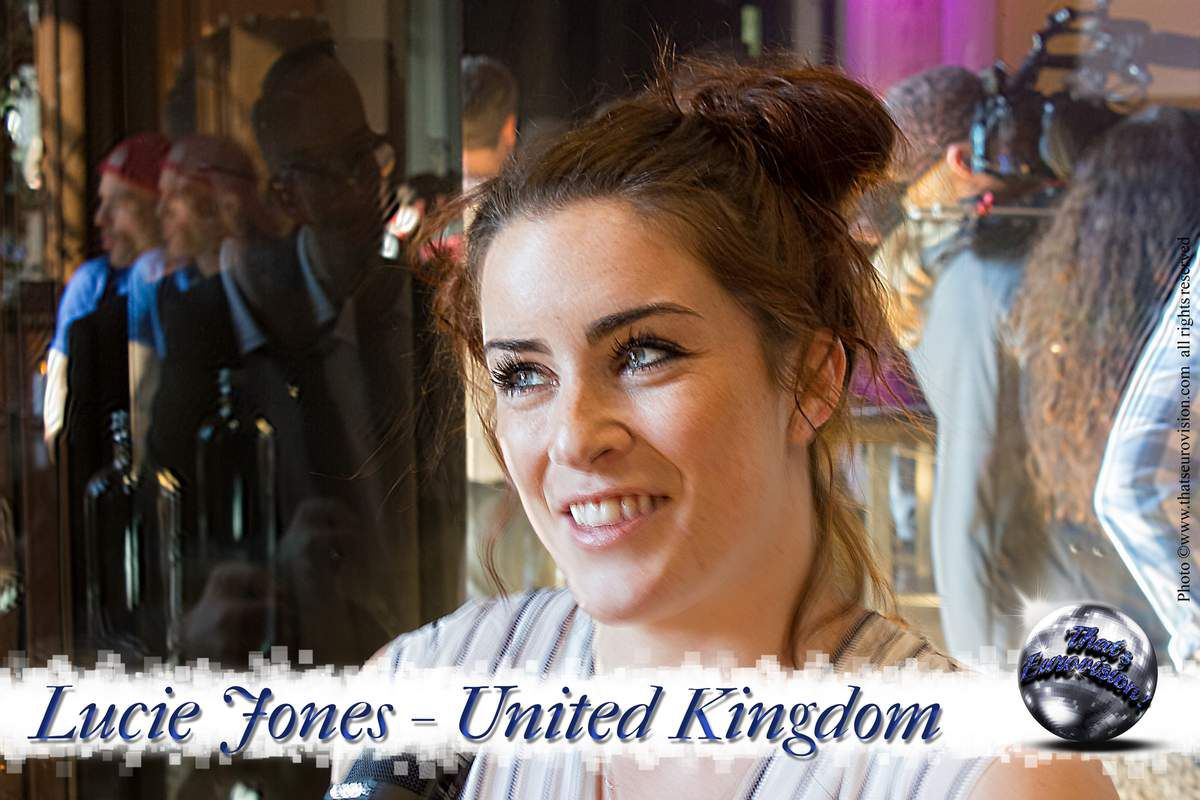 That's Eurovision! : Suppose you wake up tomorrow in a body of a man, it will last 24 hours, what will you do?
Lucie : (she bursts out laughing) That's the best question that was ever asked me ! (she can't stop laughing)… Ok, honestly, on a serious level, I would probably go out and do something active for women's rights and equality. But also, I really would like to look at myself naked cause I would be weird… (laughs)… I'd just go out and be really a gentleman with all the women on the street, like holding doors open… seriously, I wouldn't be like a builder on a scaffold, I would be more like a gentleman in a suit.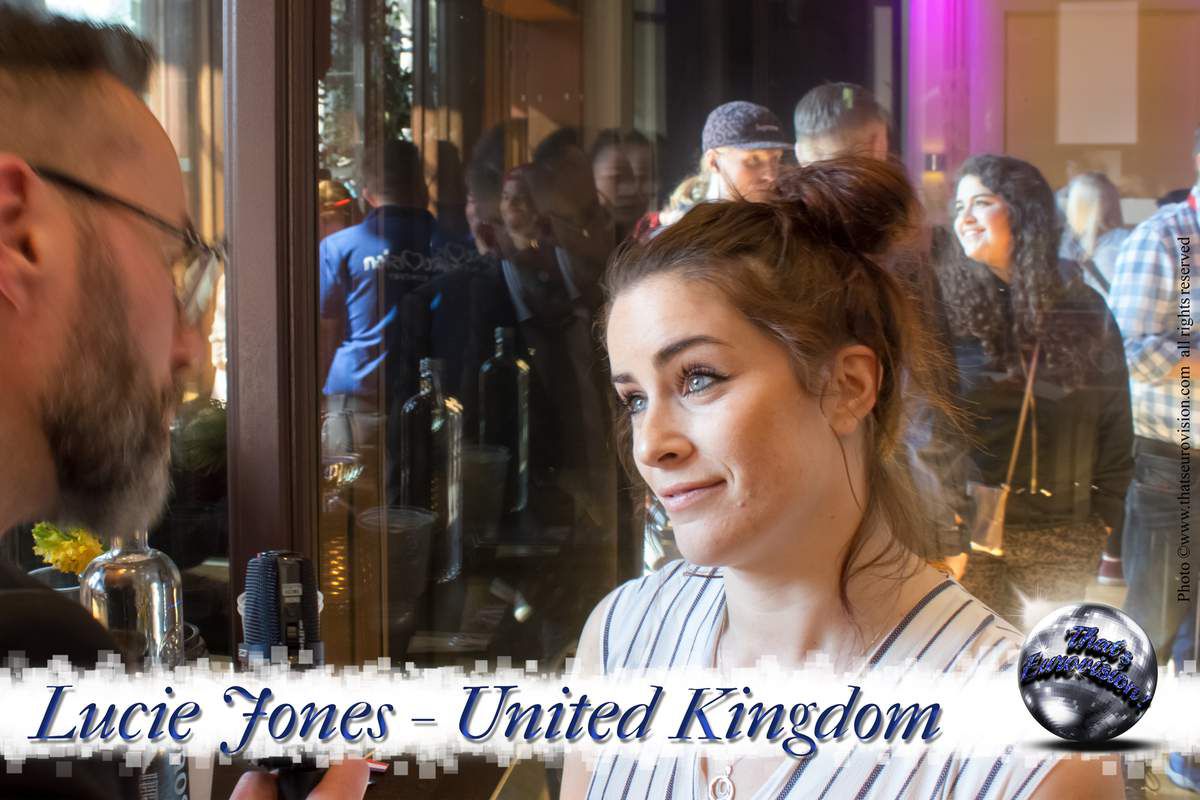 That's Eurovision! : You are proposed to record a song you love with the artist of your dreams, which song would it be and who would you choose for this duet?
Lucie : Of all the artists of all the time… it's such a hard question, each time I choose someone different… But today, I'm gonna choose… Frank Sinatra, and I would go for something like beautiful big jazz song.
That's Eurovision! : Will you record an album after the Contest? If yes, what will it look like?
Lucie : I would like to and I have a lot of things going on, I mean a musical and touring around. So, we don't have time for anything at the moment, but maybe later in the year we'll see.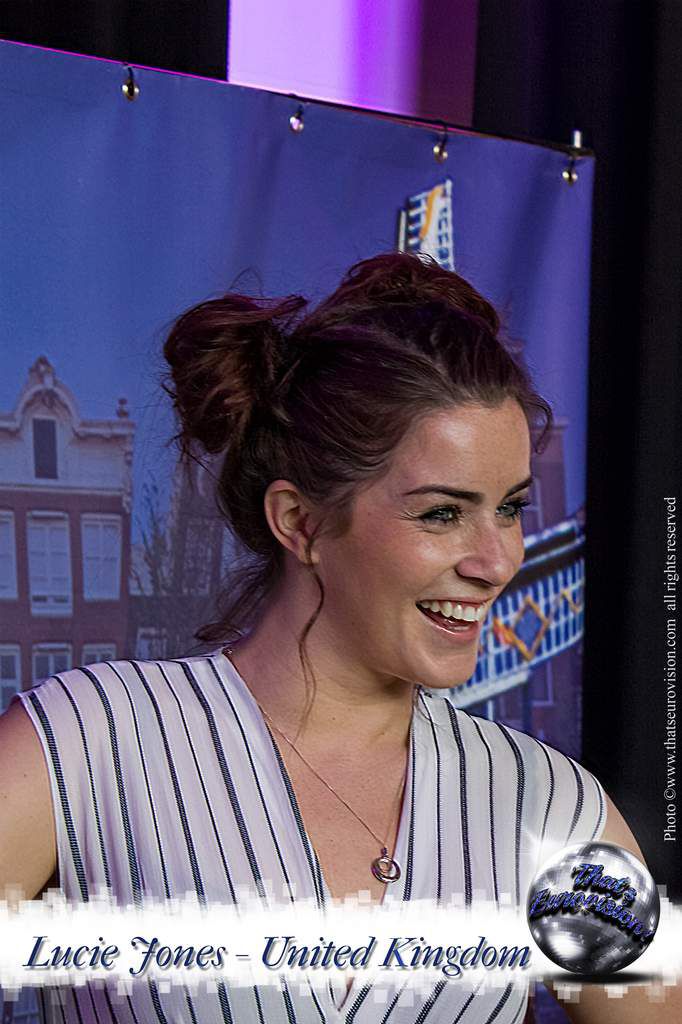 That's Eurovision! : If I invite you to come to France, what would you like to visit first ?
Lucie : Well, my fiance is from France. His family is from Paris…
That's Eurovision! : And you know that French are the best ones !!
Lucie : Oh yeah I know I'm very found of French men (laughs). He is French-American so I have the best support. I love France and have holidays in the south but also in Normandie. I really do love France and I'm trying to learn to speak French.
That's Eurovision! : What do you want to say to our readers, maybe in French?
Lucie : Ooh !! J'adore Eurovision ! (laughs) See you in Kiev !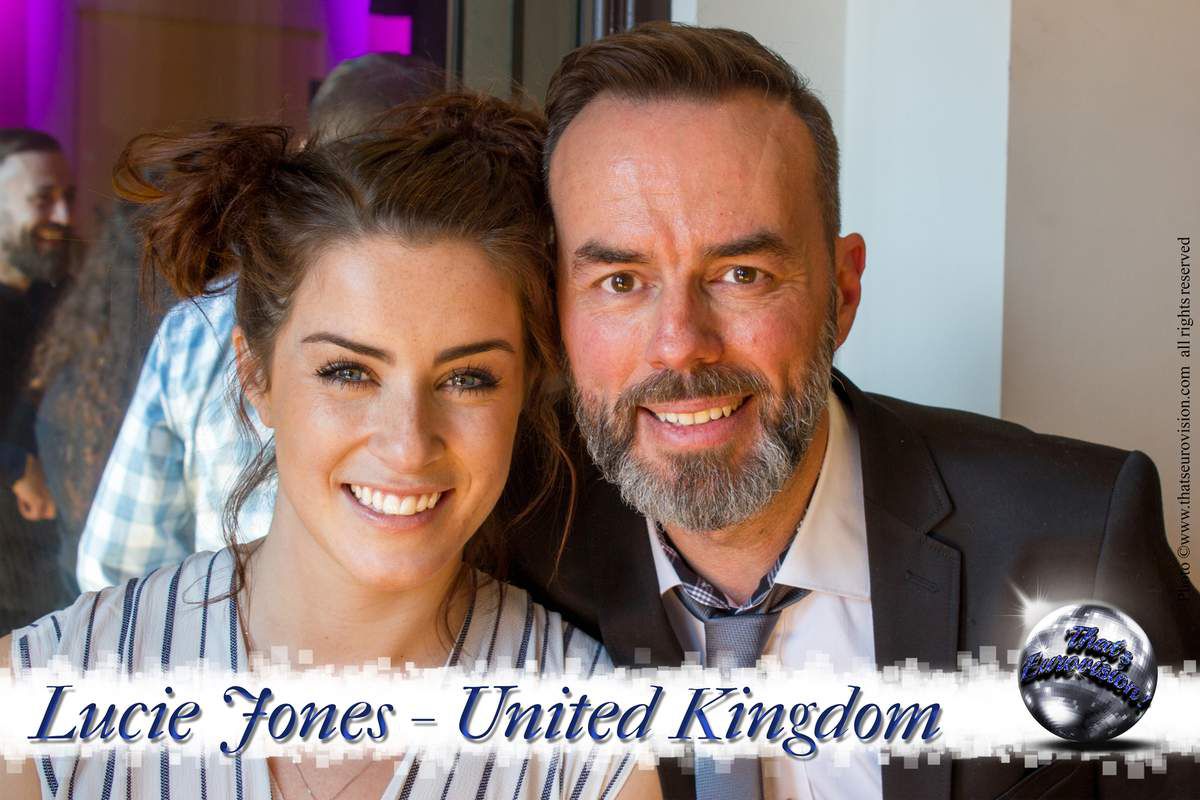 Photos & Présentation graphique : Ludwig
United Kingdom - Lucie Jones "Never Give Up On You" (Official Video)