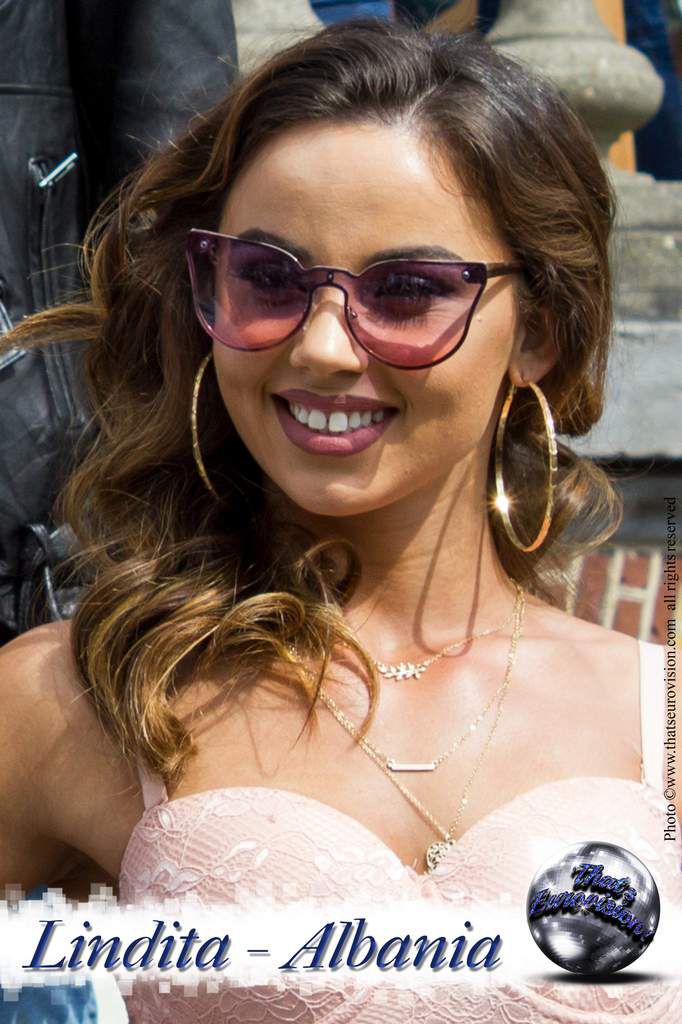 En Français please!
Lindita va représenter l'Albanie au 62ème Concours Eurovision en Ukaine avec sa chanson "World". C'est à Amsterdam, pendant "l'Eurovision in Concert" que nous avons eu le plaisir de la rencontrer. Interview séduction avec une femme de cœur.
That's Eurovision ! : Bonjour Lindita ! Bienvenue à Amsterdam ! Comment appréhendes-tu cette aventure « Eurovision » ?
Lindita : Merci beaucoup ! Votre soutien me va droit au cœur ! Je me sens super bien ! J'ai hâte de rencontrer tout le monde. En quelques heures, j'ai rencontré certains des artistes et leurs équipes. Tout le monde est si cool et si gentil. Ca me booste vraiment.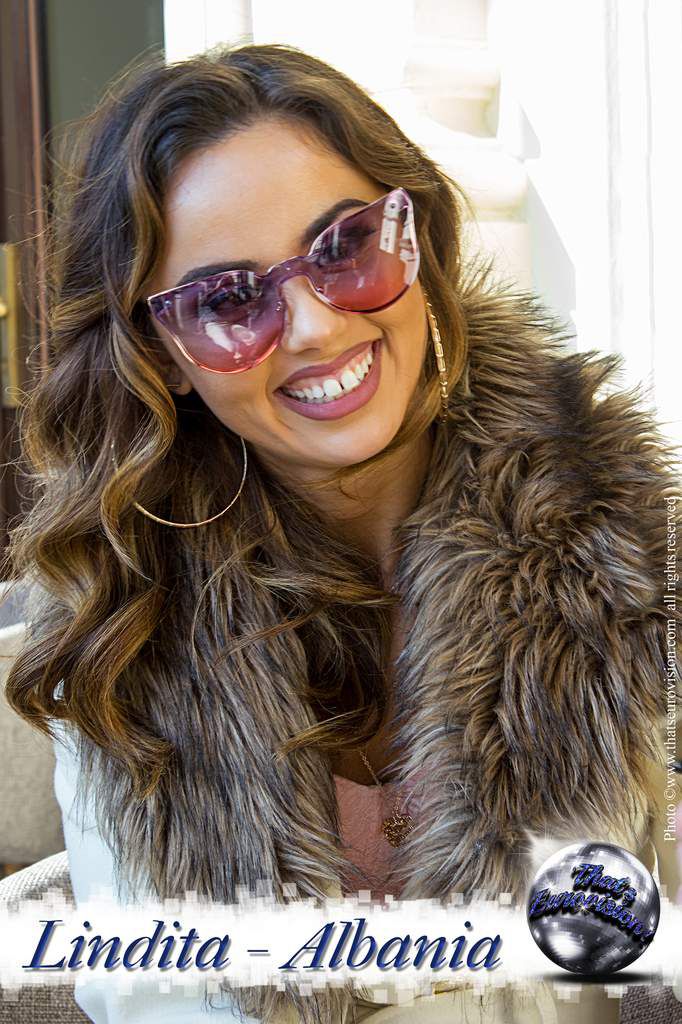 That's Eurovision ! : Tu seras la 14ème représentante de ton pays et la 11ème femme à chanter pour l'Albanie lors de l'Eurovision. Les filles ont-elles le pouvoir ?
Lindita : Vraiment ?! Je ne le savais pas, tu me l'apprends à l'instant ! Eh bien, c'est un bon chiffre, j'aime le chiffre 1...1, 11 en fait (rires). Oui les mecs, les filles ont beaucoup de pouvoir ! Les Albanais sont un grand Peuple, j'aime mon Peuple.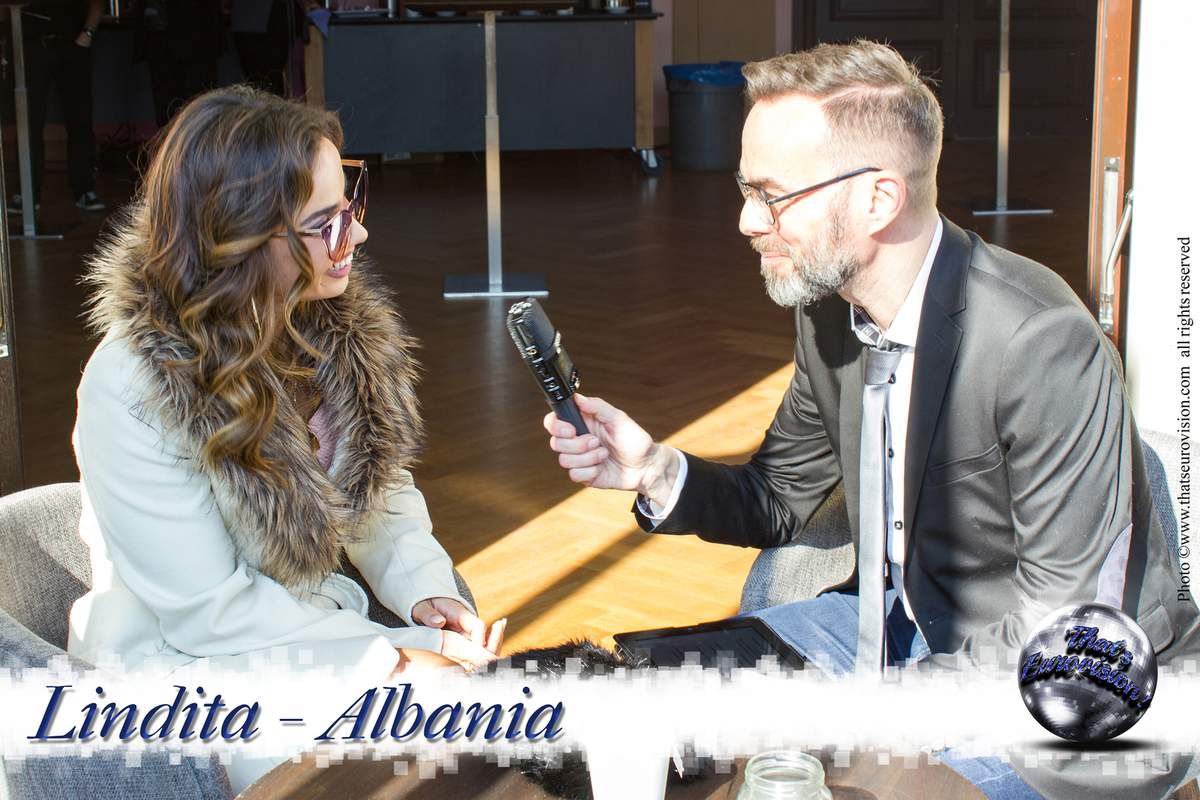 That's Eurovision ! : Quand as-tu découvert l'existence de l'Eurovision et quel en est ton premier souvenir ?
Lindita : En 2004, quand je l'ai vu pour la première fois et que je me suis dit « Je me fais la promesse d'en faire un jour partie moi-même », je suis donc très heureuse que cela se soit réalisé.
That's Eurovision ! : Ta chanson pour Kiev s'intitule «World ». Comment est née cette chanson ?
Lindita : Elle parle d'égalité entre Etres humains. Je voulais délivrer un message global, car tu vois, tellement de choses se passent dans le monde de nos jours, ca me rend si triste, je me sens si mal par rapport à tout ça que j'aimerais pouvoir faire quelque chose pour changer ça. Je voulais au moins essayer de le faire au travers de ma musique et me dire que tous seraient unis, comme je le dis dans ma chanson « Laisser l'amour vous unir », tu vois. Donc, au moins pendant la durée d'une prestation, je voulais que tous s'aiment les uns les autres.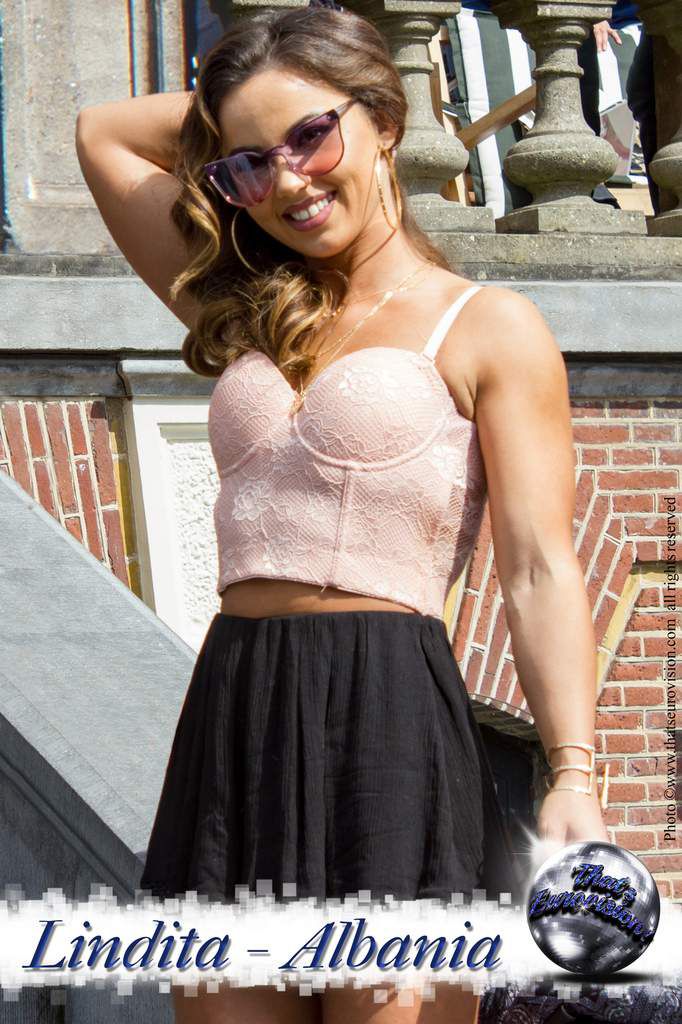 That's Eurovision ! : Quand tu n'es pas derrière un micro...où peut-on trouver Lindita ?
Lindita : A la gym (Rire). Je suis toujours dans une salle de sport, je bosse assez en studio !
That's Eurovision ! : Je t'offre la possibilité de réaliser l'un de tes rêves, quel serait-il ?
Lindita : Mon souhait le plus cher est de remporter un Grammy. Je sais que c'est un rêve fou, mais rien n'est impossible. Je voulais faire l'Eurovision et cela arrive, donc je pense que si c'est devenu réalité, le Grammy pourrait aussi le devenir.
That's Eurovision ! : Quelle est ta conception du bonheur ?
Lindita : Soyez heureux avec vous-même et aimez-vous tel que vous êtes. Peut importe d'où vous venez. Tu vois ce que je veux dire...tant que tu es entouré par une famille formidable et des gens qui t'aiment, c'est tout ce qui compte !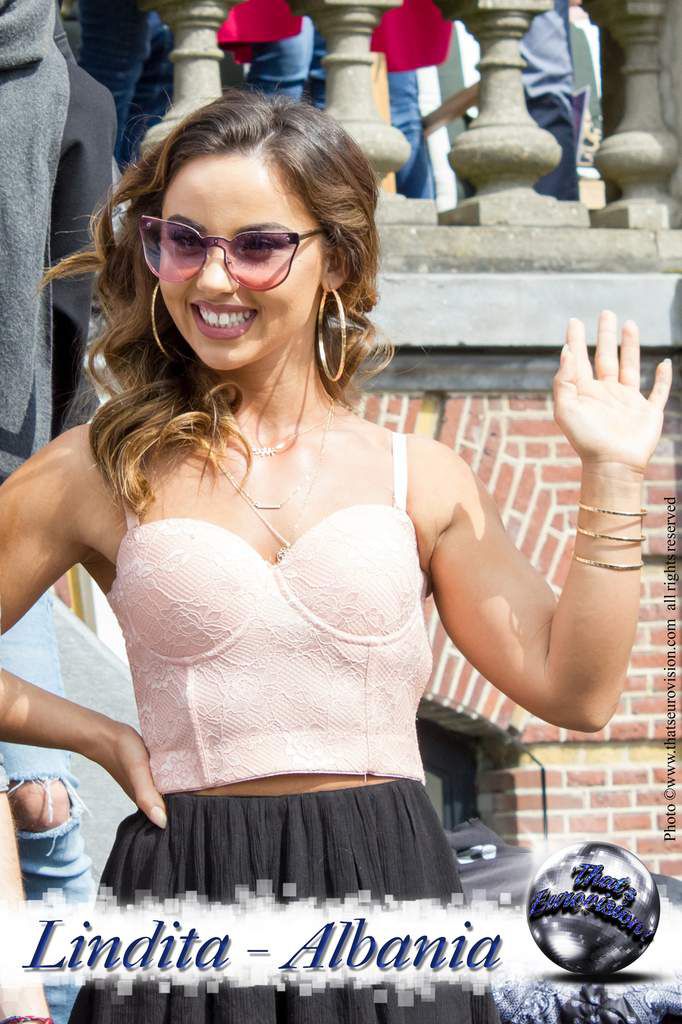 That's Eurovision ! : Imagine que tu rencontres la petite fille que tu étais... Que lui dirais-tu ?
Lindita : Je lui dirais d'arrêter de stresser... J'ai toujours été stressée pour tout, mais maintenant c'est comme si je pensais à tout positivement et que je laissais arriver les choses telles quelles.
That's Eurovision ! : Une bonne fée te donne un accès illimité à tous tes désirs, tu peux réaliser tout ce que tu veux, que fais-tu ?
Lindita : Je voudrais être invisible, oh oui, je pourrais visiter tous les endroits possibles, juste pour voir ce qui s'y passe, tu vois... pour apprendre de nouvelles choses.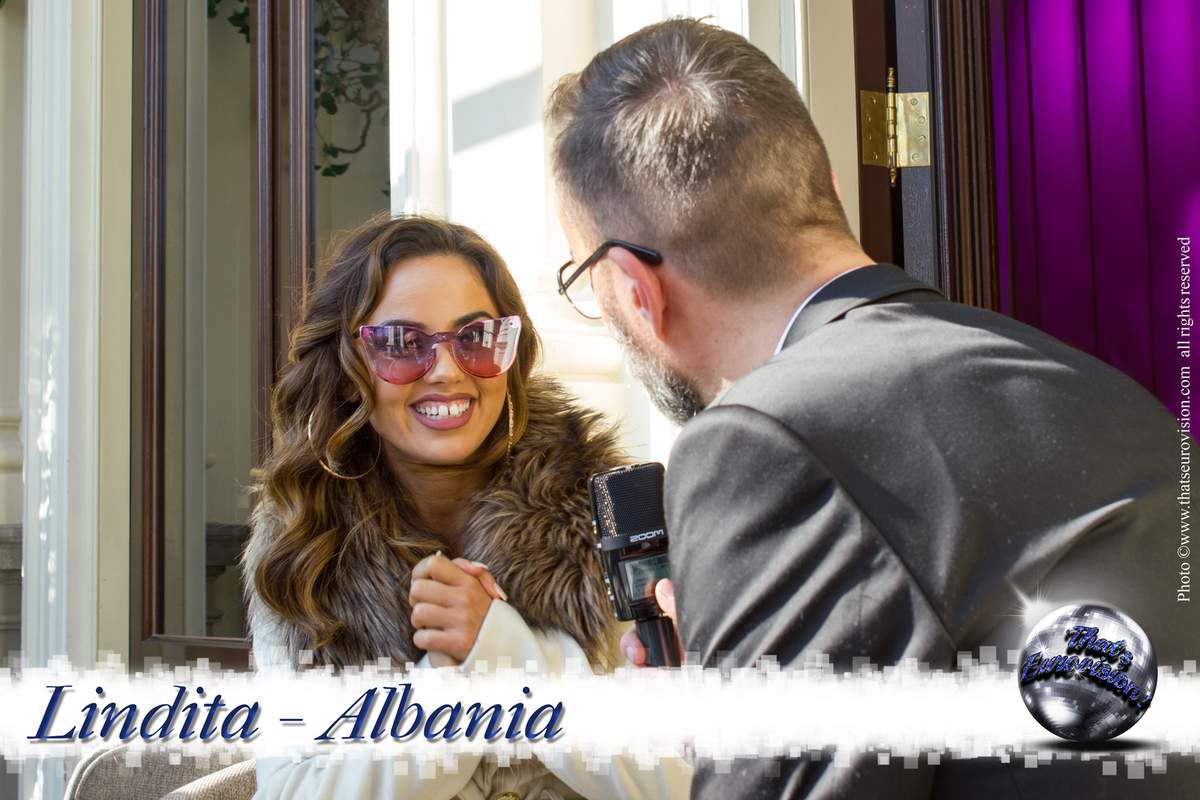 That's Eurovision ! : Veux-tu laisser un message à nos lecteurs, que ce soit en France ou ailleurs ?
Lindita : Je voudrais juste vous remercier tous pour votre soutien. Je reçois tant de messages des fans français et je suis trop heureuse... Tiens, au fait, je vais tout le temps à Paris ! J'y fais beaucoup de shopping et j'aime cette ville, j'aime les gens et leur culture aussi. Merci de me soutenir, je suis impatiente de vous rencontrer lors d'un concert j'espère !
That's Eurovision ! : Merci beaucoup Lindita ! Rendez-vous à Kiev !
Lindita : Merci !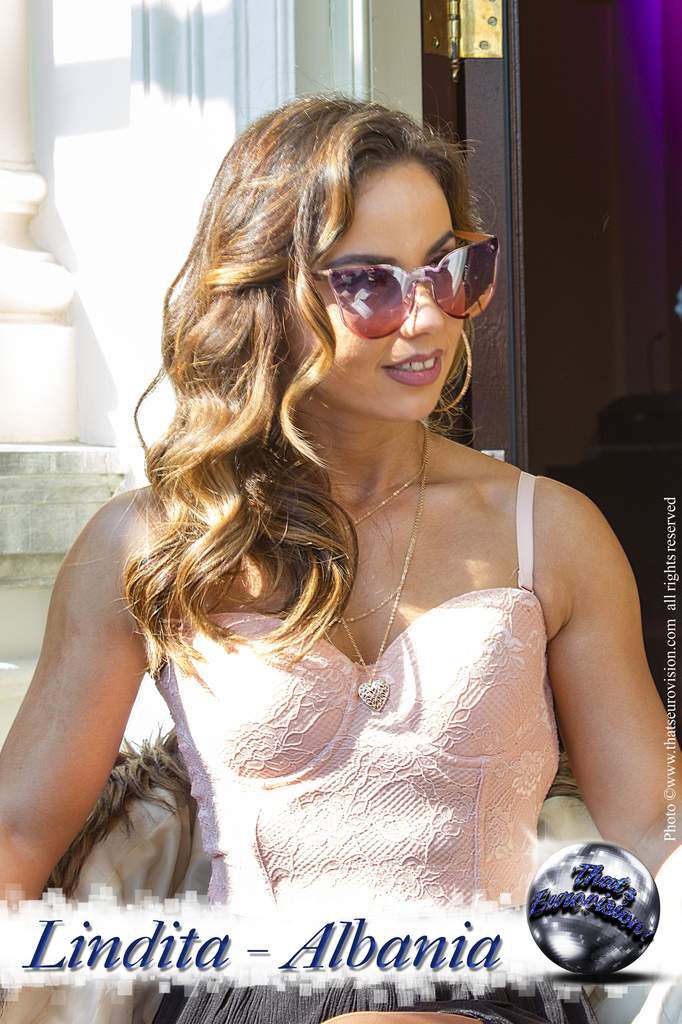 In English s'il vous plaît !
Lindita will represent Albania during the 62nd Eurovision Song Contest in Ukraine with her song "World". During "Eurovision in Concert", in Amsterdam, we had the pleasure to meet her. Seduction interview with a hearted woman.
That's Eurovision! : Hello Lindita, welcome in Amsterdam ! How did you approach the « Eurovision » adventure?
Lindita : Thank you so much! I feel very in love with this supporting! I feel great! I can't wait to meet everyone. In a few hours I met some of the artists and the delegations and their teams. Eveybody is so nice and so kind. This gave me life really.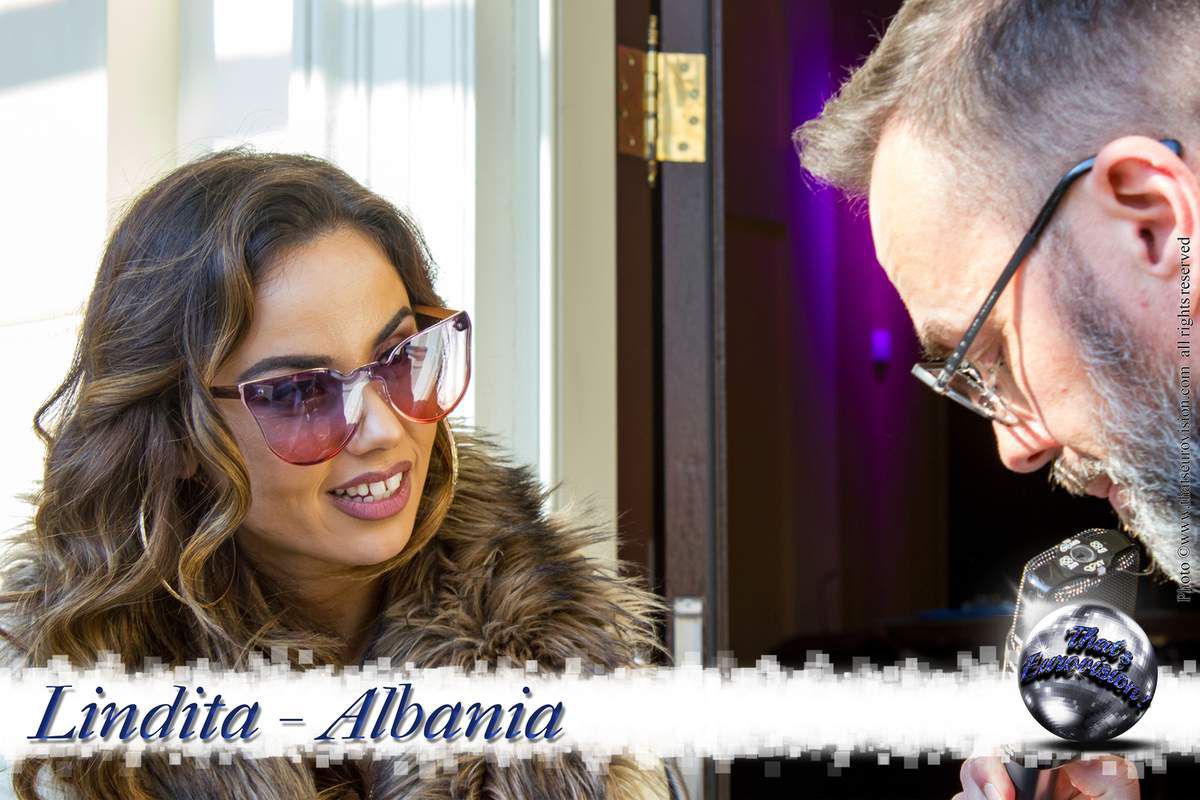 That's Eurovision! : You will be the 14thartist to represent your country and the 11th women to sing in Eurovision for Albania. Do girls have the power ?
Lindita : Really?! I didn't know, you just told me now for the first time! Well this is good number, I love the number 1… 1, 11, I guess (laughs). Yeah, we, girls, have a lot of power man! Albanian are great people, I love my people.
That's Eurovision! : When did you discover that The Eurovision Contest existed…and what is your first memory about it ?
Lindita : In 2004 when I first saw it and I said « I made that goal that one day I'm gonna be part of it myself», so I'm just happy it happened.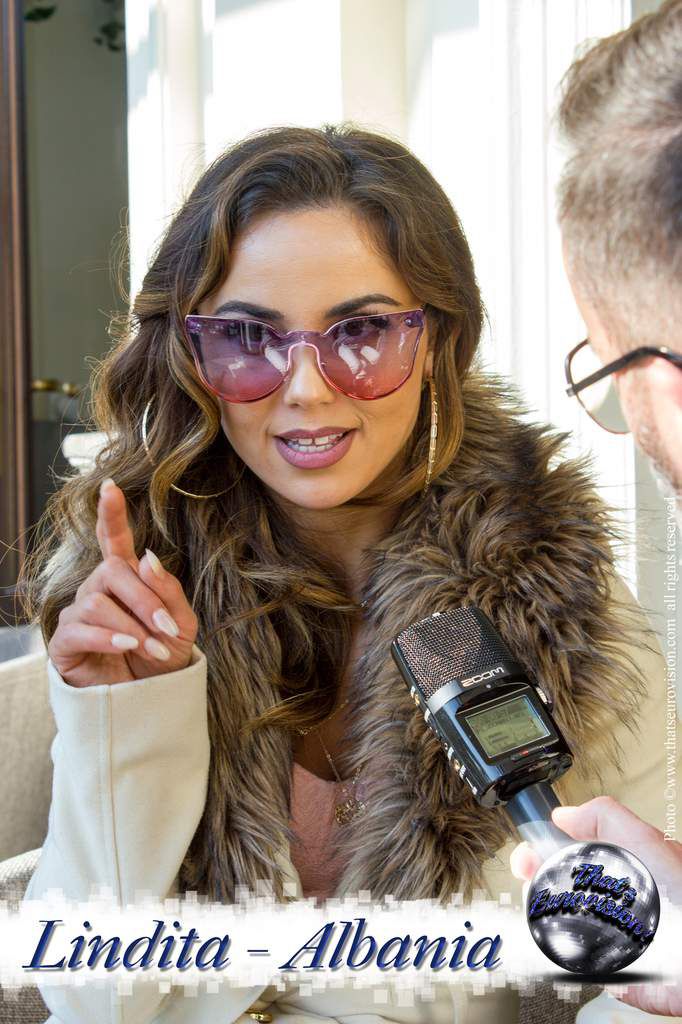 That's Eurovision! : The title of your song for Kiev is « World ». How was this song born ?
Lindita : It's about human equality. I wanted to make a global message cause you know there's so much going on around the world today that I feel so sad and bad about, that I wish I could change it. I just wanted at least change through my music and make sure that everybody unites together, like I say in my song « Let the love unite us all », you know. So, at least during a performance I wanted everybody to love one another.
That's Eurovision! : When not behind a microphone…where can we find Lindita ?
Lindita : Gym! (laughs). I'm in a gym always, I work enough in the studios!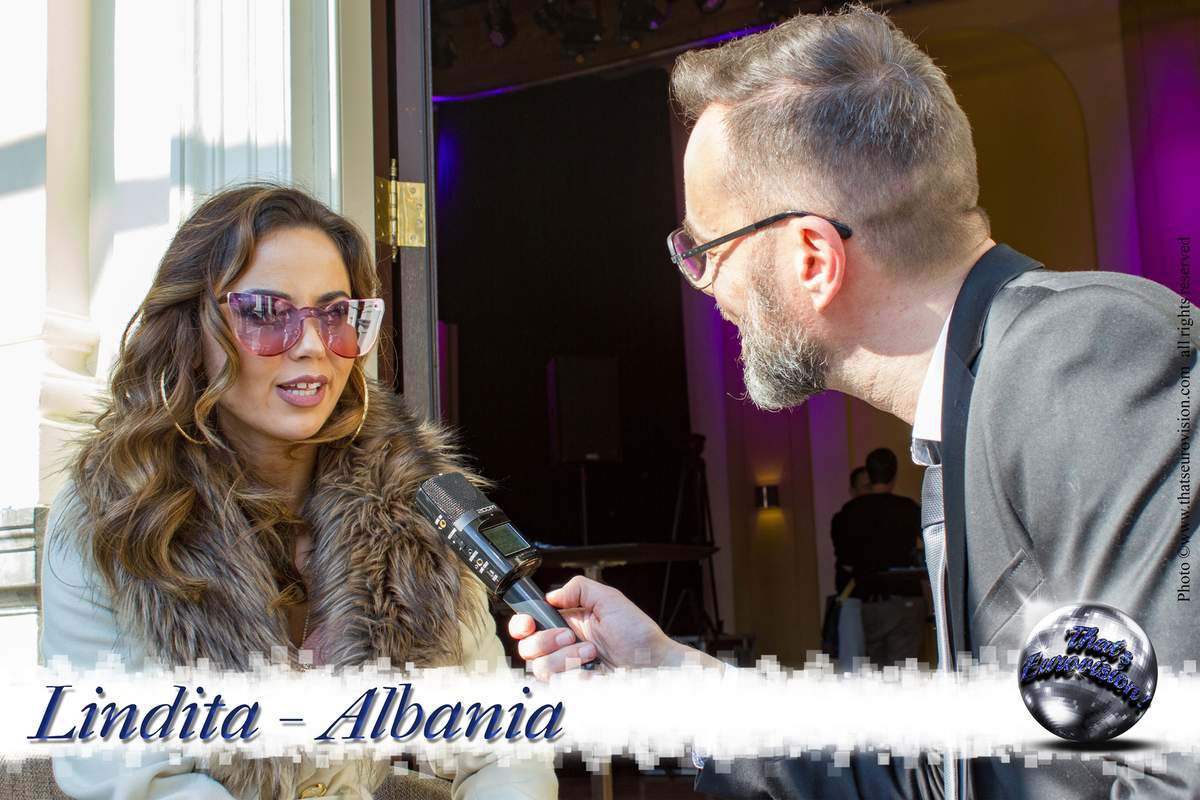 That's Eurovision! : I give you the opportunity to realise one of your dream, which would it be?
Lindita : My biggest wish to make is to win a Grammy. It's a big dream I know but nothing is impossible. I wanted to be in Eurovision and this is happening so I feel like if I could do this, I could do that too.
That's Eurovision! : What is your conception of happiness, of fortune ?
Lindita : Just be happy with yourself and love yourself for who you are. It doesn't matter where you come from. You know what I mean... as long as you have a great family and have people who love you, that's all that matters.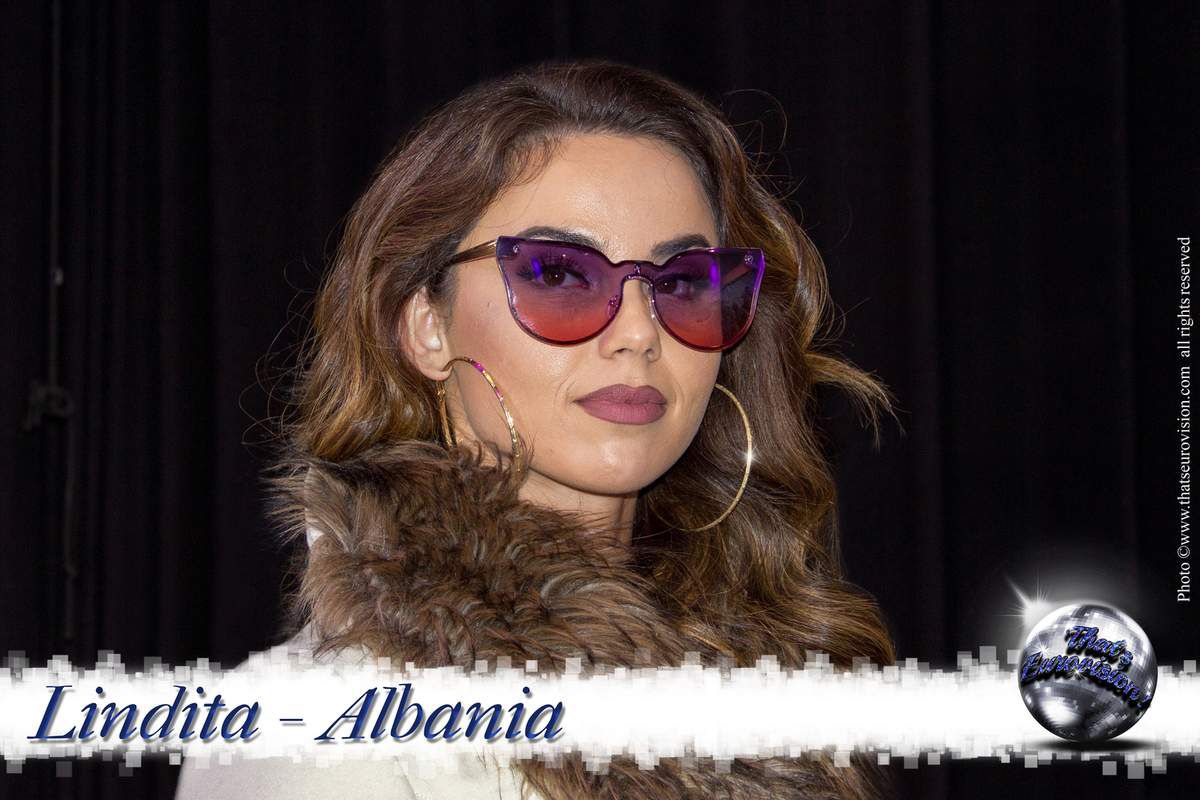 That's Eurovision! : Suppose you met the little girl you used to be… what would you tell her?
Lindita : I would tell her to stop stressing… I used to be always super stressed about everything, so now I'm just like thinking it all easy and just letting it come as it is.
That's Eurovision! : A good fairy gives you an unlimited access to all your desires, you will be able to realise all you can expect, what do you choose?
Lindita : I would like to be invisible, oh yeah, and I could travel to all the places that I can go you know just to see what's up...just to learn new things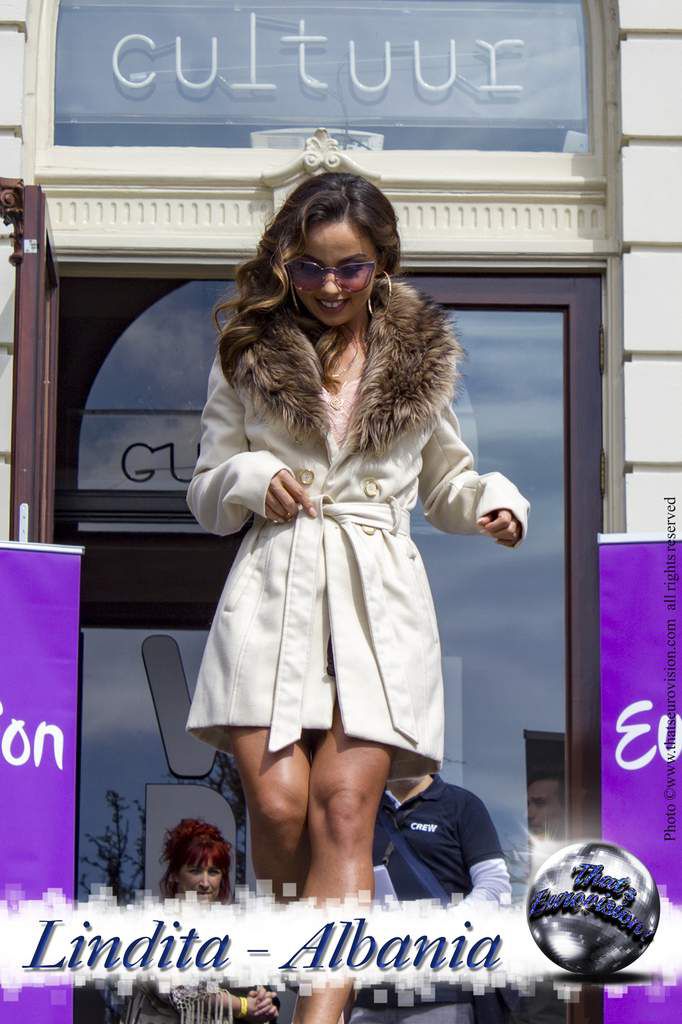 That's Eurovision! : Do you want to leave a message to our readers, may it be in France or anywhere else ?
Lindita : I just want to thank you guys for your support. I receive so many messages from French fans and I'm just so happy… I go to Paris all the time by the way! I shop there a lot and I love the city, I love the people and I love the culture also. Thank you for supporting me, I can't wait to see you also in a concert hopefully!
That's Eurovision! : Thank you so much Lindita! See you in Kiev!
Lindita : Thank you!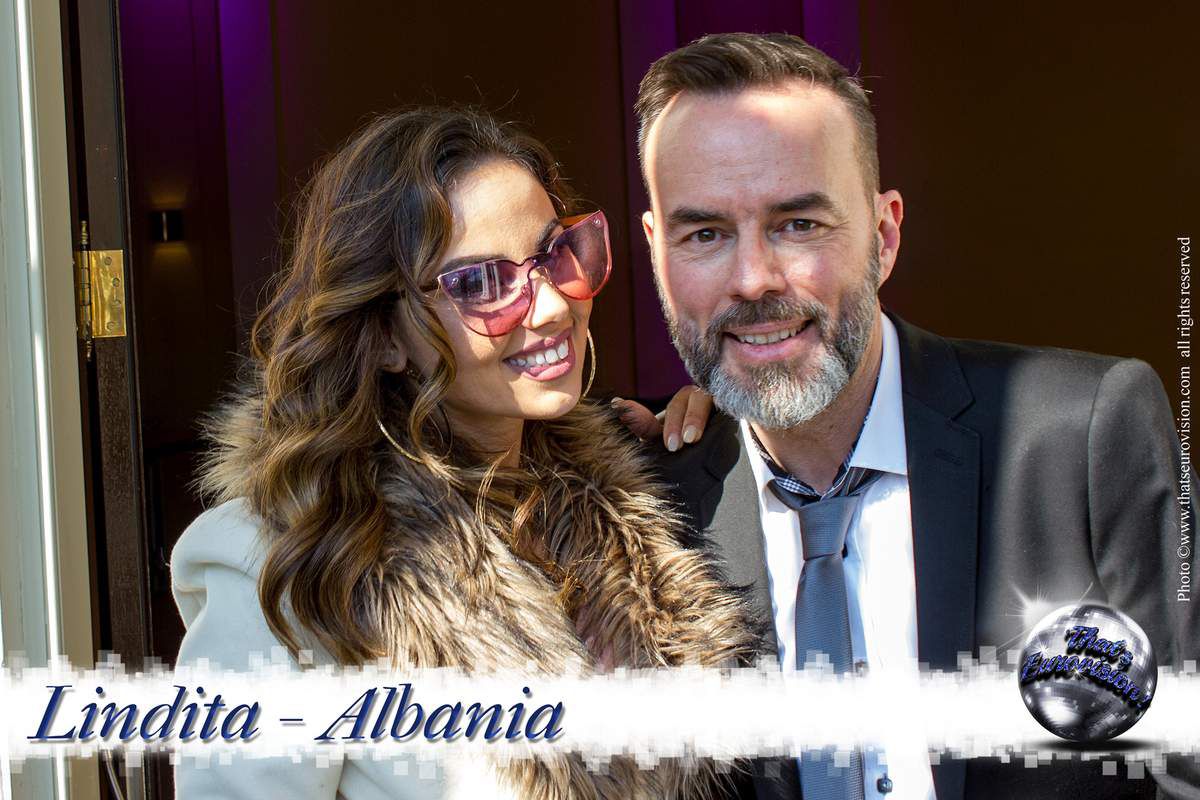 Photos & Présentation graphique : Ludwig
Albania - Lindita "World" (Official Video)