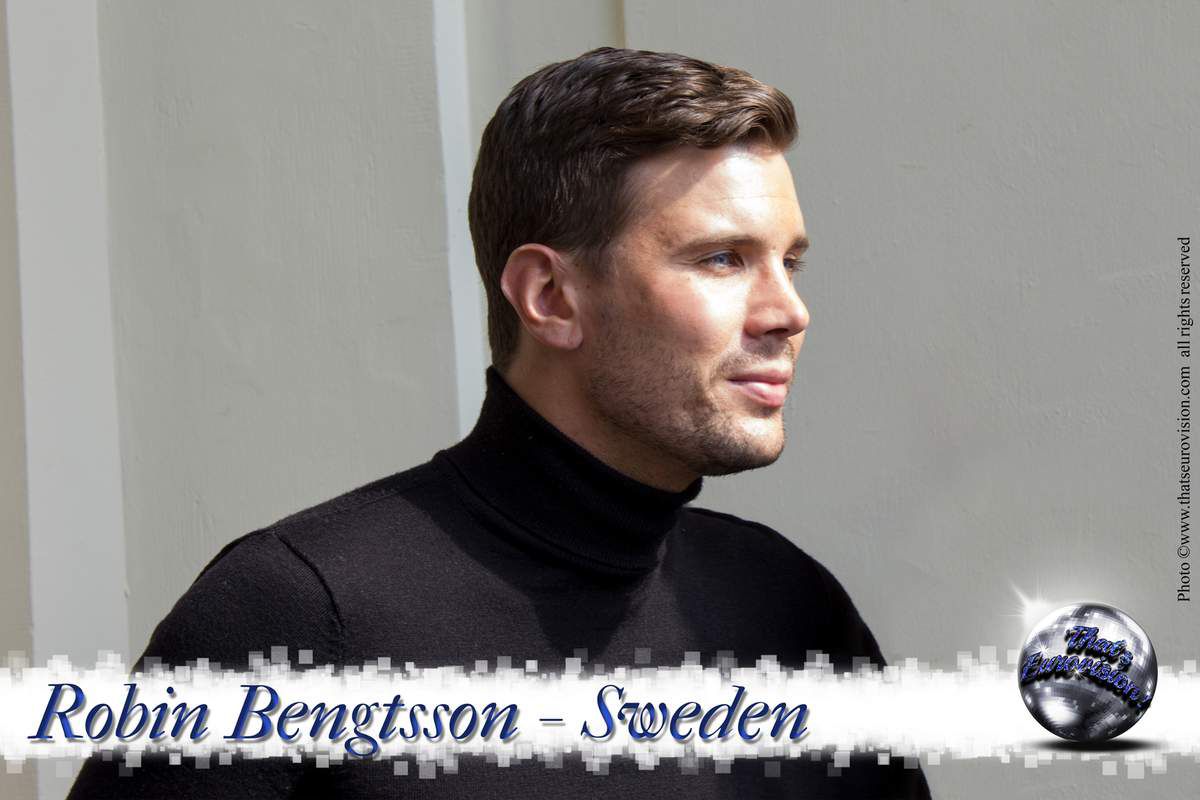 En Français please!
Robin Bengtsson représentera la Suède en Ukraine avec sa chanson "I Can't Go On". Le chanteur nous a accordé une interview pendant l' "Eurovision in Concert" à Amsterdam. Un artiste tout en douceur, en retenu, une merveilleuse rencontre.
That's Eurovision ! : Bonjour Robin ! Bienvenu à Amsterdam pour cet « Eurovision in Concert » !
Tu es un artiste déjà bien connu dans ton pays. Peux-tu te présenter en quelques mots à nos lecteurs ?
Robin Bengtsson : Bonjour, je m'appelle Robin, j'ai 27 ans et chante depuis 9 ans maintenant. J'ai fait partie du « Swedish Idol » en 2008 quand j'avais 18 ans. Je vis à Stockholm et ce que j'aime faire c'est chanter.
That's Eurovision ! : Tu vas représenter ton pays, la Suède à Kiev avec ta chanson « I Can't Go On ». Quelle est l'histoire de cette chanson, comment est-elle née ?
Robin : C'est un de mes bons amis, Robin Stjernberg, il a été le gagnant du Melodifestivalen en 2013 avec sa chanson « You ». Nous avons travaillé avec deux autres gars, David Kreuger et Hamed « K-One » Pirouzpanah. A trois, ils se sont assis pour m'écrire la chanson pour le Melodifestivalen de cette année, elle a donc été écrite depuis le début pour moi. Alors ouais, j'ai adoré dès la première écoute.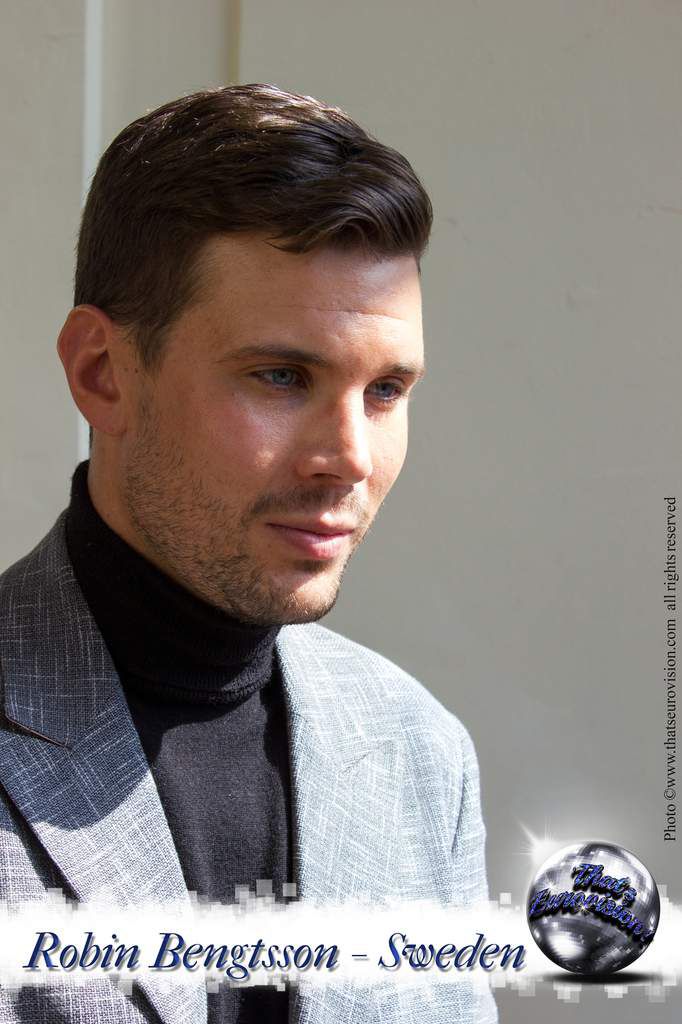 That's Eurovision ! : Si je te dis Eurovision… Quels sont les premiers mots qui te viennent à l'esprit ?
Robin : Eh bien, tu sais, c'est une compétition très difficile à gagner en Suède car c'est quelque chose de gigantesque. C'est pour cela que la plupart des artistes veulent participer au Melodifestivalen et se focalisent dessus. Tu sais, c'était aussi mon but. Je ne pensais même pas à gagner, je pensais ne pas avoir la moindre chance de gagner car il y avait tellement de noms connus cette année. Mais bien sûr, l'Eurovision est un grand rêve pour nous les suédois. Tu sais, nous avons tellement d'artistes pour un si petit pays, pour la plupart d'entre nous, le rêve ne se réalise pas, mais pour moi cette année il se réalise et j'en suis vraiment très heureux.
That's Eurovision ! : Tu vas chanter lors de la première demi-finale et tu vas même ouvrir le 62ème Concours Eurovision. Est-ce que cela t'apporte un stress supplémentaire ?
Robin : Non, je pense que c'est génial et je suis impatient. Tu sais, je commence ma chanson dans les coulisses et amène le show sur scène, je pense que c'est la chanson parfaite pour ouvrir le spectacle.
That's Eurovision ! : Quel est ton plus beau souvenir en tant qu'artiste à ce jour ?
Robin : Eh bien, c'est le soir où j'ai remporté le Melodifestivalen bien sûr ! Ce fut une sacrée nuit.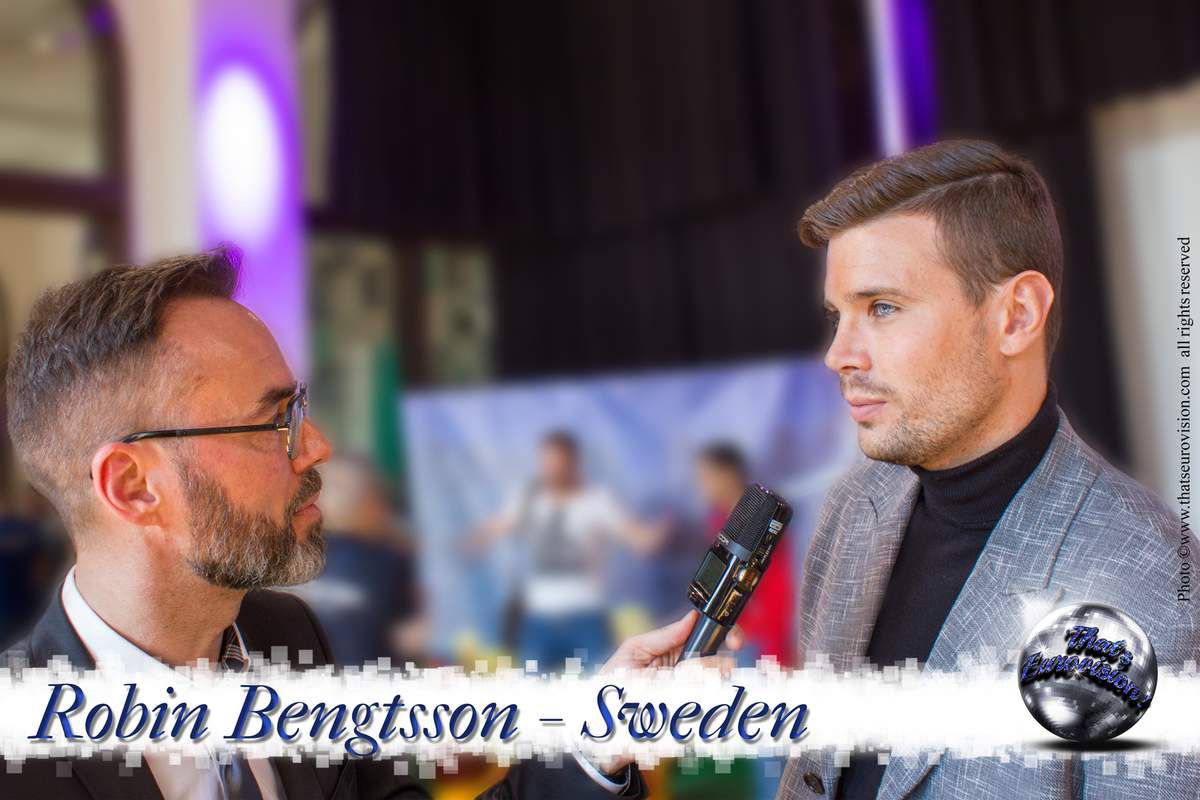 That's Eurovision ! : Qui est Robin quand tu n'es pas sur scène ?
Robin : Je suis à la maison avec ma famille, j'ai un fils de 3 ans et demi et je viens de me fiancer avec ma copine. Nous habitons un appartement à Stockholm. Tu sais, la plupart du temps, je joue ma musique, je vais en studio et j'écris. J'aime voyager, sortir avec mes amis, aller en ville, boire une bière, parler de la vie quoi !
That's Eurovision ! : Je suis ton bon génie, je t'offre la possibilité d'enregistrer un duo avec l'artiste de tes rêves, vivant ou décédé, qui sera cet artiste et que vas-tu chanter ?
Robin : Oh, c'est une sacrée question… J'ai tant d'idoles… Je pense, eh bien… ce serait Elvis Presley sans doute ouais « Can't Help Falling in Love ».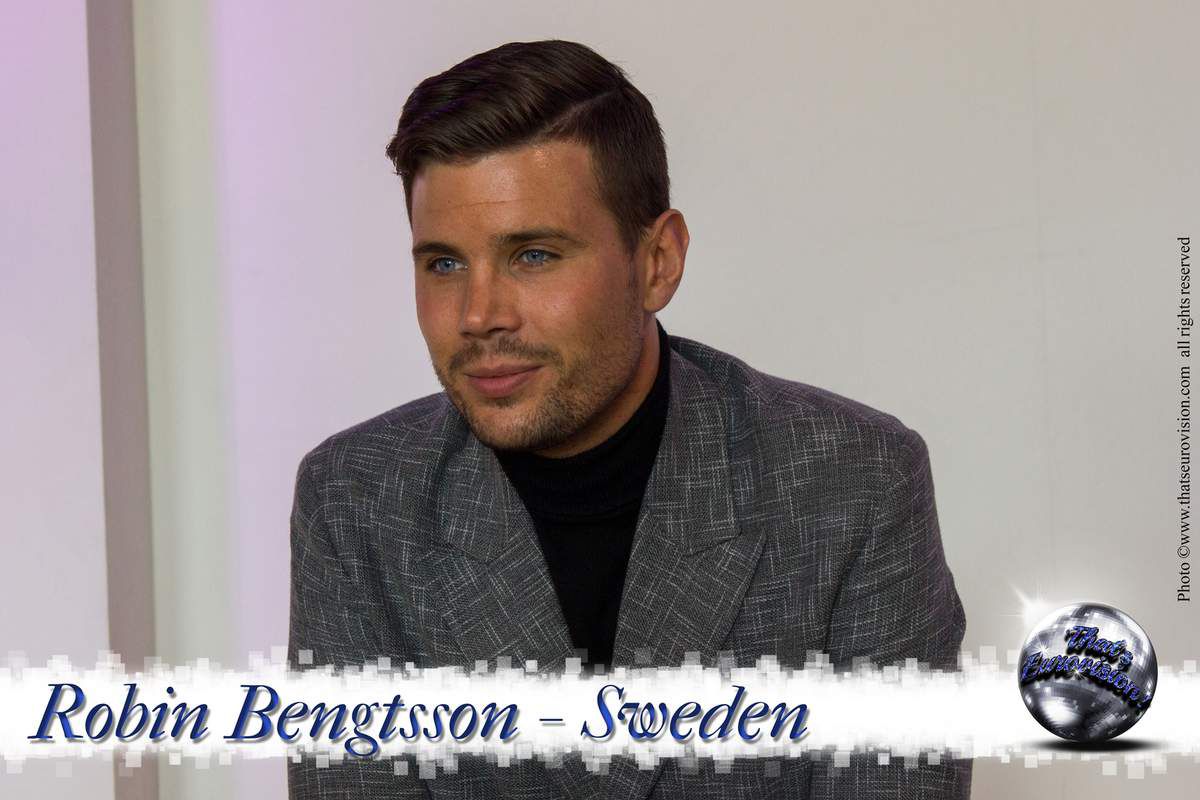 That's Eurovision ! : As-tu un message pour nos lecteurs en France ou ailleurs ?
Robin : Oui, j'aimerais pouvoir parler Français pour cela ! Bonjour à tous en France, j'aimerais venir chanter pour vous et vous rencontrer dans votre pays, alors écrivez moi sur Twitter et j'essayerais de vous répondre si vous comprenez l'Anglais. J'essayerai d'utiliser un de ces trucs pour traduire et vous répondre en Français.
That's Eurovision ! : A propos, tu sais qu'en ce moment, Måns Zelmerlöw est en tournée en France…
Robin : Oui, je sais qu'il a du succès là-bas, je pense qu'il parle Français et il a même enregistré son album en Français…
That's Eurovision ! : Et donc… ?
Robin : Oui, j'aimerais essayer, je ne sais pas si j'en serais capable, mais j'essayerai !
That's Eurovision ! : Les Français t'apprendront certainement !
Robin : Oui ! (rires)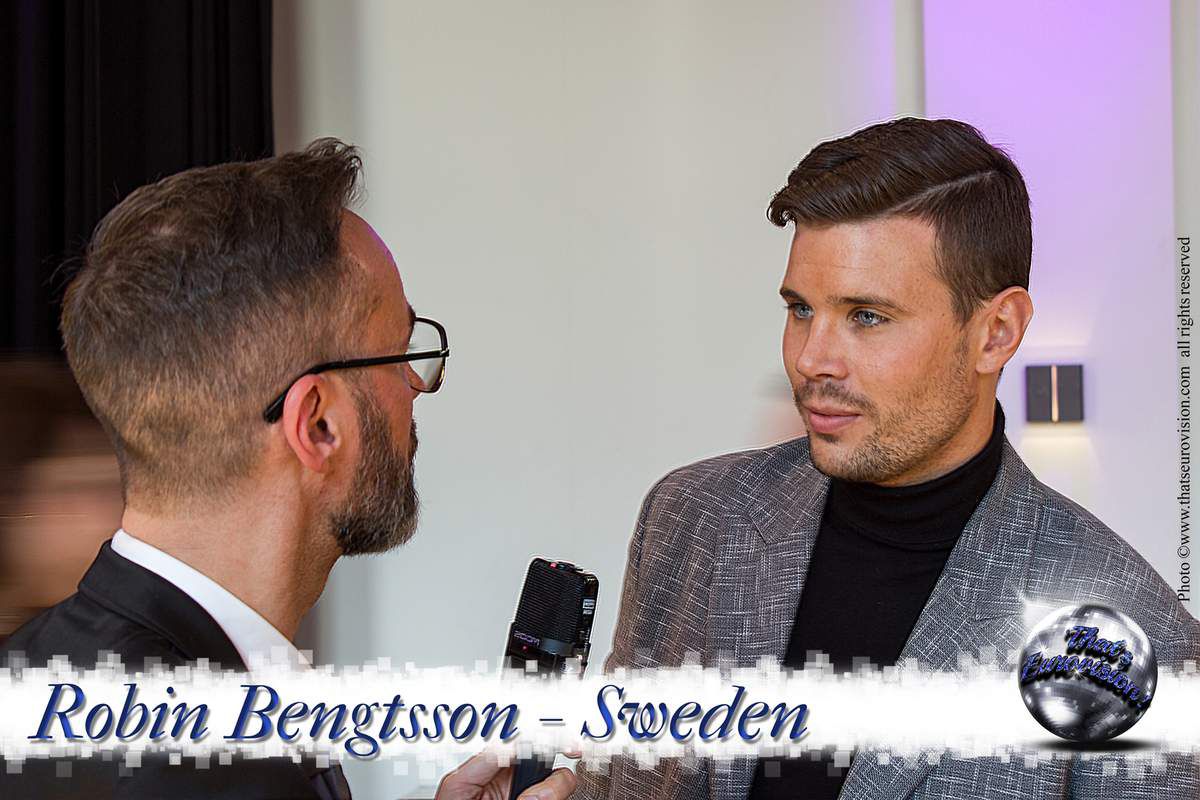 In English s'il vous plaît !
Robin Bengtsson will represent Sweden in Ukraine with his song "I Can't Go On". The singer granted us with an interview during "Eurovision in Concert" in amsterdam. An artist made of sweetness, an amazing encounter.
That's Eurovision! : Hello Robin! Welcome in Amsterdam for this Eurovision in Concert!
You already are a well known artist in your country. Can you introduce you to our readers in a few words?
Robin Bengtsson : Hello, my name is Robin, I'm 27 years old and I've been recognised as a singer for 9 years now. I was in the « Swedish Idol » in 2008 when I was 18, I live in Stockholm and I just love to sing.
That's Eurovision! : You will represent your country, Sweden, in Kiev with your song « I Can't Go On ». What is the story of this song, How was it born?
Robin : It is a good friend of mine, Robin Stjernberg, he was the winner of the Melodifestivalen back in 2013 with his song « You ». We worked with 2 other guys, David Kreuger, Hamed "K-One" Pirouzpanah. The three of them sat down to write the song for me for this year for Melodifestivalen, so it was originally written for me from the start. So yeah, I just felt great the first time I heard it.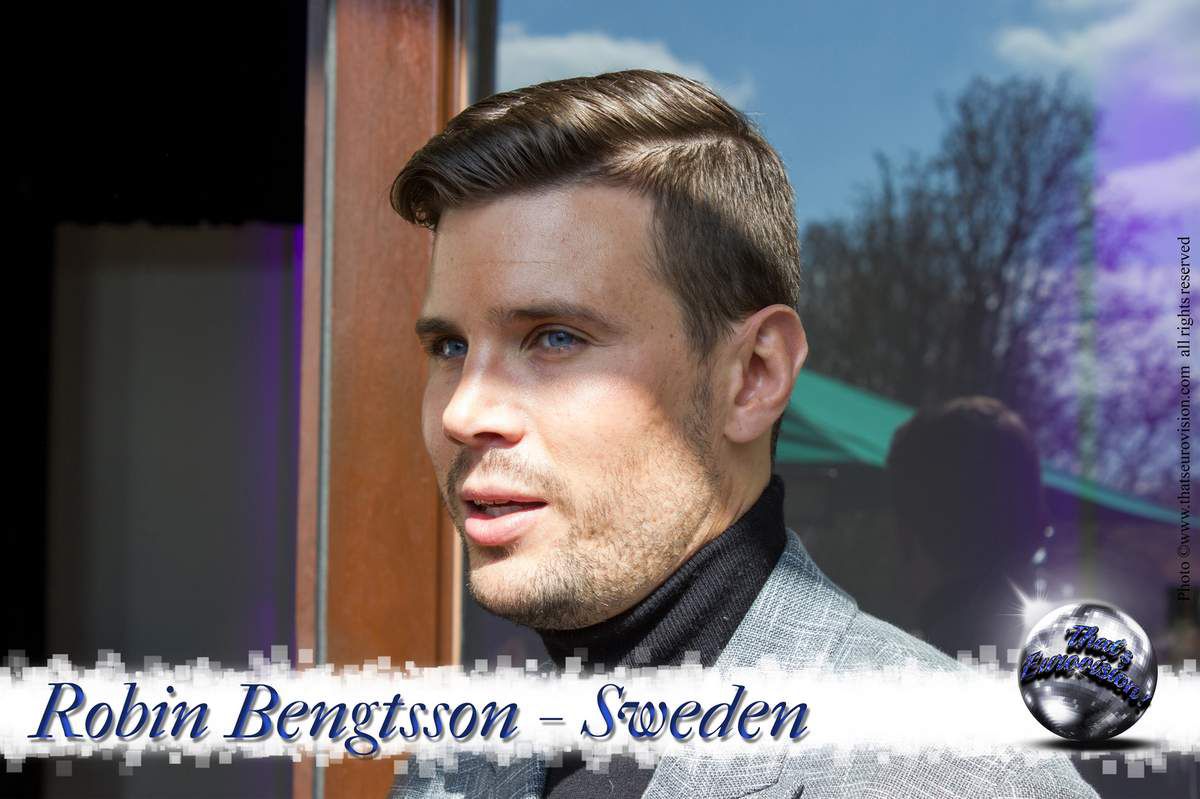 That's Eurovision! : If I tell you Eurovision… What are the first words that come to you?
Robin : Well, I think you know, it's a hard competition to be the winner in Sweden because it's a really big thing. So most of the artists want to do Melodifestivalen and I think they focus on it. You know it was my goal too. I didn't even plan to win, I didn't think I had a chance to win because there were so many other big names this year. But of course, Eurovision is a big dream, but for us Swedes, you know we've got a lot of artists for such a small country, and for most of us, the dream doesn't come true, but for me it did this year so I'm really really thankful.
That's Eurovision! : You will sing your song during the first semifinal and you will open the 62nd Eurovision Song Contest. Do you feel any kind of stress about it ?
Robin : No, I think that's really cool and I can't wait to do it. I mean I have my staging where I start in the backstage and bring the show up on the stage, I think it's the perfect song to start the opening with.
That's Eurovision! : Till this present day, as an artist, what is your greatest memory?
Robin : Well, it has to be the night I won Melodifestivalen for sure yeah! It was a really messy night.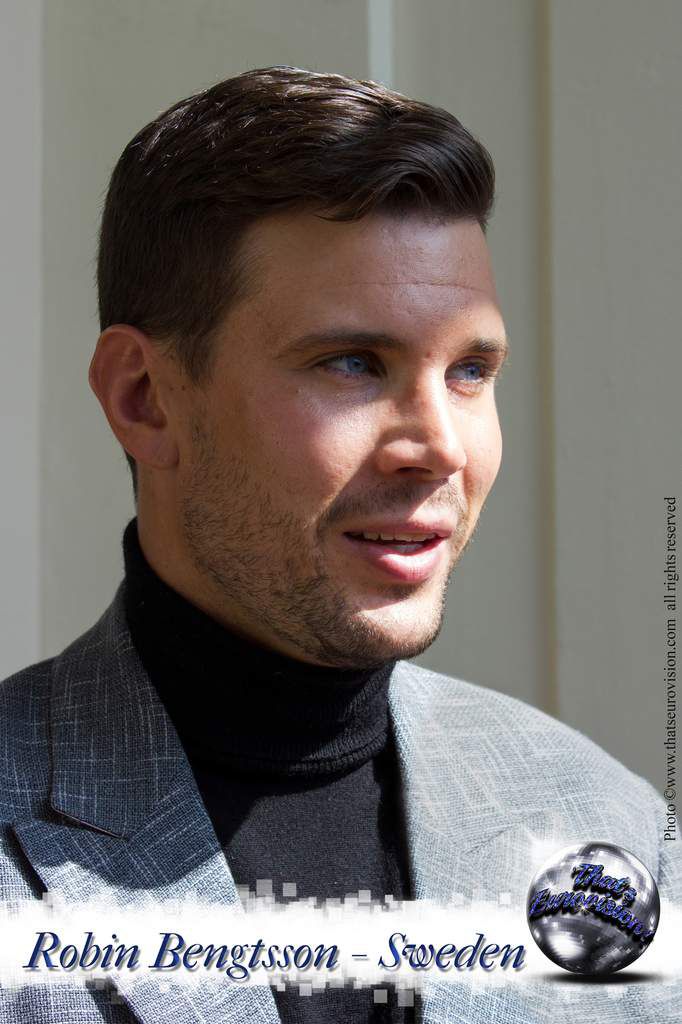 That's Eurovision! : Who is Robin when you are not performing on stage?
Robin : Just staying at home with my family, I have a son, who's 3 and a half years old, and I just got engaged with my girlfriend, we live in an appartment in Stockholm. You know, most of the time I do music, I go to the studio, I write things. I like to travel, I like to hang out with friends, go out in the city, have a beer, just talk about life!
That's Eurovision! : I'm your good genius and offer you the possibility to sing in a duet with the artist of your dreams, dead or alive. Who will be this artist and what will you sing ?
Robin : Oh, that's a really tricky question… I've got so many idols… I think… well… Elvis Presley maybe yeah « Can't Help Falling In Love ».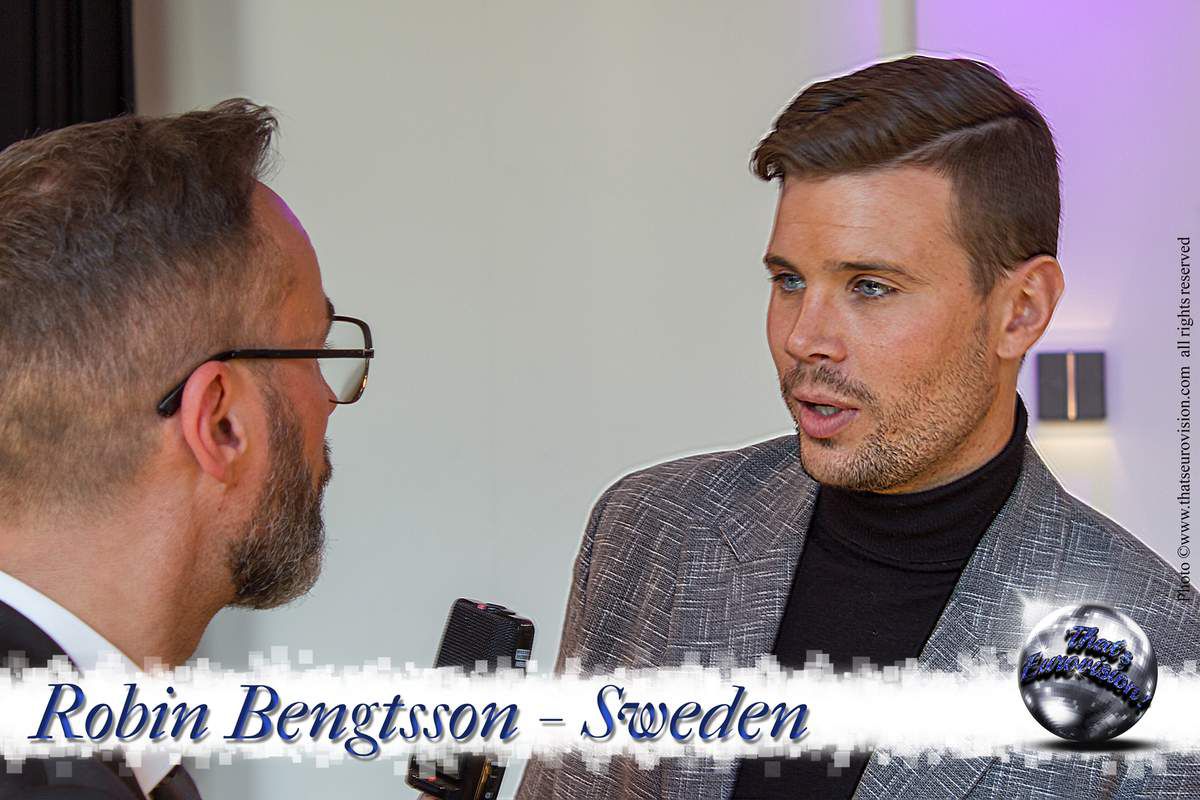 That's Eurovision! : Do you want to leave a message to our readers, in France or anywhere else?
Robin : Yeah, I wish I could speak French now! Hello everyone in France, I would love to come and sing and play for you and meet you sometime in your country, so write to me on Twitter and I will try to get back if you know English, I will use the translate thing to answer you in French.
That's Eurovision! : By the way, you know that actually, Måns Zelmerlöw is in France touring…
Robin : Yeah, I know he's really big there, I think he speaks French and also recorded his album in French…
That's Eurovision! : And so… maybe ?
Robin : Yeah, I would love to try, I don't think if I'm capable of it, but I will try!
That's Eurovision! : French will teach you for sure!
Robin : Yeah! (laughs)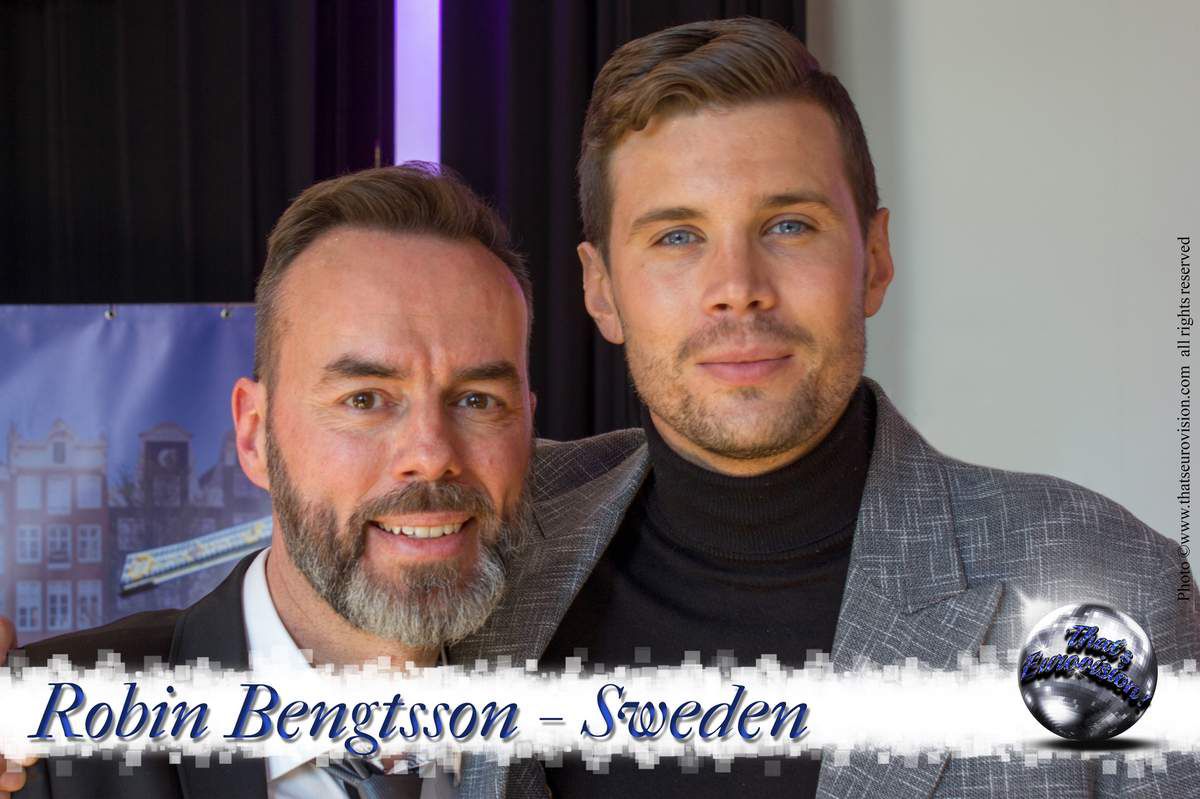 Photos & Présentation graphique : Ludwig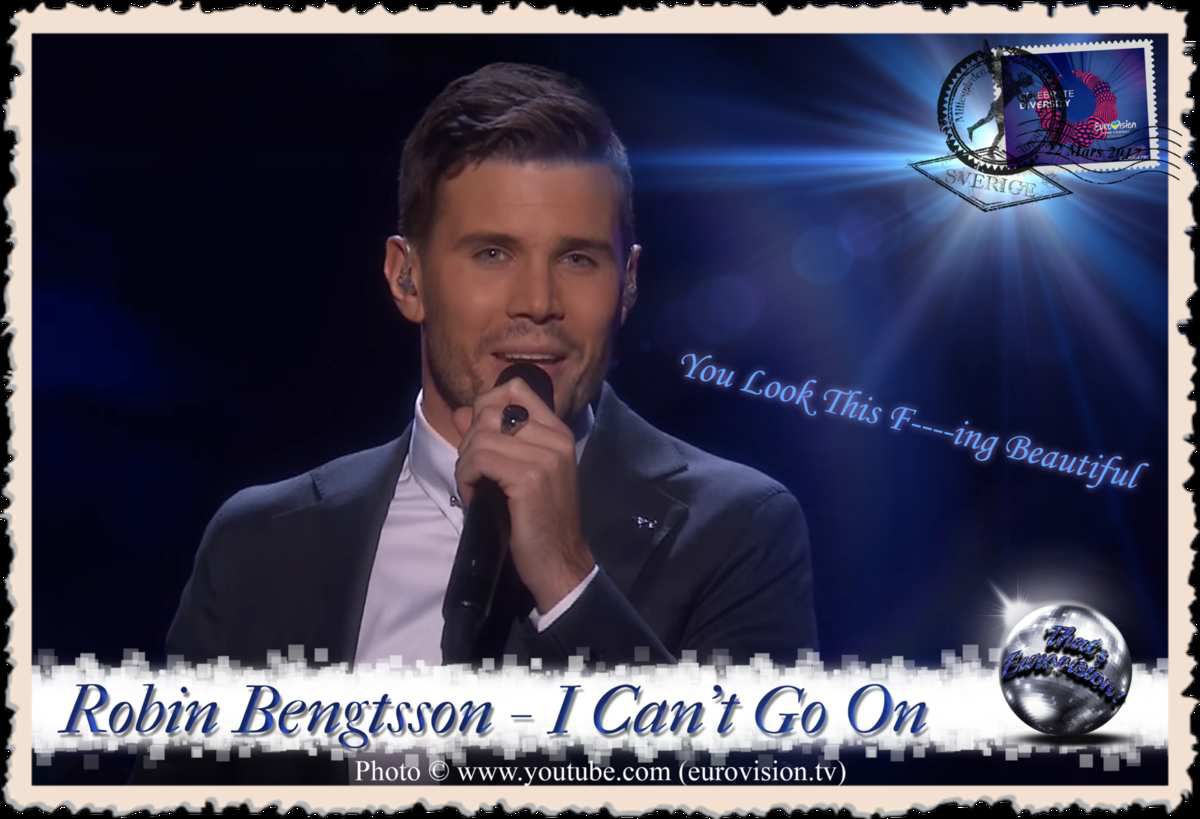 Sweden - Robin Bengtsson "I Can't Go On" (Official Video)