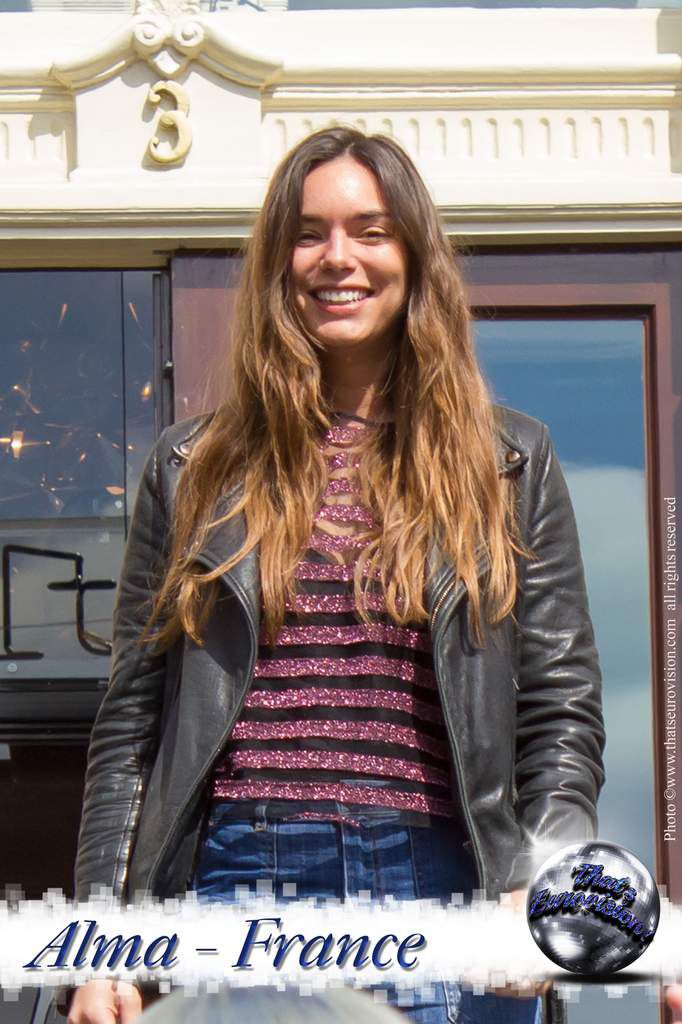 En Français please!
Nous avons eu le plaisir de rencontrer Alma lors de son passage aux Pays-Bas pour la 9ème édition du "Eurovision in Concert".
Souriante et décontractée, la jeune femme répond à nos questions sous le soleil d'Amsterdam.
That's Eurovision ! : Bonjour Alma, sois la bienvenue dans la grande famille Eurovision !
Tu vas représenter la France au 62ème Concours Eurovision en Ukraine, à Kiev avec la chanson « Requiem ». Comment te sens-tu à un mois du Concours ?
Alma : Très bien, je suis très motivée, j'ai rencontré un peu les autres candidats. C'est un tourbillon, une effervescence incroyable, donc je me sens très très bien !
That's Eurovision ! : Comme l'année dernière, la France fait à nouveau partie des favoris. Comment vis-tu ce bon stress ?
Alma : Ecoute, c'est très motivant, ça me tire vers le haut. C'est très agréable d'être bien accueillie, aussi chaleureusement par les fans de l'Eurovision. C'est toujours un plaisir de monter sur scène pour chanter.
That's Eurovision ! : Un peu étrange le monde Eurovision ?
Alma : C'est une toute petite famille, on se rend compte que c'est très chaleureux et c'est magnifique.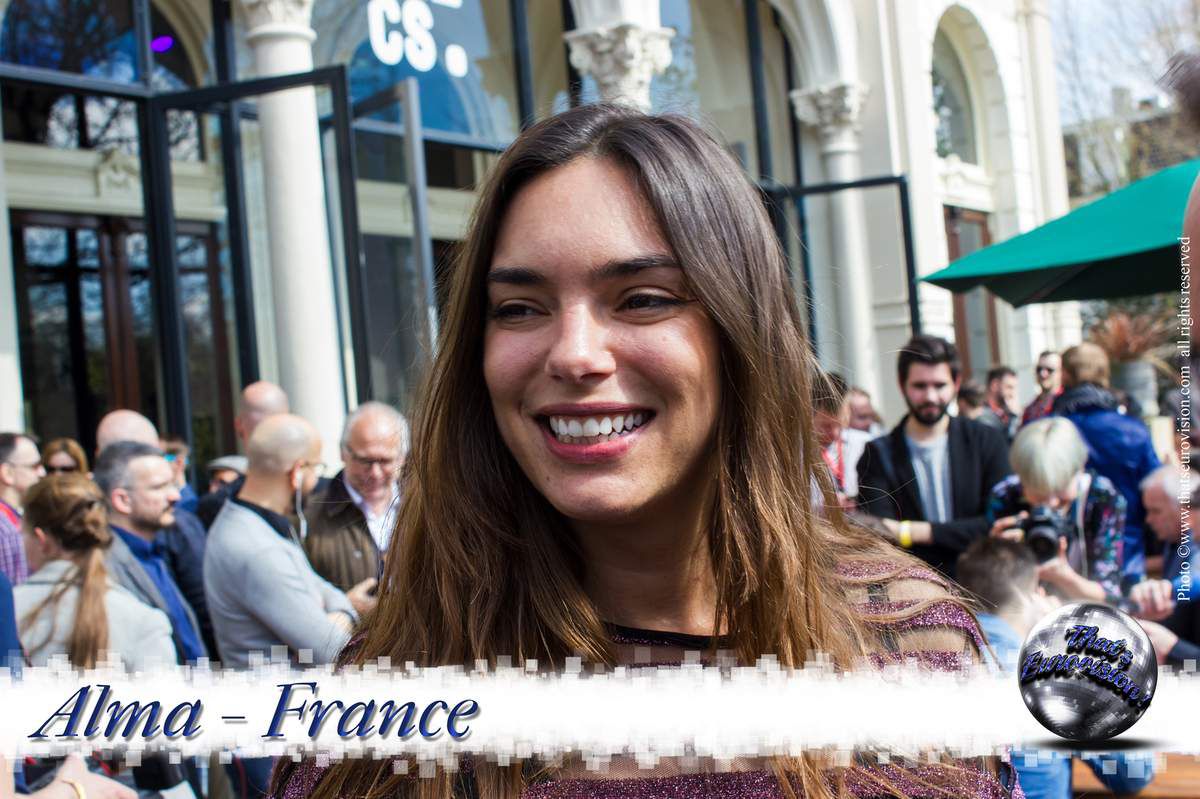 That's Eurovision ! : Avant ta sélection pour représenter la France, avant tout ça, que représentait l'Eurovision pour toi ?
Alma : J'avais vraiment suivi avec Amir l'année précédente car je le connaissais déjà un peu. J'avais trouvé que c'était absolument incroyable comme expérience. Il m'en avait parlé, c'était un événement magique ! Je suis très heureuse d'en faire partie cette année.
That's Eurovision ! : « Requiem » est une chanson dont la mélodie entre immédiatement en tête. Quelle est l'équipe qui a donné naissance à ce titre ?
Alma : C'est Nazim Khaled qui a écrit la chanson, paroles et musique. A la base, « Requiem » avait été écrit pour mon album. Nous l'avons un peu modifiée quand j'ai appris que j'allais faire l'Eurovision. Ce sont les SkyDancers qui ont fait la prod', puis Thierry F qui a refait la production pour l'Eurovision.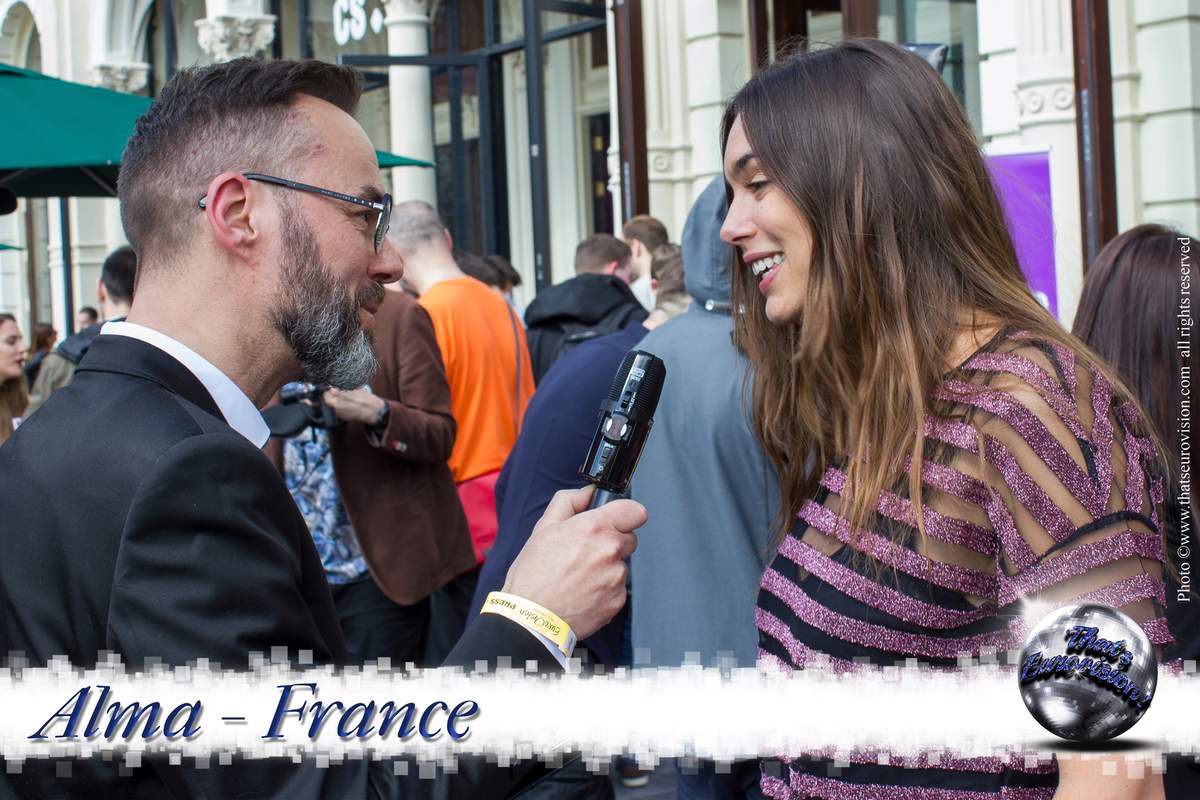 That's Eurovision ! : Parle-moi un peu d'Alma (Alexandra). Où as-tu grandi et quel a été ton quotidien jusqu'à ce jour ?
Alma : J'ai fait une école de commerce à Lille pendant 5 ans. Grace à cela, j'ai pu voyager en Italie et au Brésil dans le cadre de mes études. Ensuite, je me suis complètement consacrée à la musique en déménageant à Paris il y a 5 ans. Et ça fait 5 ans que je chante dans les bars, que je fais à gauche à droite des choses pour la musique. Puis j'ai commencé à écrire des chansons pour les autres également. Voilà, j'ai ensuite signé mon contrat chez Warner il y a un an, et je sors mon premier album bientôt, le 5 mai.
That's Eurovision ! : Justement, parlons-en. Ton premier album « Ma Peau Aime » sortira peu de temps avant le Concours. Vers quels univers musicaux vas-tu nous emmener ?
Alma : Alors moi ce qui m'intéresse beaucoup, ce sont les textes, les thèmes. J'aime aussi quand les chansons sont à double sens, quand on ne comprend pas forcément de suite à la première écoute. Quant au style musical, c'est de la pop française, avec une touche d'électro. Avec aussi un mélange de tous mes voyages. Mais mes influences profondes se retrouvent dans la variété française, c'est Michel Berger, Véronique Sanson, France Gall. Je suis vraiment fan de ça. Je souhaite toucher les gens avec les textes et j'espère que cela plaira.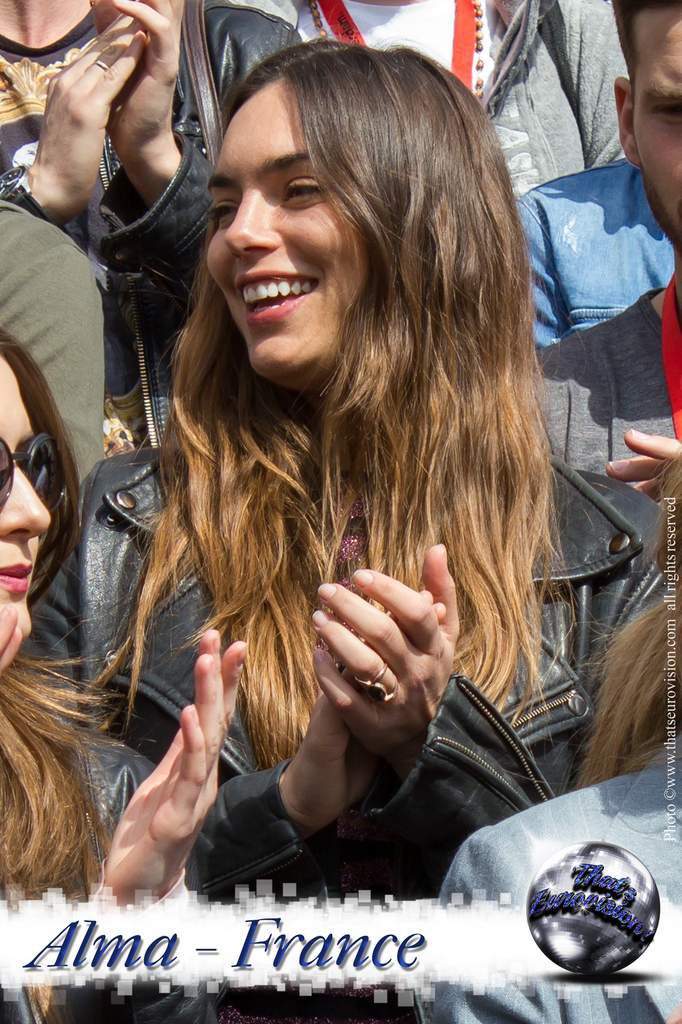 That's Eurovision ! : Je suis un bon génie, je t'offre la possibilité de chanter en duo avec l'artiste de tes rêves, vivant ou décédé. Quelle chanson choisis-tu et avec qui l'interprètes-tu ?
Alma : (Surprise), hmmm, pour réaliser un rêve, ce serait avec Johnny Hallyday, ce serait « Allumez le feu » ! (rires).
That's Eurovision ! : Avec Johnny donc ?
Alma : Oui, ben oui, je suis fan ! Mes parents aussi, depuis toute petite j'ai baigné là-dedans. Ce serait aussi une fierté pour mes parents.
That's Eurovision ! : Aujourd'hui, avec ton expérience, que dirais-tu à la petite fille que tu étais ?
Alma : Ne t'inquiète pas, tout ira bien.
That's Eurovision ! : La France sera à tes cotés le 13 mai sur la scène de l'Eurovision en Ukraine. Que veux-tu dire à tes fans, en France ou ailleurs ?
Alma : Merci beaucoup pour votre soutien ! N'oubliez pas de voter pour moi le 13 mai prochain à Kiev ! (rires)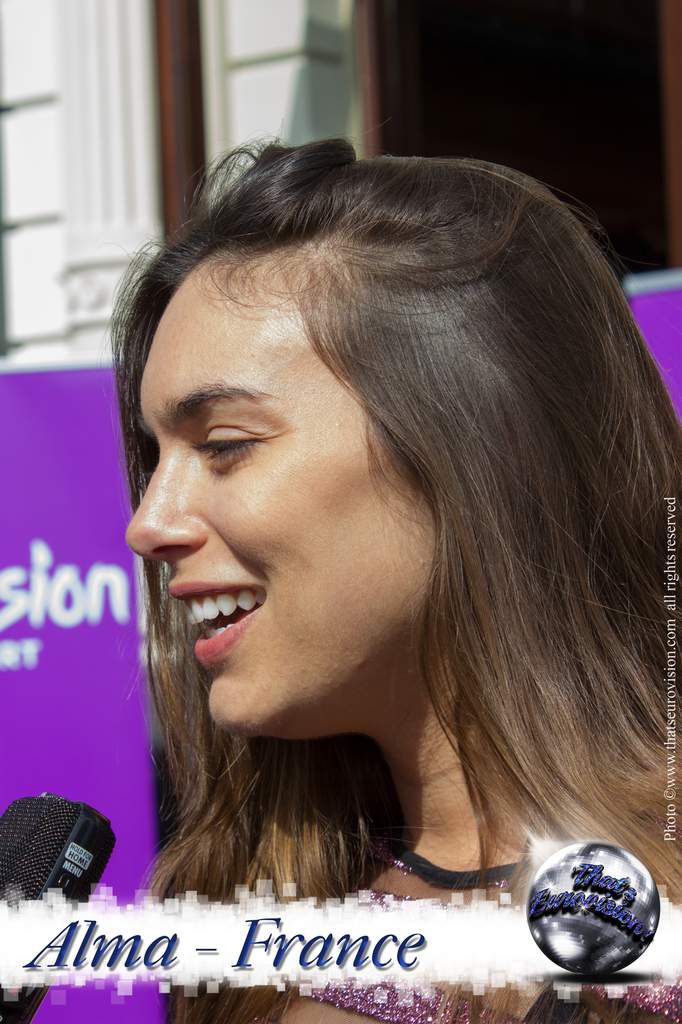 In English s'il vous plaît !
We had the pleasure to meet Alma during her trip to The Netherlands for the 9th edition of "Eurovision in Concert".
With a beaming smile and relaxed , the young woman answers our questions under the sunshine of Amsterdam.
That's Eurovision! : Hello Alma, welcome in the great Eurovision family!
You will represent France during the 62nd Eurovision Song Contest in Kiev Ukraine, with your song « Requiem ». How do you feel one month before the Contest?
Alma : Very well, I am really motivated, I met some of the other candidates. It's a real whirl, it's an incredibly bubbling with excitement moment, so I feel so well!
That's Eurovision! : As last year, France is part of the favourites again. Hwo do you live this good stress.
Alma : Well, it's definitely motivating, it pulls me up. It's nice to get a very pleasant and warm welcome from Eurovision fans. It's always a pleasure to enter the stage to sing.
That's Eurovision! : The Eurovision world...a bit strange?
Alma : It's a really small family, we realize that it is warm and hearty and it's wonderful!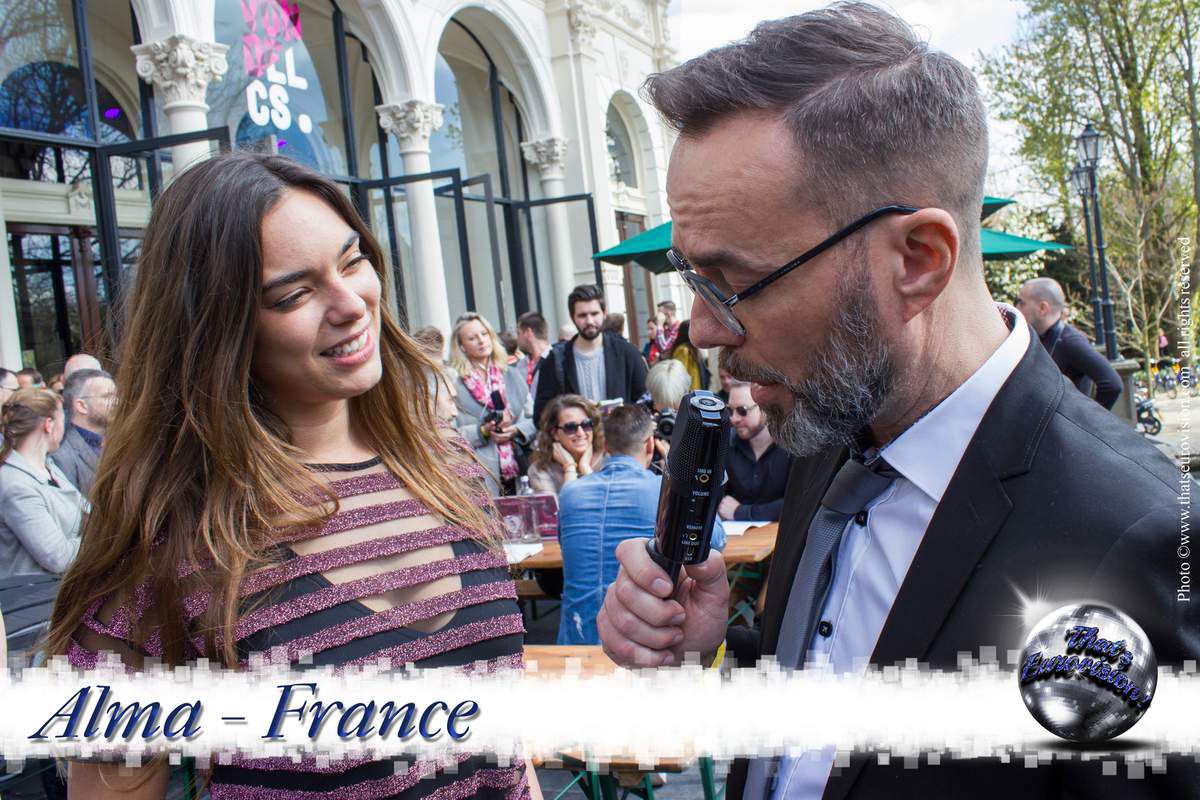 That's Eurovision! : Before being selected to represent France, before all that, what did Eurovision represent for you?
Alma : Last year, as I already knew Amir a bit, I followed it. I thought it was an absolutely incredible experience. He talked to me about it, i twas a magical event! I am really happy to be part o git this year.
That's Eurovision! : « Requiem » is a song with a melody that we immediately keep in mind. Who is the team that created it?
Alma : Nazim Khaled wrote the song, lyrics and music. Originally, « Requiem » had been written for my album. We modifie dit when I learnt I would take part in the Eurovision Song Contest. Prod was made by the SkyDancers, then Thierry F made a new production for Eurovision.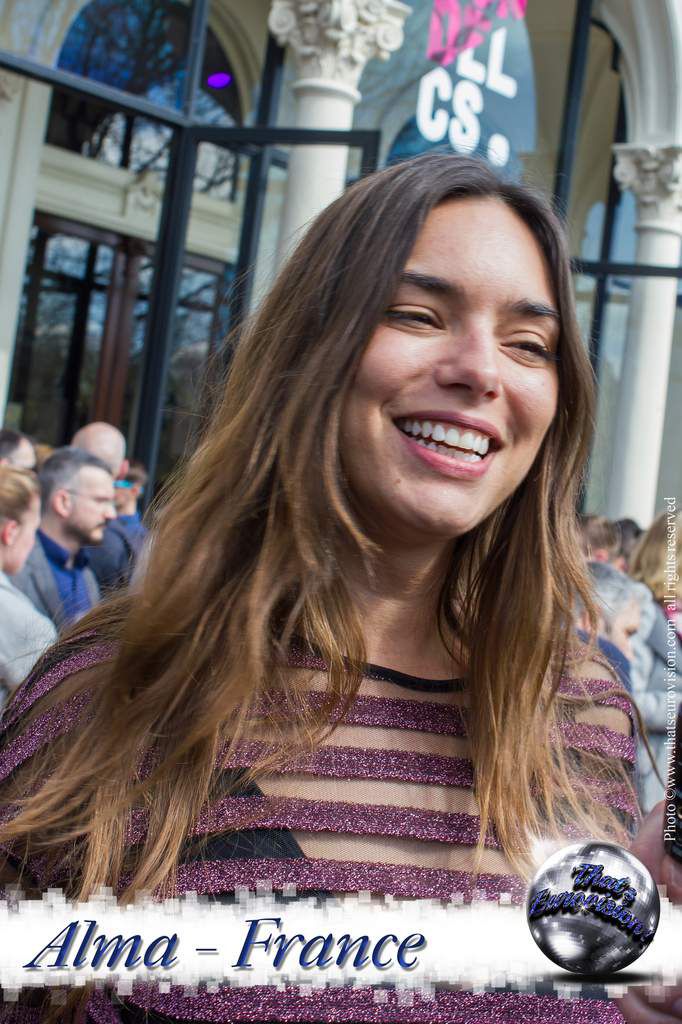 That's Eurovision ! : Tell me a bit more about Alma (Alexandra). Where did you grow up and what has been your daily life till today?
Alma : I did a business school in Lille for 5 years. Thanks to that, I travelled to Italy and Brazil for my studies. After that, I completely got involved in music when I moved to Paris 5 years ago. I've been singing in bars and doing things for music here and there for 5 years now. I also begun to write songs for the others. Well, then I signed a contract with Warner one year ago, and my first album will be out soon, ont May 5th.
That's Eurovision! : Precisely, let's talk about it. Your firt album « Ma Peau Aime » will be out a few days before the Contest. Which is the musical universe you will take us in?
Alma : Well...what interests me most are texts and themes. I also like that the songs can be interpreted two ways when you don't understand when listening to them for the first time. About the style, it's French pop, with a touch of electro. Also with a blend of all my travels. But my deepest inluences can be found in French veriety music, with Michel Berger, Véronique Sanson, France Gall. I am a real fan of all this. I wish I can touch people with lyrics and I hope it will appreciated.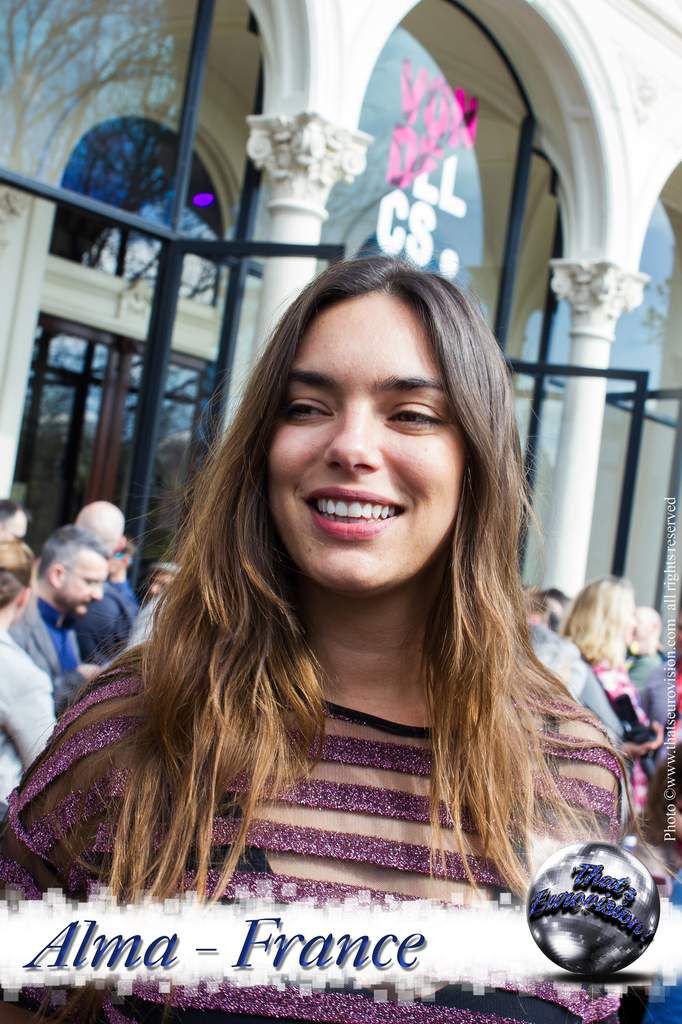 That's Eurovision! : I am a good genius. I give you the opportunity to sing in a duet with the artist of your dreams (dead or alive). Which is the song you will choose and who will you perform it with?
Alma : (Surprised), mmm, to realize this dream, it would be with Johnny Hallyday, and the song would be « Allumez le Feu »! (Laughs).
That's Eurovision! : So...with Johnny?
Alma : Yes, definetily yes, I am a fan! My parents too, I 've been immersed in all that since I was young. It would be a source of pride for my parents.
That's Eurovision! : Today, with your experience, what would you tell the little girl you were before ?
Alma : Don't be afraid...all will be fine.
That's Eurovision! : French will be by your side on the Eurovision stage on May 13th in Ukraine. What do you want to tell your fans in France or anywhere else?
Alma : Thank you so much for your support! Don't forget to vote for me on May 13th in kiev! (Laughs)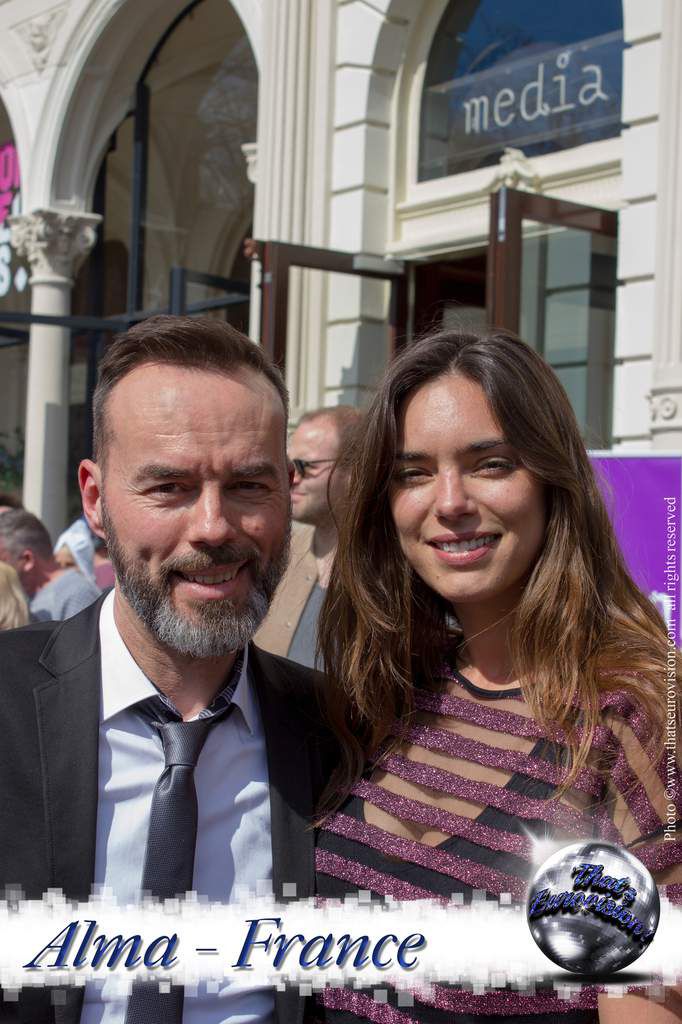 Photos et présentation graphique : Ludwig
France - Alma "Requiem" (Official Video)