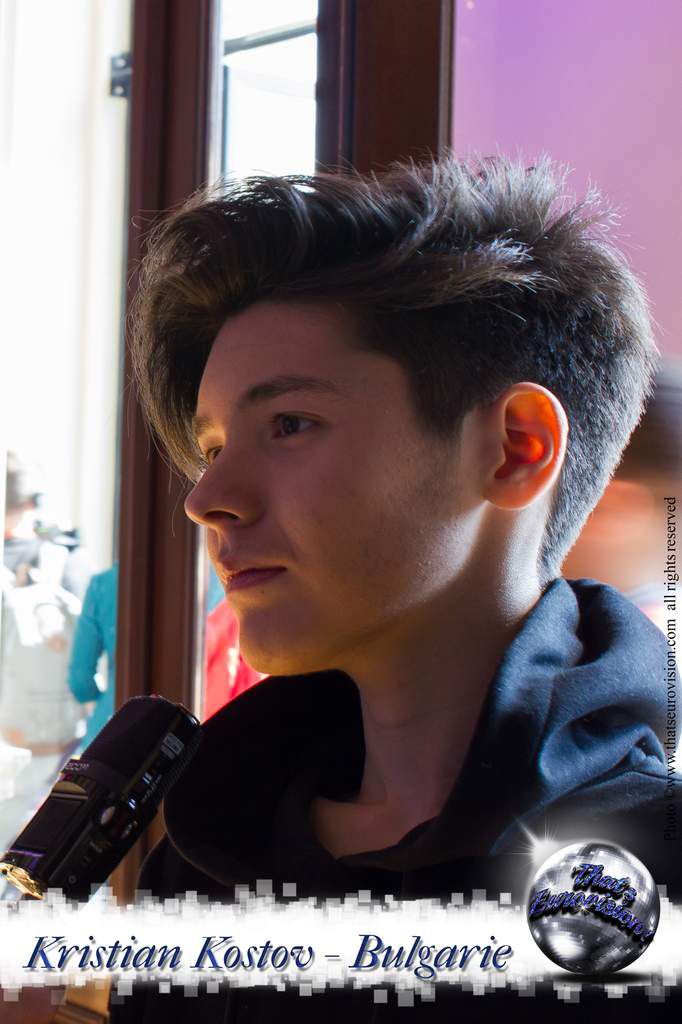 En Français please!
Kristian Kostov a tout juste 17 ans, il représentera la Bulgarie en Ukraine pour le 62ème Concours Eurovision. Mais ne vous fiez pas à son jeune âge ! Nous avons rencontré un jeune homme très mature, un véritable artiste, une voix puissante.
That's Eurovision ! : Bonjour Kristian, bienvenu à Amsterdam, bienvenu dans la grande famille Eurovision !
Tu as gagné des récompenses dans ton pays, tu vas représenter la Bulgarie au 62ème Concours Eurovision de la Chanson...
Kristian Kostov : Merci, bonjour ! Oui, Je suis un peu populaire en Bulgarie et depuis avoir gagné X-Factor, quelques une de mes chansons passent à la télé.
That's Eurovision ! : Que représente cette nouvelle étape pour toi ? Est-ce-que l'Eurovision représente quelque chose de spécial pour toi ?
Kristian : Bien sûr ! parce que j'ai toujours regardé le Concours depuis que j'étais tout gamin. Je n'aurais jamais imaginé chanter sur la même scène que certaines de mes idoles et c'est très impressionnant pour moi.
That's Eurovision ! : Que nous raconte ta chanson "Beautiful Mess" ?
Kristian : Tu sais, le monde devient fou, mais même s'il se passe des choses vraiment effrayantes en ces moments difficiles, tu dois poursuivre ta route et faire ce que tu as à faire. La seule chose qui ait du sens est l'amour, on ne peut pas y toucher, c'est l'idée principale de la chanson.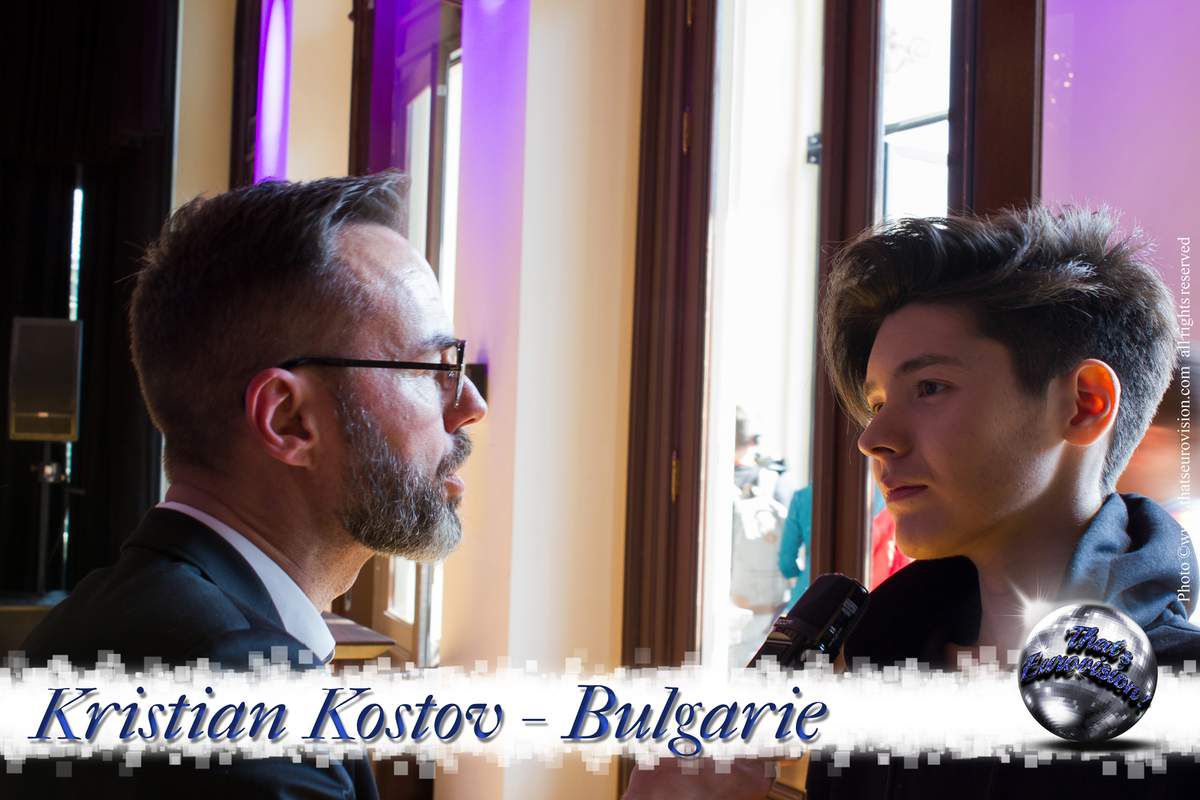 That's Eurovision ! : Comment t'es-tu préparé pour ce grand événement ?
Kristian : Nous répétons beaucoup avec mon coach vocal Yvonne, même via Skype parfois, car avec la tournée on n'a pas toujours le temps, c'est cela en grande partie. En fait, pour travailler mon jeu de scène, j'ai une vidéo de moi en train de danser et j'essaye de la mémoriser autant que je peux.
That's Eurovision ! : A qui vas-tu dédicacer ton passage sur la scène de l'Eurovision ?
Kristian : A tout le monde...à tous ceux qui sont en train de regarder...c'est comme un message que j'envoie à chacun d'entre vous qui regardez.
That's Eurovision ! : On te propose de chanter dans un pays lointain pour défendre une cause qui te tient à cœur...quelle serait cette cause ?
Kristian : Je participe à beaucoup d'événements caritatifs, et j'aimerais le faire pour n'importe lequel d'entre eux en fait, parce que je pense que c'est une des meilleures choses de la vie d'artiste...on peut aider les gens, on peut créer des fondations qui défendent certaines personnes et leurs causes.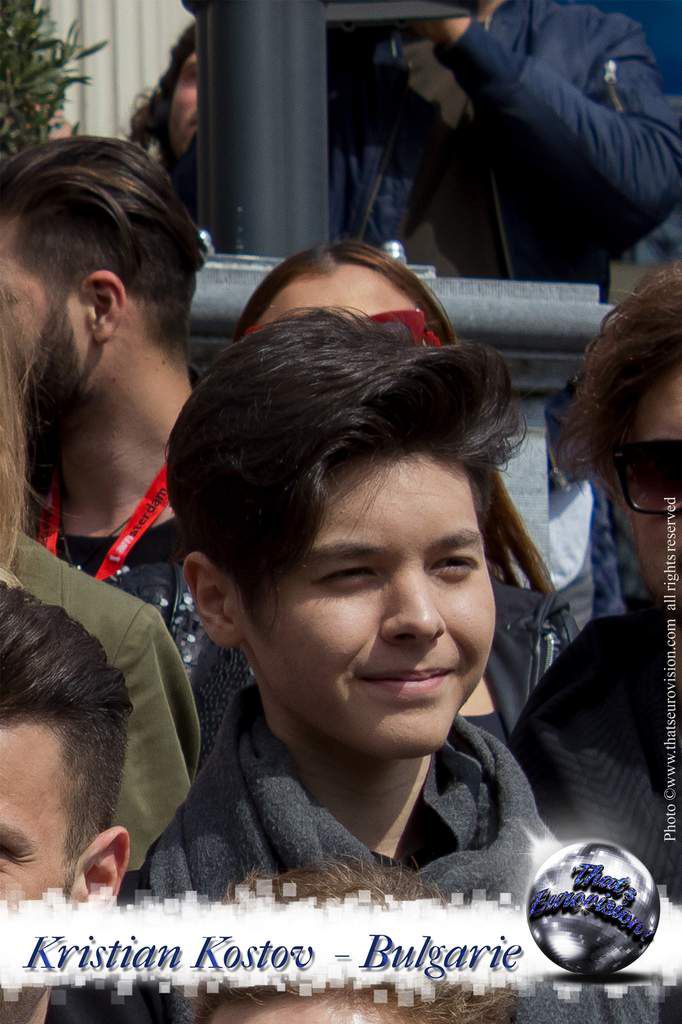 That's Eurovision ! : Si tu devais participer à l'enregistrement d'une bande originale de film, de quel film s'agirait-il ?
Kristian : Je pense que ce serait un film d'aventures.
That's Eurovision ! : Peux-tu laisser un message pour tes fans, en France ou partout ailleurs ?
Kristian : Oh oui, bien sûr ! Merci pour votre soutien à tous ! Vous êtes super...avec tous vos messages sur Instagram, Twitter...c'est trop cool ! En plus, venant des gens habitant en France ... parce que je suis un grand fan de Paris où je suis allé plusieurs fois déjà et parce que je veux apprendre le « Français », je l'ai appris à l'école mais j'ai oublié depuis... Merci beaucoup !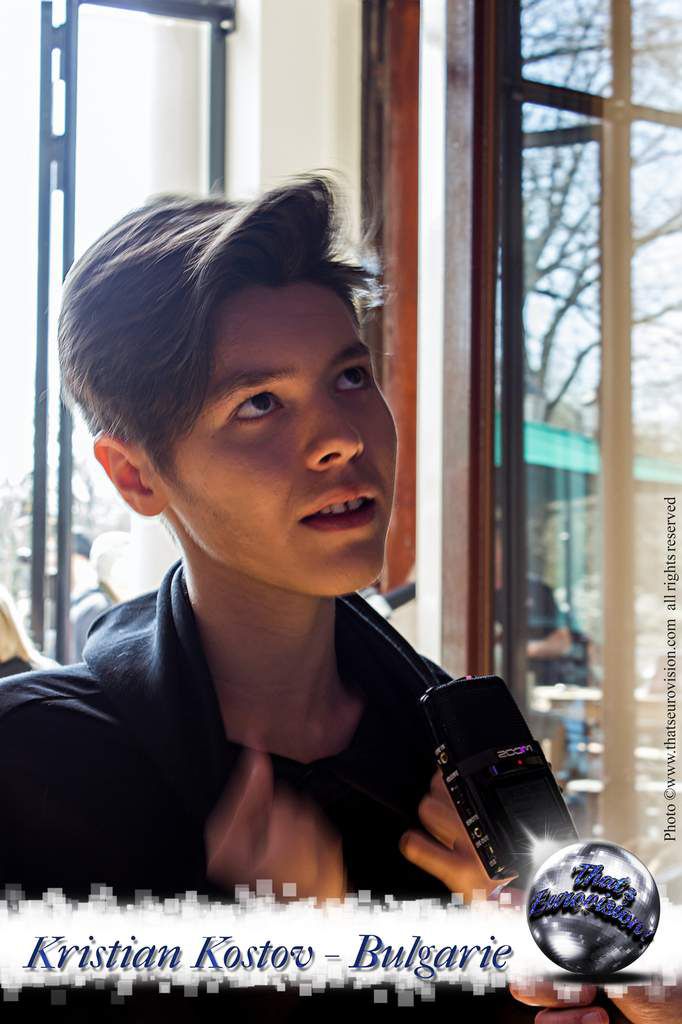 In English s'il vous plaît !
Kristian Kostov only got 17 years old, he will represent Bulgaria in Ukraine during the 62nd Eurovision Song Contest. But don't be fooled by his young age! We met a very mature young man, a real artist, a powerfull voice.
That's Eurovision! : Hello Kristian, welcome in Amsterdam, welcome in the great Eurovision Family!
You won awards in your country, you will represent Bulgaria during the 62nd Eurovision Song Contest...
Kristian Kostov : Thank you, hello! Yes, I'm kind of popular in Bulgaria and now, as the finalist of the X-Factor, I have a couple of songs going on television.
That's Eurovision! : What does represent this new step for you? Does Eurovision represent something special for you?
Kristian : Yes, it does, because I've been watching it since I was a little kid. I've never imagined myself singing on the same stage as one of my idols and that's very impressive for me.
That's Eurovision ! : What does your song "Beautiful Mess" tell us?
Kristian : The world is going crazy by now you know, as a lot of scary stuff is going on and at these hard times you have to go on, you have to keep your stuff together and just do your things. But the only thing that has sense here is love, that's untouchable and that's the main idea of the song.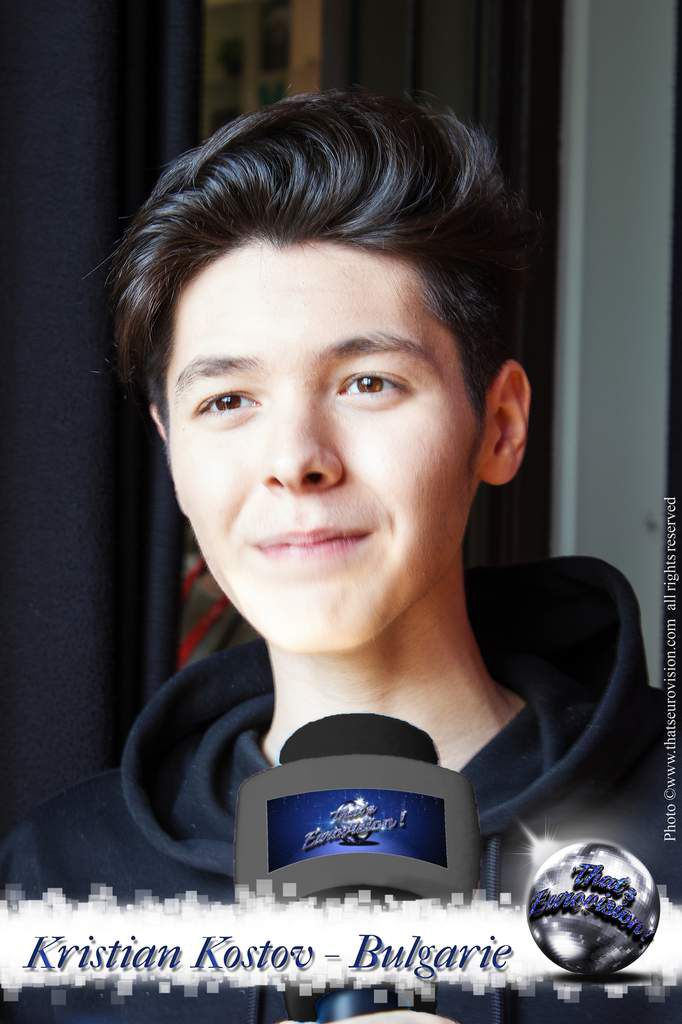 That's Eurovision! : How do you get prepared for this great event?
Kristian : We have a lot of rehearsals with my vocal coach Yvonne, via Skype sometimes, because I don't have time on the tour and we have to talk via Skype to manage and to stay in good shape all the time, that's the main idea. Actually, to work on stage, I have a video of me dancing and I try to memorise it as much as I can for staging.
That's Eurovision! : To whom will you dedicate your performance on the Eurovision stage?
Kristian : To everybody...to everybody who is watching...it's like a message to each and everyone who is watching.
That's Eurovision! : You are proposed to go and sing in a far away country to defend a cause that means a lot to you...what would be that cause?
Kristian : I do a lot of charity events, and I would love to participate in any kind of them actually, because I think this is one of the best things of being an artist is...like we can help people, we can make some kind of foundations and help people with their causes.
That's Eurovision! : If you had to record a movie soundtrack, which movie would it be?
Kristian : I think...some kind of adventure movie.
That's Eurovision! : Can you leave a message for your fans, may it be in France or anywhere else?
Kristian : Oh yes of course! Thank you for your support guys! You are amazing...with all you messages on Instagram, Twitter...It's so cool! Meaning it's from people from France... because I'm a big fan of Paris, I've been there a lot of times and I want to learn « Français » because I was studying it at school and I forgot it. Thank you so much!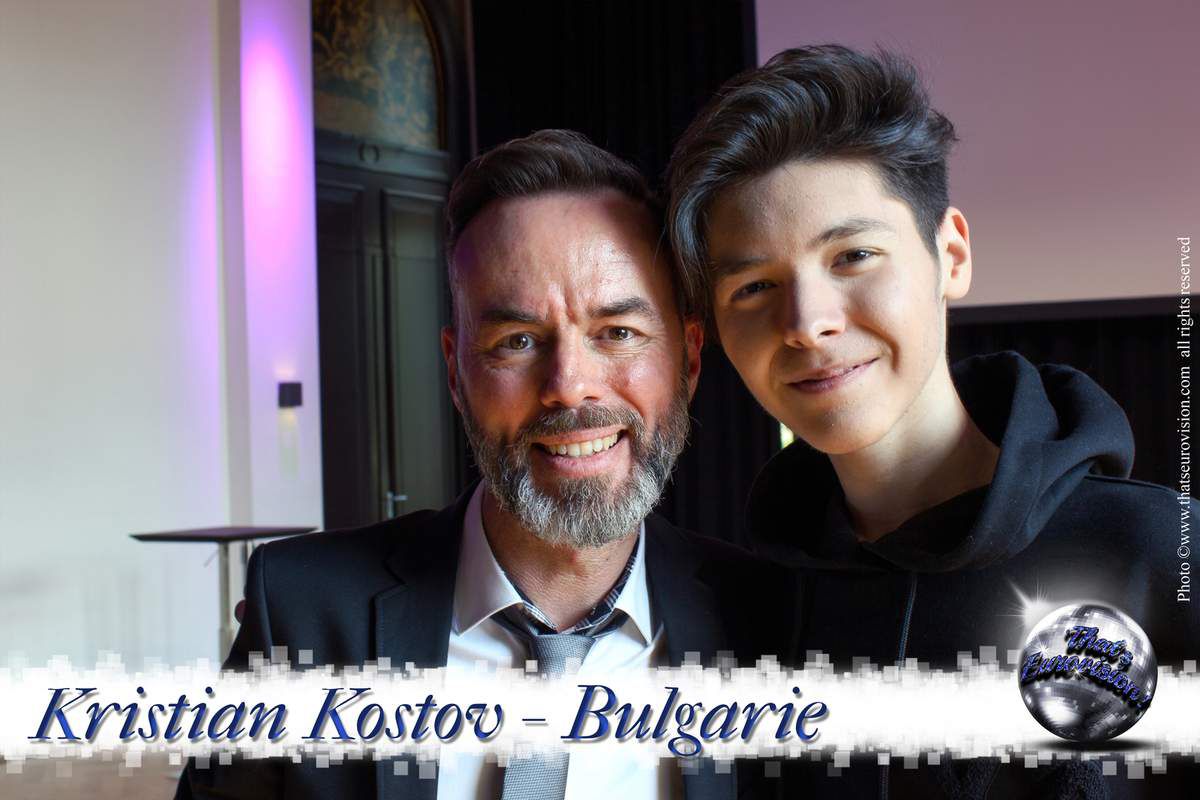 Photos & Présentation graphique : Ludwig
Bulgaria - Kristian Kostov "Beautiful Mess" (Official Video)